Likeable London Super middleweight George Groves stole the show at Sheffield's Bramall Lane on Saturday.
George Groves produced an eye-catching display in smashing the very tough and resilient Russian former champion Fedor Chudinov for the vacant super middleweight WBA title.
One couldn't blame Groves if he started tentatively having lost in 3 previous world title attempts. But he was quick to grasp control, using his sharp and accurate left jab to excellent effect jolting the upright Chudinov's head backward several times in the opening round.
Chudinov had quite an ominous presence as he bulled forward in the second trying to get close to use his strength. He had some success on the front foot forcing Groves to hold when needed.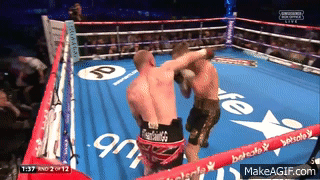 Despite this pressure, Groves' ever present jab worked well for him and he started to show the overhand right that gave Carl Froch nightmares in their epic battles on more than one occasion.
Chudinov was showing signs of rust as he loaded up and missed wildly. The Russian had been out of the ring for 15 months since his highly controversial loss to the very experienced Felix Sturm.
Groves capitalised on this, looking more and more confident through the next 2 rounds. He was obviously following a good fight plan under the watchful eyes of trainer Shane McGuigan.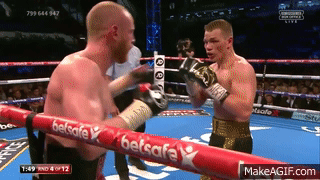 By the 5th round Chudinov was still looking strong and constantly moving forward forcing Groves backward and trying to use his power as he pushed Groves against the ropes trying to dent the London man's will and test his questioned stamina.