5 Team GB Olympic Hopefuls To Keep An Eye On
With Europe's Olympic Qualifiers firmly underway behind closed doors in London, a handful of Britain's top talent sit only one step away from booking their ticket to compete at Tokyo 2020. Here's five boxers under the GB banner who look to be in line for Olympic stardom.
PETER McGRAIL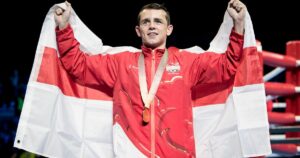 After a fruitful spell of collecting honours around the world at bantamweight under the GB banner, Everton Red Triangle's McGrail told Boxing Social that he's a different fighter altogether since moving up to featherweight and claiming a medal at both the European Games and World Championships last year.
McGrail had previously travelled to the 2016 Olympics in Rio to help the likes of Qais Ashfaq and Joe Cordina with their preparations, but the Liverpool man is now only a quarter final qualifier place away from making his own Olympic dream a reality.
"It was great to be in Rio,"McGrail told Boxing Social. "Once I was there though, I was gutted that I wasn't taking part. I agreed I'd stay on for Tokyo and I've won a few medals along the way.
"I'm growing and getting stronger, and you'll see a difference in the ring – definitely. To bring a medal home would be life-changing. The Olympics are the pinnacle, and it'd make my family so proud."
LAUREN PRICE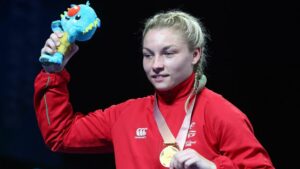 Both a formidable, fast-handed amateur standout and top-class footballer, Lauren Price has established herself as one of Wales' most exciting young sporting stars.
The 25-year-old won the Welsh Women's Premier League with Cardiff as a teen, before taking boxing on as a serious venture following Nicola Adams' success at London 2012.
Price – in red-hot form of late – has astoundingly claimed gold at the Commonwealth Games, the European Games and the World Championships all within the last two years.
The last major tournament for Price to claim top spot at remains the Olympics, though Team GB Performance Director Rob McCracken has high hopes for the "World Class" Pontypool Boxing Club middleweight heading towards Tokyo 2020.
BEN WHITTAKER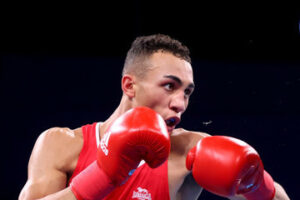 Light heavyweight hopeful Ben Whittaker has already caught the attention of promoters and managers aplenty ahead of his potential Tokyo 2020 voyage, after securing medals at both the European Games and World Championships during a fruitful 2019.
Whittaker, who also makes music in his spare time, credits childhood dance lessons for his impressive fleet-footed style. The 22-year-old has been outlined as a potential Olympic star – a tag he does not take lightly.
"I'll go out there and show why I'm number one,"Whittaker told Boxing Social."They'll all be coming for it, but when you step in there with me, it's a different game now. I've worked too hard.
"Some promoters might come and watch, but that doesn't matter to me. If I medal, it will change my life and what deal I get as a pro. I'm going to change them numbers and add a couple of zeros!"
PAT McCORMACK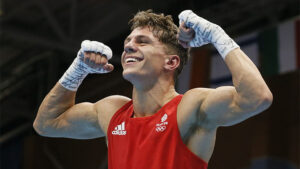 Birtley ABC star Pat McCormack is arguably Team GB's leading light heading towards Tokyo 2020, having dazzled at the World championships en route to securing a silver medal last year.
The welterweight sensation is looking to qualify for his second Olympic campaign after falling short in his 2nd bout back in 2016. Brother Luke McCormack, who missed out on the Rio-based tournament, is also hopeful of heading to Tokyo after securing Team GB's 63kg spot.
The future looks bright for the 24-year-old former scaffolder, who hopes an Olympic medal will springboard him towards an illustrious pro career in the near future. He told Boxing Social:
"The better you do in the Olympics, the better deal you're going to get. It will come at the perfect time to turn professional. I can't wait to get in the pro ranks – hopefully with a gold medal!
North-East boxing is unbelievable right now. Going to a Ritson fight is like being at a football match. I think the fans are ready for some new fighters to come through and add to that!"
CAROLINE DUBOIS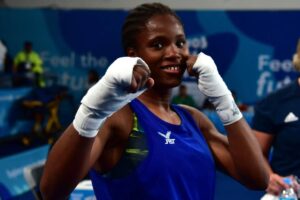 Despite having not made a senior amateur appearance, teen sensation Caroline Dubois secured her spot at Team GB's number one lightweight and has since gone on to win her opening Tokyo qualifier in London.
The 19-year-old – sister of heavyweight destroyer Daniel – faces a tough test in the form of former Olympic medalist Mira Potkonen in her next bout, though it would be foolish to dismiss the already-decorated Repton ABC star in the making.
Having topped off a Youth Olympic gold by being crowned English and European Youth champion last year, Dubois was also voted BBC Young Sports Personality of the Year – an honour previously claimed by British sporting icons Wayne Rooney, Tom Daley and Andy Murray.