Canelo: The Death of the Golden Goose?
The introduction of social media has allowed fans of boxing unprecedented, unfiltered access to many of its premier attractions. Whether it's stunning back-and-forths between champions and would-be challengers or the unrelenting growth of the 'troll' culture, we've now become the flies that used to live rent-free on walls of gyms up and down the country.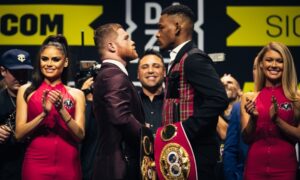 Only a handful of fighters assign their social media duties to companies, something which often results in short, snappy clips where their subjects throw around buzzwords including; heart, puncher's chance, humble or respect. Twitter, their chosen primary vessel, becomes a little less exciting when this happens. It loses its appeal and its authenticity, with fans following their favourite fighters for that first-hand insight.
This past week, one of/possibly the sport's highest profile name was trending, as Mexican superstar Saul 'Canelo' Alvarez launched a disgruntled tirade aimed at the fragile temple of his long-time promoters, Goldenboy. Stablemate Ryan Garcia followed suit, with a legion of adolescent women frantically Googling 'Oscar De La Hoya', determined to defend their hero with each of their 140 characters.
I'm very upset and ashamed with my fans, to be unfairly stripped of my belt by the IBF, but specially when i did not have the knowledge of the agreement that GBP match maker had signed.

— Canelo Alvarez (@Canelo) August 2, 2019
https://twitter.com/KingRyanG/status/1157805344195674112
As always, the devil is in the detail. Buried between Canelo's horrendous spelling lies the story of a belt snatched from his waist, following the collapse of a fight which was apparently signed off by the aforementioned, Goldenboy Promotions. Weird, isn't it? Why would a fighter's promotional team sign an agreement on their fighter's behalf without his knowledge? Alvarez has sided with his fans, expressing his frustration, understandably.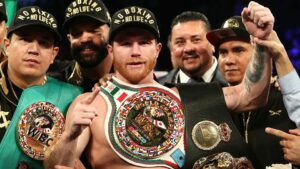 The IBF middleweight title was due to be contested between now-former champion, Canelo Alvarez and worthy, proven challenger Sergiy Derevyanchenko. That fight isn't happening. Until recently, it hadn't been mentioned. We've heard names thrown about for months as potential opponents for my fellow red-head, including Callum Smith and Sergey Kovalev, which again, have failed to come to fruition.
Alvarez has cemented himself as a Box Office must [okay, I know it's technically streaming], signing the most financially rewarding contract in boxing's history, which begs the question; why wouldn't he be privvy to negotiations involving either the IBF or Team Derevyanchenko?
It bleeds into another bone of contention, seen all too frequently of late. Promoters are not managers. They cannot decide what fight to 'sign' or which opponent would be suitable. They are not fighters. They can't possibly decide, without conversation, which defences are worthwhile or their preferred belt to drop.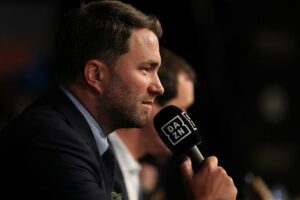 British promoter, Eddie Hearn, has produced contradictory statements during previous interviews, claiming on one occasion that his heavyweight charge, Anthony Joshua, picks his own opponents, aided by his management team and his trainer. Yet shortly after, when picking the bones out of their Deontay Wilder $50m saga, he claimed he would reject certain deals on Joshua's behalf because they weren't in the Golder's Green man's best interests. That's not his call to make.
With both Hearn and De La Hoya acting solely as promoters for the three fighters mentioned, boxing doesn't benefit from the lines blurred between both roles. We hear/read/see an abundance of content from those expert salesman, but don't forget, that's their job. They're building and selling a product. They're not drawing up the product's design or tweaking its performance – they're sprinkling glitter on its packaging.
Boxing's dirty little secret, the constant scrambling for every last cent, is also its worst kept. The constant spinning plates, the ringing of the cash register and the cold, hard bottom line figure often take priority, which we've now come to expect.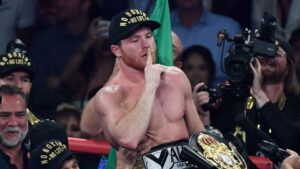 It remains to be seen how the Canelo situation develops, but you get the feeling that in some instances, fighters are held to ransom by powerful, televised promotional companies. Alvarez remains contracted for a further nine fights on DAZN, but are Goldenboy duty bound to remain at the helm, or is the fighter the valued entity? I'm sure you can answer that for yourselves.
Back when P Diddy was Puff Daddy, he was scrutinized for appearing front and centre of the videos for songs he'd produced. The culture was changing. A producer, kept behind the scenes and often remaining unknown, had decided to play a more prominent role in his artist's end product.
Whilst Oscar and Eddie lack Puff's credentials, they too have shifted focus, perhaps becoming more concerned by the public's perception of themselves, as opposed to their blue ribbon boxers.
Feature written by: Craig Scott
Follow Craig on Twitter at: @craigscott209