EXCLUSIVE: Adam Lopez – His Father's Son…
Carved in his father's image, the young boy strapped into the back seat of the car stared aimlessly at familiar scenery. He'd made the same trip before, many times. Houses, parks and people, basking in the Glendale summer, skipped across his eye line. From age four, Adam Lopez had been visiting his father in prison. A fighting man, confined to a concrete ring.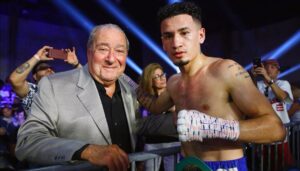 Dubbed 'Blunose', Lopez (13-1, 6KOs) was the son of former Olympic silver medalist and world title challenger, Hector Lopez.
Incarcerated and later deported, 'Torero' was tragically taken from the family after passing away at only forty-four. The Mexican warrior had fought Kostya Tszyu and Randall Bailey for the sport's greatest honour, falling short on his shield. Adam was determined to fight for world titles of his own, paired for the last three years with Hall of Fame inductee, Buddy McGirt.
"He went to prison for about nine years", Adam explained, when asked about his father. "When he was in inside, I'd always go see him and travel there. It was a long trip. I'd find out how he was doing, he'd ask how I was doing. We'd write letters to each other and he'd call me like once a week. That was just the only contact we could keep up."
"I didn't like going to the prison. I hated the process of it. You had to have a dress code, and you had to fill out paperwork, and you had to do this and that. It was always just a long day, and I hated going over there dealing with the cops, then all the security guards. I hated it. I only got to see my dad for like three hours and then you gotta leave. And then it was another long drive home. But I always went through it just to see him."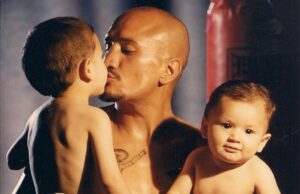 Adam praised his mother for keeping him and his brother, also named Hector after the pair's father, on the straight and narrow. Hector Jr had also taken up boxing, but hadn't graced the ring for over a year – suffering his first loss when challenging unheralded Ugandan, Sulaiman Segwa. Lopez was stopped in the sixth round and the winner had lost his next fight only three months later.
Growing up without a father-figure in Glendale presented challenges of its own, but his mother Norma's determination to raise real men at home was admirable. Ahead of his fight on the Carl Frampton v Tyler McCreary undercard, Adam spoke candidly about boxing, a career that fell into his lap, in a sport that had contributed to his late father's demise.
Working with former two-weight world champion McGirt was the perfect grounding for a young man making his way back to the top of the world rankings, rebuilding patiently after dropping a majority decision to undefeated IBO champion, Stephen Fulton, almost two years ago.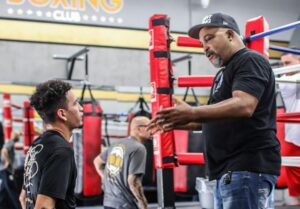 Adam Lopez was battling his fifth consecutive undefeated opponent that evening, but Fulton proved the better man and Lopez was forced to regroup. The trappings of mismanagement handed him a solitary loss, something he viewed constructively in hindsight. Now, with the backing of LA-based management team, Sheer Sports, he was convinced things were moving in the right direction.
"I took all my hard fights early. I wanted to prove something to everybody. And I think, actually, you gotta have that mindset. I was very young and wasn't really thinking about the future. I was just thinking about right now and knowing that once I beat these fighters, people would start looking at me. I mean that was partially my former manager's fault.
"He kept putting me in there and kept offering me these fights, knowing I was going to take them. My coach Buddy kept telling me, 'Stop taking these fights. You're not getting nothing. You're fighting for no money against top prospects. It doesn't make any sense. You gotta wait for those fights.' But I was young, and like I said, I wanted to prove something."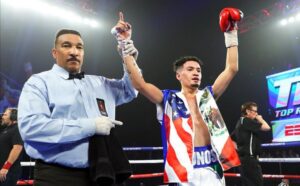 "I wish that I could've made some better decisions, but I think I learned from everything I went through. I'm happy with where I'm at now. I got one loss as you know, and I learned a lot from that loss. Maybe it was a fight I shouldn't have been in, but I fought well, it was a close fight. But everything happens for a reason, and it's all part of the story."
Sheer Sports, known for their work with Irish brothers Aaron and Stevie McKenna, Donegal's Jason Quigley and, Buddy McGirt himself, had stepped in to ensure Adam avoided dipping his toe further into boxing's murky waters. Their reputation for nurturing talent had spread across the Atlantic, with enigmatic First Lady Rachel Charles dedicating most of her time to fighters or their families.
Only twenty-three years old, 'Blunose' had a wealth of experience; both inside and outside of the ring. In recent outings, he looked sharp and dangerous, slipping between middle distance and out of range, punishing his opponents. McGirt knew only too well the importance of an intelligent defence, after suffering the painful loss of Maxim Dadashev. Lopez, in fact, had been one of the Russian's chief sparring partners during his last camp.
"Yeah, it definitely hit home. I didn't really tell anybody this, but I was with him for his last sparring before that fight. And it just shocked me hearing the news. He was 100% ready. He was ready to fight, and it hit home. It kinda sucks, but this is the sport we're in, and I guess it could happen to anybody. You gotta really be smart and be careful. You have to take care of your body and listen to it. If something's not feeling right, you've got to just really… appreciate each day, I guess. Because you never know if one fight might be your last fight."
Emotional, Lopez continued, "The last training camp was when we spent more time together, that's when he kind of opened up a little more. He was always so quiet in the gym. He wouldn't really speak to nobody. He would come in, do his work and then he'd be gone. But the last training camp we kind of spoke more and I kind of got to know him a little bit more, and it's just a really hard loss."
Adam and Buddy continued chasing Dadashev's dream, in his honour. Next weekend's fight on the Top Rank bill marked another step towards world titles. By the end of 2020, he hoped to be ranked in the top five, edging closer to championship contests. It seemed his once-ferocious approach to boxing that had gifted him the nickname 'Blunose' (after the breed of pitbull), courtesy of his brother, had slightly softened or matured.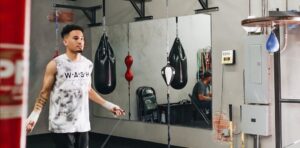 Lopez is a thinking-man's fighter now, but still extremely fast, with piercing combinations. Listening to McGirt's words of wisdom, he is close to regaining the momentum lost when suffering defeat at the hands of Stephen Fulton – a guy he'd love to face in a rematch. Praising Fulton, Adam says he has 'all the respect in the world for him', describing him as a 'very smart boxer'. Bitterness just isn't in his character.
The shadow of his father, Hector 'Torero' Lopez, still follows him into every venue, every changing room and every boxing ring. The youngest of the two fighting sons, Adam knows people will compare him to his dad, but it is pride over pressure for the Florida-based fighter. Somewhere down the line, he hopes to surpass Hector's achievements, clinching a world title in his name. But it's just one step at a time.
"My dad told me a story one day, he said I was about three, maybe four. He was standing up on the balcony, and he was watching me walk around in the backyard. He said he saw me shadowboxing with like a mean face on like I was fighting somebody and he said he just saw the passion right there, he's like, 'Yeah that kid going to be a fighter one day.'"
"I used to really think about it a lot, and I would feel that pressure. But I had to really step back and realise I can't be like him because what worked for him isn't going to work for me. I always want him to be remembered right next to me, but my goal is to do more than what he did. I know he would want me to make better decisions than him, win a world title and become a superstar."
Interview written by: Craig Scott
Follow Craig on Twitter at: @craigscott209