EXCLUSIVE: Billel Dib – "Been at Rock Bottom, but On Top Soon…"
The walls of the family residence were bare. Once occupied with scattered, happy memories captured in fancy frames, they now seemed barely standing and ominously empty. The floors presented only the markings of the heavy furniture that had once made this house a home, but the tables and television stands had to go. It all did.
Then only seventeen-years old, Billel Dib was anxiously perched on the edge of the family sofa, the only item left behind by the liquidators, looking to his father who had been recently declared bankrupt, for a source of hope. His car was gone, along with everything else of notable value, but the fighting spirit, drummed into the Dib children from a young age, remained dogged.
Bouncing back from defeat had almost become an hereditary habit, as Billel explained, "After the back-to-back losses, he [my father] pulled me aside and looked at me straight in the face and said, 'You can't teach your kids that if life knocks you down, you stay down'. At the age of eighteen, my dad came to Australia not knowing a word of English and he became a millionaire by the time of twenty-one. He did that with his fourteen brothers and sisters that he brought with him, he was looking after them all."
"When I was eighteen, we went through bankruptcy where we were literally sitting in the house, looking at each other and we had $182 in our pockets collectively. Between us all. We sat in an empty house. My dad just said to me, 'This has happened', he opened up the Yellow Pages and said, 'Let's see what we can do now'. I've always seen that determination in him from a young age and if I didn't have that in myself, to be honest, I'd be embarrassed around him."
Billel, not to be confused with his cousin and recent Amir Khan foe, Billy Dib, was now aged thirty. He'd recently celebrated the birth of his third child and was preparing for another gruelling training camp, relying on the spare room in their family home to maintain a consistent sleep.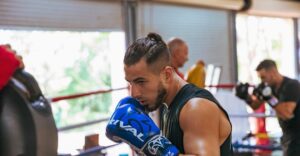 "It's been a while, huh?" asked his familiar voice from the opposite side of the world. "I remember exactly where I was when we spoke the first time. I was in front of my house, I was living in Sydney at the time. I remember that!"
I'd spoken to him almost three years ago, before those two losses, but just after he'd been named the WBA's fifth-ranked super-featherweight for the first time. On that occasion, he was based in Sydney and we had remained in contact ever since. He'd had his ups and downs, but losing to relatively unheralded Bruno Vifuaviwilli had seen him question his future in the sport.
"We scheduled a fight in New York [after my loss to Yuandale Evans] and I was meant to fight Matt Remillard. I don't know why, but I decided to check [before the fight] and I noticed that my visa had been revoked. So that fight never happened and I couldn't fight in the States again. I ended up taking a fight back home in Australia against Bruno [Vifuaviwilli] and I know I won that fight."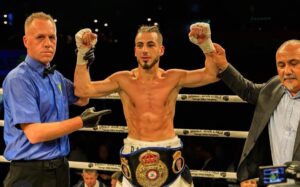 "I was feeling very low after the fight, I was really down and I was ready to walk away. I had had enough of boxing and stuff, but my dad said to me, 'Is that what you want to teach your kids? Do you want them to think giving up is alright?' That really hit home. I got the rematch with Bruno and over ten rounds, I honestly don't think he landed a punch on me and I'm ready for my next fight now."
There had been talk that a visit to Beirut had derailed his formerly granted American visa, though it remained unconfirmed. Billel had embarked on a humanitarian trip, helping in medical centres and working with children in a war-torn area. When it was time to return to boxing, however, he was determined to clamber up boxing's notoriously slippy rankings, once again.
In a strange but typically endearing twist of fate, the Tanzanian Vifuaviwilli is now a stablemate of Dib's, lining up his own next fight in Serbia after 'staying behind' with Billel and his New South Wales team. Their gym boasted the Moloney brothers, Andrew and Jason, themselves surging through the world rankings of various governing bodies, all guided by their ever-dynamic manager, Tony Tolj.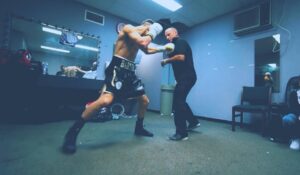 Boxing in Australia had enjoyed a sudden new lease of life with Jeff Horn's unexpected triumph over Manny Pacquiao, but a few years on, it still had a long way to go in capturing the hearts of a nation traditionally dominated by other sports. The career of Anthony Mundine had eventually came screeching to a halt, with countrymen Danny Green and Daniel Geale retiring in recent years. World titles had since evaded them, but Dib was adamant this was his time.
"Man, it kinda gives me goosebumps even thinking about it", he explained, passionately. "It's something I've been thinking about every day now. It's come to that stage of my career where it's dragged on for so long and I've had opportunities, I had that opportunity to fight for the world title and I couldn't go – it was outwith my control. When I finally get that shot, it just gives me goosebumps!"
"I feel like it's been a long journey, to be honest. Back when we spoke I was number five with the WBA, so I was close to a shot back then as well. I think I'm in a better position now. I'm in the same spot, number five with the WBA [again], but I'm in a better position because I'm more mature as a fighter and I'm more developed. I'm just trying to get that shot and it's been a bit of a struggle."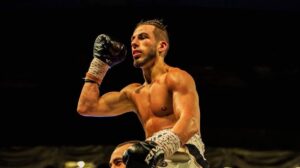 This past weekend had seen two of his potential opponents defending their titles, with Tevin Farmer and Gervonta Davis winning comfortably on separate events. The super-featherweight division has been booming, with Mexican Miguel Berchelt the longest-reigning titleist and former Navy man, Jamel Herring, the newest addition since capturing the WBO strap.
Dib spoke of a potential unification bout between Baltimore and Philadelphia's own, "Obviously [Gervonta] Davis is explosive – but it only lasted a round [against Nunez], so I don't know. I do think he's the best [champion at super-featherweight], yeah. I've never been sold on Tevin Farmer. I'd love to fight him. I don't think he's as good as everyone says he is or as good as he thinks he is. I think he should definitely stay away from Gervonta."
It didn't matter to the Australian whether it was either of the aforementioned champions. He'd been waiting long enough and promised to pour his heart into whichever challenge he was presented with. Dib was actually cruelly denied a shot at WBA regular world champion, Albert Machado, who ended up suffering two defeats on the spin to unheralded, much unfancied Andrew Cancio. It could have been his chance – but these things always happen for a reason, he reasoned.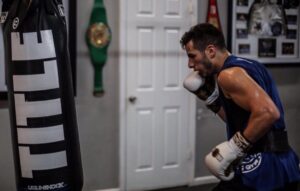 "I was meant to fight him [Machado] for that world title, but because of the visa issues that didn't happen. It would have been a perfect fight, but it didn't come through. I'd love that fight [against Cancio], but I think he's fighting JoJo Diaz again. By the end of this year we should know what's happening and I think I should get a shot at the beginning of next year. That's what it looks like.
"It's tough, man. At points it gets frustrating. You start thinking to yourself, 'Is it really worth it?' but it's the love for the game that keeps you pushing through. I think it's made me hungrier. Once I get that shot, I'll do whatever I have to do to win that title."
Doing whatever was necessary had become a recurring theme throughout my time with Billel, whether it was fighting Yuandale Evans with one functioning arm or tackling an unknown African fighter after being stripped of his right to box in the States. Fighting was in his blood. As he marches towards the best in the division, laser-focused on world titles, he was reminded of darker days.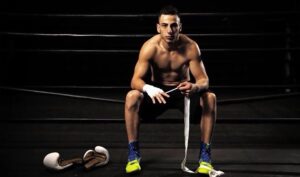 After bouncing back from the family's bankruptcy, both Billel and his brother rolled the dice, opening a phone shop in a local shopping mall. They didn't know anything about phones, or sales, he explained, but in a short space of time they would become the highest-selling store in the entire country.
It seemed everything started with survival, but ended in success and as he approaches world title contention, Dib expects that cycle to continue. He'd tasted defeat, but had since returned from brink of potential retirement after feeling disillusioned with boxing. It is a sport where hard work doesn't always guarantee success, but Billel wouldn't have it any other way.
"It's a tough question. I don't know if this is the right way to think about it, but as long as I'm content with what I've done [I would be happy]. Like we said about Amir [Khan], he's always in good fights, he always has a go – we can't take that away from him. I guess that's a badge of honour as a fighter. But when it's all said and done, I wanna be remembered as a great champion."
Interview written by: Craig Scott
Follow Craig on Twitter at: @craigscott209