EXCLUSIVE: Brett McGinty – "Across the Water…"
Photo credit: Valentin Romero
The rolling hills of Donegal were a far cry from 'Hatton's Gym' in Hyde, Manchester. The sound of the waves that crashed off the rocks surrounding Fanad Head Lighthouse had now been replaced by the thudding of fists on battered leather. Brett McGinty's new home is perfect though, as he embarks on a career as a professional fighter under the tutelage of British boxing legend, Ricky Hatton.
After putting pen to paper and sealing an exclusive management deal with Los Angeles-based Sheer Sports, the highly-revered former amateur spoke cautiously about his transition to the paid ranks. It wasn't his only option, Hyde. With options on the table from trainers linked to Sheer Sports in the USA, he decided to base himself in England, destined to become a big fish across a much smaller pond.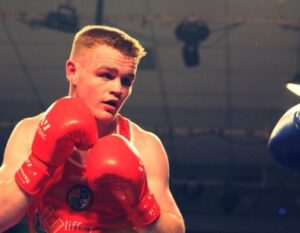 "I would have watched him [Ricky] fight Manny Pacquiao, for sure", explained the young St Johnston man, "I think I would have watched him fight Malignaggi and watched him fight Mayweather. I actually watched him fight Kostya Tszyu as well, I don't really remember it that well, but I would have probably seen about six or seven fights live. You couldn't really have been from Britain or Ireland without having heard of Ricky Hatton, if you're a boxing fan, you know what I mean?"
"To be honest, when I went over there to start [training], when I first seen him I was sort of thinking that way, but you know, he's not like that at all. He puts you as ease, in a way, so it's good. You're in the ring, and sometimes … When I'm in the ring with Ricky Hatton and he is in my corner, and during sparring, I'm just thinking to myself, 'Whatever instruction this man is giving me, I can't really ask for much more, because he's been there and done everything that I would hope to do in my own boxing career.'
"To have somebody like that in your corner, who's been there, done that, won all the titles, is training you. No, you can't really ask for much more. He's very humble considering what he's done, and with everything he's done for boxing, there's no ego or nothing. He's just one of those guys."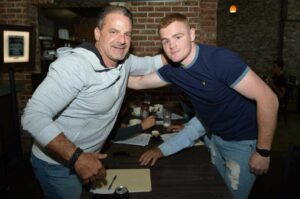 The process of turning over hadn't thrilled the eight-time Irish national amateur champion, who admitted to just 'wanting it over and done with'. He'd been spotted by his new management team during an international competition where he'd toppled Matchroom USA prospect Nikita Ababiy. But Brett didn't feel as though the time was right. Moving to LA and following in the footsteps of successful Donegal fighter, Jason Quigley, was an option, however it wasn't ideal.
From a solid sporting family, it hadn't just been boxing that played its part in McGinty's life. The 'sports mad' kid from coastal Ireland had sometimes even juggled three at a time, discovering eventually that boxing came naturally. The Oak Leaf amateur boxing club in Derry became home and the rest, as they say, is history.
"I was living with my mother and father. I have two brothers, as well, but we're a sporting family all of us. My dad has taken us the length and breadth of the country all of his life to make sure that we're getting the best training, the best sparring and the best treatment we can get. The whole family is just sporting mad! I suppose it just got to a stage where I was playing different sports at the one time, but boxing was the one I was best at. I was winning natonal titles in the first year."
Brett continued, "I was having success and that's what I was enjoying. Whenever I went into the gym, I just went from strength-to-strength and I've been training now for about eleven or twelve years. I started boxing to lose a bit of weight, actually. I was a bit of a chubby kid and I started to like it. I think it was about eighteen months ago after fighting for Ireland against the USA that we kind of built the relationship with them [Sheer Sports]."
"To be honest, I wasn't ready to turn pro then, but it was nice to know that they were enquiring. When the time came and I was ready, they said they were working with some coaches this side of the water and it was Ricky. They sent me there for a trial and it just gelled. Coming back, I remember thinking that whatever happened, I wanted to be trained over there. It just couldn't have went any better."
Despite a range of other interests, it was boxing that had dominated the last decade of McGinty's life. Travelling all over the world, picking up medals and plenty of experience, he'd become seasoned to an extent. Now settling in to new surroundings in SK14, his head is firmly screwed on and it's time to make a splash as a professional.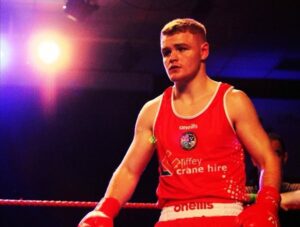 Without a solid promoter in place, Brett's debut is yet to be decided. The struggles endured by fighters chasing decent ticket deals and attempting to cover the cost of their opponents or the house were very real for the Irishman, now based a flight or a boat journey from his loyal fanbase. He was becoming more familiar with the gym every day, but tackling loneliness and isolation during camp would rumble on.
"I suppose I just love winning. There's just something about winning in sport, but boxing is different because it's an individual sport. In individual sports, when you're winning them for you, there's just no better feeling.
"But I suppose losing makes a fighter… If you're just winning all the time, you'll not know how to react. It makes a better, stronger fighter and any time that I've lost, it's just made me hungrier. It can go one of two ways. It's definitely the tougher side of boxing when you've made so many sacrifices – then you come up short.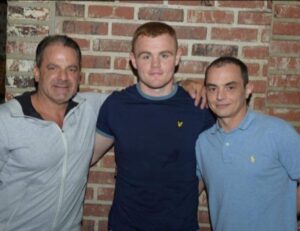 Losing makes a fighter. That much is true. Before he makes his professional debut, the young Donegal prodigy works out religiously, with the pressure to perform weighing heavily upon his shoulders. The exposure he was facing was a result of Sheer Sports' hard work, with McGinty popping up on every podcast or website. All of this before throwing a 10oz glove.
Like the talented Jason Quigley before him, Brett was gazing into the possibility of world titles. Hard work and dedication was the mantra of a certain Floyd Mayweather Jr, with his success immeasurable. Although he's only at the beginning of a tough journey, beset with obstacles, McGinty was confident he could accomplish what many believe he's capable of. Settling into the pro game was one thing, but dominating it was another.
"The aim is to be world champion. That's the dream", McGinty concluded. "If you don't dream about being world champion, then I don't really know why you're in boxing. But right now, I've just finished my first couple of weeks of training, so I don't wanna make any silly claims or anything. I want to be a holder of a [world title] belt and that's what I'm working towards."
"We don't have many pro boxers in this County, we're very low. The most famous is probably Jason Quigley. The support has been brilliant, the texts, people wishing me well. It's been great, you know? What more motivation could I need? It makes me train harder knowing people want me to do well."
Interview written by: Craig Scott
Follow Craig on Twitter at: @craigscott209