EXCLUSIVE – Craig Stephen: "Staying Ready…"
Tales of boxing from those most acquainted have prompted transatlantic phonecalls or warbled translation. However, on this occasion, it was a matter of walking only seven hundred metres on a humid, Glasgow afternoon.
Whatever happens next, Britain's premier ring announcer, Craig Stephen, has voiced some fights that frame our generation in a career spanning over fifteen years. I was keen to delve into the role and gain an understanding of the Glasgow businessman's rise to prominence. Sitting to discuss ice hockey, family and the future, our conversation was tainted by certain accounts of boxing's instability. Two hours later, I got the feeling there was plenty left unsaid.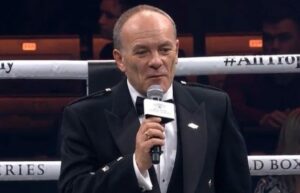 Stephen had worked his way up, becoming a stalwart of the Scottish amateur scene, yet it was his work with Matchroom Boxing of late, that had launched him into public prominence. I'd caught him working many shows, including the World Boxing Super Series, flexing self-taught linguistics, introducing both Japanese and Puerto Rican boxers in their native tongue. The travelling support immediately warmed to him – as they usually do.
Since finding himself estranged from Matchroom Boxing after their decision to employ David Diamanté on a permanent basis, Stephen was keen to entertain new ventures. His travels to China, working for the IBF at both their conventions and world title bouts, had added another string to his bow. But, why boxing? Standing at the bar as I arrived, he appeared reserved, not keen on attracting any attention – though it hadn't always been this way.
"As an only child, you're either introverted or you're a show-off", Craig explained. "I was a show-off. When people react to what you say when you're trying to make them react, it's probably like a comedian getting a lift. You get a hell of a buzz. It kinda did come naturally [being visual, instead of purely audio]. Back in my teens, my cousin had a mobile disco and I would roadie for Ron. Sometimes he would say he fancied an hour's break, so I would cover for him and I suppose I got a taste for it. The voice was completely different then."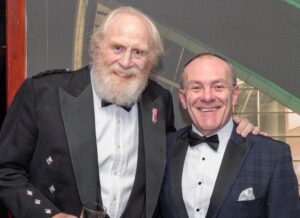 "I was born in Rutherglen, in a tenement before they pulled it down and turned it into a dual carriageway. My father was forty-six when I was born. I never realised what age he was until I went to school and saw the other parents. He was old enough to be my Grandpa. Because I was an only child, my brothers and sisters were my cousins. I had a great childhood and we were all close, it was brilliant. I didn't kick about with kids my own age until I went to school."
He wasn't sure when asked if an older father and a lack of siblings had caused him to mature at a faster rate than his peers. Maybe, but maybe not. His experiences with Ron on the road, acting as his understudy, performing for hordes of dancing Glaswegians would stand him in good stead as he started a family of his own.
After turning his back on a potential career spinning records or more likely, carrying the vinyl, he worked as a Sales Manager for a hardware supplier, travelling the country, meeting clients and clocking up the miles. It wasn't his style to push a sale, relying more on a calm, charismatic approach. Time spent away from his young family was tough, but he'd always made sure he was back when it really mattered.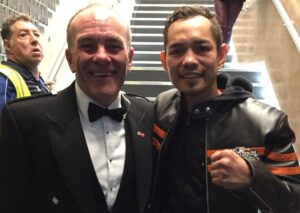 Now aged fifty-eight, Craig had two sons of his own, named Jamie and Gary. With both now edging into their mid-thirties, he'd watched them dip their toes into multiple pastimes, namely ice hockey from a young age. This would prove the unlikely catalyst for their dad's own career change, after he confidently agreed to run the electronic scoreboard for the local youth team, whilst his sons were playing.
"All of the parents were like, 'I'm not doing that!', because it looked like the Starship Enterprise. It was a little black box and you put up the penalty receiver, the clock stopping. Everybody was scared of it. I thought, 'Show me how to use it, I'll do that!'. So, I was the official scorer."
He continued, "I went to Manchester on business and I heard there was a game on in the Arena. The best part of the night for me was the announcer. He was absolutely brilliant. He did it with gusto and the crowd reacted. It was brilliant, just brilliant. I thought, 'I'm gonna do that at the junior games'. They had a little port for a microphone next to my scoreboard. I just started doing that for the kids. It just added so much to the atmosphere of the day."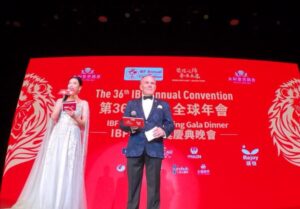 What had started out as his good, parental deed eventually turned into a paid position with professional ice hockey team, the Fife Fliers. Making money for something he'd happily done for free was nice, but it was the doors that had opened since he'd started announcing which were more important to Stephen's story.
A chance conversation with Stevie McGuire of Glenrothes boxing fame, who was running the security for the Fliers, resulted in the Rutherglen man stepping through the ropes for the first time. He was up front with McGuire, telling him he knew nothing about boxing, to which the blunt former fighter responded, 'What do you need to know? You just read out the names!'. Fair enough, he thought, it was worth a try.
"Stevie is blunt", laughed Craig, "I had spotted these trophies and I was asking, 'Right, what happens with these?' but Stevie was asking me, 'What do you want to know for?' I was wondering who we get to present them and he said, 'Get the doctor or something!', so nobody was appointed. I said, 'I'll sell these. I'll sell the right to present the trophies.'"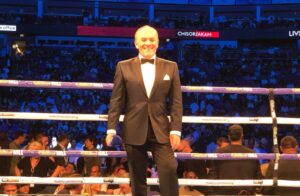 "There was about forty minutes before the boxing started, there was lots of family and friends, businesses etc. We had people saying, 'Can I sponsor bout number five?' We had hands going up everywhere. At the end of the night, I have Stevie about three times what he was due to pay me. I was doing games and stuff as I got more confident in it.
"I went self employed in 2008, but it was [down to] a guy called Chris McAdam who runs the Noble Art Boxing Club, I did a show for Chris one night that completely fell apart. One of the box-offs didn't happen and a couple of the other contests fell through, so Chris was tearing his hair out. We started late, but we ring walked every single contest like it was Vegas. Craig Docherty was there and he was on Sky at the time, so I got him into the ring for a wee interview and we stretched the night out.
"Chris phoned me the next day, 'I'm gonna tell Tommy Gilmour about you'. So, this was about the tenth time I'd heard this [from somebody]. But then minutes later the phone goes, he says, 'What are you doing tomorrow? Can you go to Tommy Gilmour's office?' Fair play. He actually followed through and that's when I got my pro license."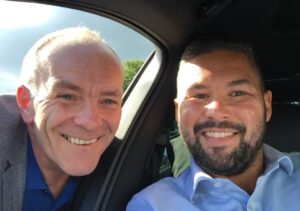 That introduction to Scotland's boxing Godfather, promotional giant Tommy Gilmour, proved fruitful for a younger Craig Stephen. The transition from amateur MC to televised ring announcer was beset with politics and preferential treatment. The tried and tested announcers of old were difficult to displace, but he remained sure that he'd earn his crust when presented with the right opportunity.
His first televised, British title fight was snatched from beneath him through no fault of his own and this cycle continued. Barry Hearn, Matchroom Sports powerhouse and a close friend of Gilmour, was keen to use him, even letting him introduce Polish heavyweight Albert Sosnowski as a one-off, in order to sidestep television stipulations. With thick skin and perseverance, Craig eventually found himself on the big screen and hasn't looked back.
"David Haye had started promoting on Setanta at the time and it's the first time I've ever approached anybody for a job. See for a salesman, I could sell to other people but I couldn't sell myself – it was too personal. I've seen other people on social media, almost begging for work and I don't want to be that guy."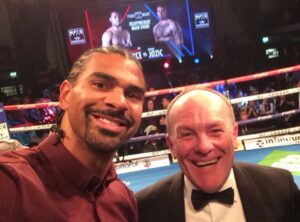 "This was Hayemaker, a brand new promotion, so I sent word to Dave Coldwell it was, at that time. He said that he'd seen me do some of the Tommy Gilmour shows and asked me to send down some footage. The only stuff I had was from a Lee McCallister fight. It was good professional footage and I did that in the kilt.
"About a week later, Dave [Coldwell] phoned me and said, 'Right, we have just picked David [Haye] up'. They'd picked him up in a limo at the airport and it had a CD player, so they played him the footage and he said, 'He's got a good voice – but he's wearing a kilt!'. Dave said to him, 'Yeah, he does there but he's in Scotland! He won't have a kilt on for you', so, I got the job."
Despite our setting, surrounded by clinking glasses and almost drowned out by chart music on a leisurely Sunday, it was impossible to ignore the professionalism of Stephen. He carried himself extremely well, telling each and every story with vigour. It wasn't hard to see why he'd carved out his own opportunities, being invited back by most of his employers.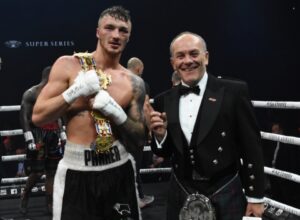 However, as the Glasgow-man had discovered recently, the promoters aren't always the men with their fingers on the trigger. Matchroom Boxing, a company he was continuously working with, dropped him with a few days notice – despite having five fight dates and three international flights booked. Their allegiance to dreadlocked, pork pie hat-wearing American, David Diamanté had come as a shock to Craig, but he wasn't one for burning bridges.
"As a salesman, you knew you weren't gonna sell to every buyer. I never took that personally. I wouldn't take a rejection personally – that's business. But I'd never say, 'I am not going there again'. If a promoter didn't want to use me, I wouldn't say in future, 'No, you didn't want to use me yesterday', and that's kinda worked for me."
The stint with Eddie Hearn & Co. may have come to a potentially temporary halt, but you'd be hard-pushed to find a company he hadn't worked with. I caught up with him fresh from his return to Glasgow after working a Kieran Farrell show, whom he described as a 'really genuine guy'.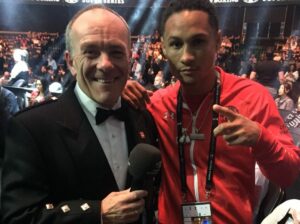 Farrell was his newest assignment, added to a list which read; Frank Maloney, Tommy Gilmour, Matchroom Sports, Hayemaker Promotions, IBF China, World Boxing Super Series and of course, Cyclone Promotions. To my amazement, Craig still finds the time to host amateur shows, with one of his proudest achievements remaining the Glasgow Commonwealth Games, crowning Josh Taylor and Charlie Flynn as homebred champions.
Of IBF world champion Taylor's manager and his former employer, Barry McGuigan, Craig told me, "I met him for the first time when I was working on a Hayemaker show, he was doing the commentary with Buncey [Steve Bunce]. I was walking to the toilet and Barry leaned out of the window of the studio, he shouted, 'Well done', so I've shouted back, 'Thank you', and he's said, 'No – I really mean it. You're the clearest voice I've heard for a long, long time'."
"Barry started promoting [Carl] Frampton on Setanta Ireland, so I got a phonecall out of the blue and it was Barry himself. He eats, breathes, sleeps and lives it [boxing]. He's so involved. I get on well with them [Cyclone Promotions], he's a really nice guy.
"I remember on social media, a guy had addressed a tweet to Barry, saying, 'It would be great if you could get Michael Buffer over' and Barry replied, '@boxannouncer [Craig Stephen] is our Scottish Michael Buffer'. I thought that was great."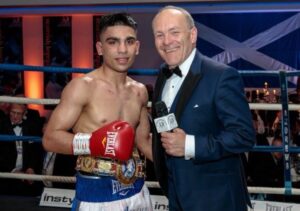 There never seemed to be an ego accompanying the passionate ice hockey fan-turned boxing enthusiast. Through conversation, he struck me as a perfectionist, always looking to innovate, whether it had been selling the rights to sponsor amateur contests or cracking jokes to warm crowds that filled arenas. Everything about his approach was well measured.
Not far off two decades' involvement in boxing, Craig had achieved what plenty could only dream of. He spoke with warmth when sharing stories of interactions with Ricky Wright, a Welsh ring announcer, aspiring to work on television, with the assistance of Stephen. He seemed to enjoy sharing that success, offering hints and tips learned on the job. But what else did he really want to achieve?
The situation with Matchroom Boxing had been tough to handle and I could sense his disappointment. Their platform was enormous and as a company, they were paying handsomely. But it hadn't been about the money. It was about setting goals, targets, I suppose, if you want to dip into Craig's previous career. He knew exactly what was next, barely skipping a beat – and I found it hard to refuse this particular sales pitch.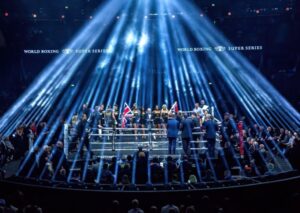 "I am happy, but I'd love to do America. Just for personal satisfaction. I honestly think if I did America, they would want me back. They love Celts. The Irish, the Scots, the Welsh. I'm recognisable as a Scot, but an understandable Scottish. Americans would lap that up – I'm sure they would."
"I would challenge anybody who said that last World Boxing Super Series wasn't a standout. Obviously the Puerto Ricans speak Spanish, so I did that [with Emmanuel Rodriguez], and then with [Naoya] Inoue, I introduced him in Japanese. At the weigh-in, I got a round of applause from the Japanese crowd, they loved it.
"I did see Inoue at the IBF convention, it was really fresh [after the fight in Glasgow] and he was receiving his belt from the IBF. I had a few Japanese fans approaching me saying, 'Great job' or 'Well done'. That's nice. I love that."
Interview written by: Craig Scott
Follow Craig on Twitter at: @craigscott209