EXCLUSIVE: Dmitriy Salita – "From the Ground Up…"
The stinging winter wind slices the face of young Dmitriy Salita as he finds his way, walking sheepishly through Flatbush Avenue, Brooklyn. The weather reminds him of home, in Odessa, Ukraine. Perilously cold. It was the only thing he had to cling to, shipped to America at nine-years old with his immediate family in tow.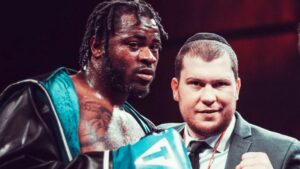 Moving from Eastern Europe had been deemed a necessity after rumours of violent raids against Jewish communities continued to surface. The Lekhtman family, Salita's paternal surname, pursued a brighter, safer future for both Dmitriy and his brother Mikhail – dressed somewhat differently to their new neighbours in New York. Still, at least their father didn't have to own a gun here in order to feel safe in the evenings.
Twenty-eight years on, that red-headed boy finding his feet in Flatbush was now firmly established amongst one of the toughest sports in the United States. He'd competed at the highest level during a decent professional boxing career, capturing WBA and IBF international titles, however it was his work now, as a licensed promoter, that had been snatching column inches.
I'd watched him travel to the United Kingdom as a number one contender, before almost immediately swivelling on his heels following a swift defeat to Amir Khan, just shy of a decade ago. But I'd soon come to understand that Salita's story runs far deeper than that. Now promoting controversial stars Jarrell 'Big Baby' Miller and Claressa Shields, he'd clawed his way up from club shows to network deals, displaying that same spirit that saw him settle as a teen in Brooklyn.
"I was upset about leaving my home and excited about coming to America, because I had only experienced the United States in the movies", explained the thirty-seven year old. "Going into the store and seeing the selection of food you had, compared to what we had [back in Ukraine], it was just tremendous. Back where I was growing up, in winter you could only buy potatoes and cucumbers, but every season in [New York] you could buy all types of vegetables."
"It was a very different experience. When we came here, my family was on welfare which is public assistance to help you get on your feet and it was very challenging. The immigration experience is very difficult. You're a new kid on a block – a different block. You don't speak the language, your parents don't have money and it's a different culture altogether."
On his introduction to the sport, Salita continued, "Going to school all over again was challenging, but it brought me to the boxing gym, Starrett City Boxing Club, at the age of thirteen. It was one of the best boxing clubs in the country and produced some of the best fighters in the world, such as; Danny Jacobs, Luis Collazo, Monte Barrett, Shannon Briggs, Travis Sims, Sadam Ali and Joe Green. There was just so much talent. Zab Judah would train there quite often, so it was a hot bed of New York City boxing and I was very fortunate to grow up and be around that."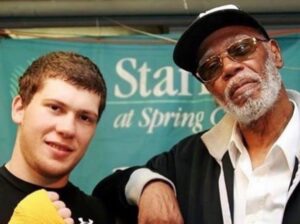 Those lessons learnt on Van Siclen Avenue, Brooklyn would remain with the young resident as he embarked on a career between the ropes. The club had become a sanctuary for many talented fighters, with Salita capturing amateur accolades year-on-year. Winning a bronze medal at the Junior Olympics, topping the National championships and especially capturing the 'Sugar Ray Robinson award' for best boxer at the New York Golden Gloves had all catapulted Dmitriy into the spotlight – primed for life as a fighter.
Eighteen years ago, he signed his first professional contract with none other than Bob Arum and Top Rank – a company he retains a solid relationship with now, in his capacity as a promoter. The 'Star of David' enjoyed initial success, winning the NABA light-welterweight title, however it was when stepping up to world level that he suffered his first crushing defeat.
Despite making the walk thirty-eight times, it was that chilly night in Newcastle, England for which he's often best remembered. Facing defending world champion, Amir Khan, both the opponent and the occasion caught him off guard. Salita would never capture that elusive world title, but facing Khan would give birth to the idea of self promotion.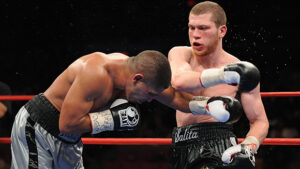 "Physically, it wasn't very difficult", he stated. "It was one round and I got dropped three times. I got back up every time. All of the things that were happening in my life at that time, it was very difficult to find meaning in it and to overcome it. To use that experience to empower me was very difficult. It was challenging to deal with that and overcome it."
"I was in great shape making 140lbs. The fight happened so fast [and] I'd never fought outside of my country before. The pressure of the event, the electricity and things like that, I wasn't able to get with it. I couldn't adjust to the fight being fought at that fast pace, but Amir did and he's a very experienced pro. He noticed I was tense and he took advantage of it. He's a great fighter, very fast and he did what he had to do."
Salita continued, "The Amir Khan situation, it was a bitter pill to swallow. I didn't get a chance to show myself. It was very difficult to pick myself up from and to look myself in the mirror. I had to find myself, in life. It was a very difficult time in my life, but my next fight after that was when I started my company. Without that loss, I don't think there would have been a start to my promotional company."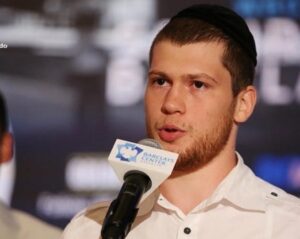 "At first, I started it to promote myself and to promote my career. But then, as we started to progress and become more successful, other fighters started to reach out to me. For example, a guy like Jarrell Miller. He had the gift of the gab, he was very athletic and was a good boxer, so I just didn't get why bigger promoters didn't align themselves with him."
Jarrell Miller: the elephant in the room.
After patiently working Brooklyn's own unbeaten heavyweight hope through the rankings and providing a platform to showcase that braggadocious personality, Salita had eventually secured him a bout with British superstar, Anthony Joshua for three of the four heavyweight world titles. Three failed drug tests and multiple denials later, he sits idle, linked with comeback fights, but suspended for a period of six months – a somewhat lenient punishment.
There was notable deflation in the tone of our subject when discussing 'Big Baby', someone Dmitriy had taken under his wing from 2010 and beyond, investing in his title tilt. They'd been linked since Miller's second professional fight, although officially signed papers four years later. Cheating wasn't condoned by the promoter, it had never been a part of their plan, but when discussing Miller and his current situation, Salita was a realist. He would make a return to the ring and when he did, Dmitriy would be standing by his side.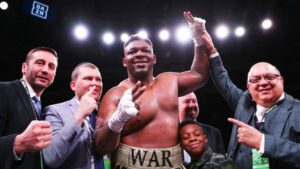 "It was a big disappointment. I've been working with Jarrell since his second professional fight and once he started getting into the championship talk, our plan was always to align him with Anthony Joshua. It was what he wanted and the fight we thought was best for him. We worked with Eddie Hearn closely and Jarrell fought on his cards.
"Jarrell has been suspended. He's going through that process and we are working on some opportunities for him. We want him to get back in the ring, healthy, clean and in the best possible way. We, as a team, are always communicating and figuring out the best way forward and trying to find a resolution. You have to deal with it as productively as possible and move forward."
On the subject of doping, Salita continued, "It is something that concerns me, [PEDs in boxing], but I think it's great that there is more attention on it. These different testing agencies are great, the only thing that makes it more difficult is that it's expensive. But it's money well spent. It has to be a clean sport. A lot of the organisations are going a great job in enforcing them, but I think the fans are demanding it. The networks are demanding that there is testing."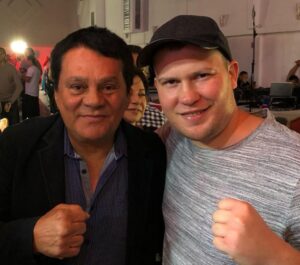 Salita Promotions rolls on, however, with their show this weekend showcasing some of its best talent. The company are staging their July 12th card in the Emerald Queen Casino, headlined by heavyweight Jermain Franklin and accompanied by one of their newest signings, world-ranked heavyweight Otto Wallin. Dmitriy has high hopes for the former, currently 18-0, 13KOs and retained a focus on boxing's money-spinning division. The company's progression was a testament to the hard work of its figurehead, driving televised dates from the ground up when fellow fighters-turned-promoters had theirs gift-wrapped.
His female unification headline bout between double Olympic gold medalist, Claressa Shields and former German world champion, Christina Hammer, had grabbed the attention of the casual market, with Salita promoting both fighters. Shields, who emerged the comfortable victor, is now the undisputed middleweight champion and is set to return at a third weight-class when fighting Croatian, Ivana Habazin. Despite her brash, divisive online personality, she has an incredible story to match her undoubted ability. Salita spotted that a long time ago.
"I read about Claressa [Shields] before she won her second Olympic gold medal. I knew that this lady, she has all the ingredients to become the next big thing in boxing. Over the next couple of months, I did my best to make contact with her and thankfully I did. Now, she's the unified middleweight world champion and the best woman in the world. It's exciting to see things come together."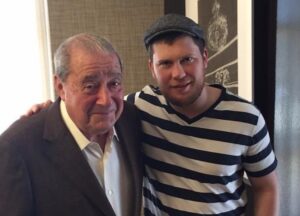 "The only thing I had going for me [in the beginning] was the knowledge and the experience to know what was needed. Now we have televised events and we can give fighters opportunities to be seen and to be on their way to fight for world titles. I was involved in every detail of the show. Dealing with the commission, matchmaking, dealing with the arena, the dimensions of the stage. Every detail that goes into the event. Thank God, now we have a staff of people who work for us, but I have that knowledge of what needs to be done and how it's supposed to be done. I have the experience of sweating over it and stressing over it."
Another fighter returning under his stewardship was Nigerian heavyweight, Samuel Peter, slated to face British world title challenger, Hughie Fury. The fight has come under fire from many with Peter's age and relative inactivity (a three-year absence between 2016 and 2019) posing concerns. Peter had fought some of the best, taking Wladimir Klitschko the distance fourteen years ago. Plenty had been critical of the fight, but Dmitriy explained there was more to matching than meets the eye.
He used Eric Hunter as an example when supporting his decision to take Samuel Peter on a promotional deal. Hunter, narrowly defeated by Welshman, Lee Selby, had been frozen out until recently. Salita had heard stories of his showing in the gym, deciding that there was life in the old dog yet. Explaining the benefit of having first-hand experience as a fighter, it made sense to look beyond inactivity in a sport beset with politics and financial uncertainty.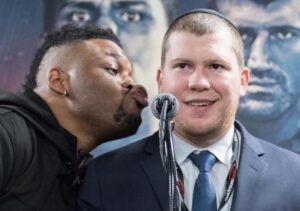 "I thought he [Samuel Peter] was finished with the sport, too. But I've been friends and training partners with Kofi, his trainer, for a very long time, since my fighting days. He said, 'Would you be interested in working with Samuel Peter?' I said, 'You know, I'm not sure, because he was older and I don't know how much he has left'. I spoke with Samuel before signing him and he said all the right things. Other big fights with Povetkin [were offered], but this one makes the most sense because Samuel feels like he can win.
"He fought on the top television networks and has fought or beaten some of the best in the game. The heavyweight division is very hot now and I look at someone like Chris Arreola – I don't know that he had the same success – and you see that he's getting another big fight. The heavyweights have rules of their own.
"But you bring up a very valid point, for example on July 12th, the non-televised part of my ShoBox event, you have Eric [Hunter]. Eric fought at the top level, beat some top guys. I know different trainers and different fighters, part of my experience as a former fighter means I put a lot on how a guy looks in the gym. They tell me if the guy is in the gym, whether he has it or he doesn't have it."
In sniffing out those hints of talent, using tricks learnt from a career spent bleeding and sweating in the gyms of New York and beyond, Salita had managed to acquire an impressive stable. His work with Miller and Shields had garnered the majority of recent attention, however Uzbek star Shojahon Ergashev was almost certain to win world titles. As a promoter, he continued to utilise those relationships built years ago, remaining incredibly sharp.
Dmitriy Salita the fighter had achieved more than many of his peers. He'd topped bills, fought for world titles and travelled to various continents. He'd sparred countless prospects and established champions, yet turned his back on the sport, perhaps unfulfilled.
As the front man for Salita Promotions, he'd been forced to understand those facets of boxing we often take for granted. He'd experienced doors being slammed shut on his arrival, measured the dimensions of the ring apron on his hands and knees and taken the fall, staking his own reputation for the safety of his fighters.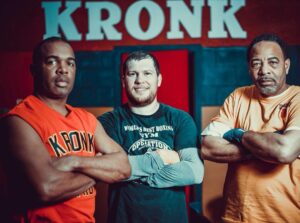 That young nine-year old boy, reaching the end of Flatbush Avenue, arriving at the Lekhtman family home, had been on a hell of a journey. To think his bout with Amir Khan was almost ten years ago and to consider he sits on the other end of the phone, still only thirty-seven. Life was bigger than boxing, he knew that. He'd lost his mother at a young age, taking her name, in her honour, when fighting for his own. Moving from Odessa to Brooklyn had taught him lots, but there was still plenty of work to be done.
"I grew up in the boxing community my whole life and this is something that I love with a passion. It's something I care about and I think about it most hours of the day. I'm still building my legacy. I am always trying my hardest to be the best. As my career advanced, I kept to my beliefs. I'm proud of myself that I was able to withstand those challenges."
Interview written by: Craig Scott
Follow Craig on Twitter at: @craigscott209