EXCLUSIVE: John Docherty – "Win or Bust…"
"If I lose, what am I going to do next? I don't know nothing else," Super middleweight prospect John Docherty (7-0, 5KOs) told Boxing Social, as he prepared for his first outing of an important new year.
"I don't have anything else to do after boxing, so I can't lose," he added. "That's what's in my mind. I'm basically living on the side of the street. That's what I have to lose, so I've got to put everything into this sport and I've only got one chance."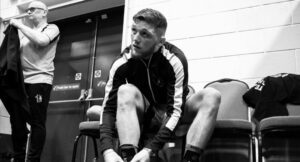 "I know my style now, I'll win the world title and I know I can do it. So I just have to be positive and never think about losing. I've got nothing else to do, do you know what I mean? Eddie Hearn's going to want nothing to do with you, so I can't lose — that's what's in my head."
It was almost manic. The stiff refusal to acknowledge the possibility of defeat was a stark reminder of boxing's fragility. One loss and a career could be shattered, with fighters scrambling back to relevance, accepting lesser purses and ending bouts before spectators have taken their seats. Performing to an arena with echoed chants from a handful of loyal supporters doesn't quite fill fighters with the same buzz.
In the eyes of John Docherty, it was world titles or the possibility that life would be thrown into complete disarray. Despite the promising, explosive start to his professional career, the 22-year-old from Montrose, Scotland, didn't have an education to stabilise himself should boxing render him unbalanced. It was everything. It was, strangely, just how he wanted it.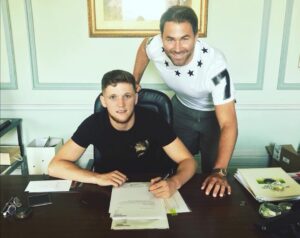 Though he's based himself at Matchroom Boxing's Brentwood gym, Essex, Docherty spoke with a thick Northern accent; a combination of a childhood spent in the Burgh of Angus and of his family's penchant for travelling. Ahead of his first outing of the new year, he recalled his introduction to boxing, eventually leading to a spot on Team GB's national amateur squad.
"It was my brother that started boxing," he explained. "He was doing it, and I used to spar him all the time and my daddy said: 'Look at this kid, he's going to be good'. That was it — I never turned back. I just loved training. And I loved sparring. I was winning a lot of fights, my first 15 fights I won. I had about eight stoppages in my first 15 fights, actually. He stopped boxing, my brother. He stopped and then I kept going."
"See I'm from Inverness, originally, but my mum's from Newcastle and so is my wife. So that's why I was on GB's squad during the amateurs. I was travelling home from Sheffield, and then back to Newcastle. I stayed in Newcastle for three days and then it was back to Team GB on the Monday. It was better than travelling back to Scotland — that'd be a long drive (laughs). I was only going 120 miles, instead."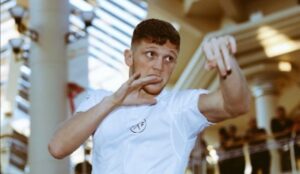 "When I first started boxing, I was watching fights all the time and I always thought: 'Aw, I have got to be on the telly!' I never thought I'd be on those shows. Obviously when I turned professional, all the boys just talked and talked about it, 'Imagine fighting on this show or that show', and then it just started happening not long after that. This is it for me. I can't give up. I've got to be focused 24/7 in the gym, I need to listen to what my coach is telling me because I just don't have anything else."
Again, Docherty's intensity was turned up a notch when questioned about the sport or any concern with his own longevity. He'd recently become a father for the first time, adding the pressure of providing for his family to his crusade for championships. Gracing the early undercards of Matchroom Boxing's arena shows last year had given him a taste of success, but it had barely lined his stomach.
After securing his bronze medal in the Gold Coast's 2018 Commonwealth Games, turning professional was the only option for the hulking 168lber. Whilst some fighters struggle to make the transition, Docherty had been battling with amateur weight categories and has since thrived during his short spell amongst the paid ranks. His move to Tony Sims' gym, training alongside countryman Ricky Burns, world title challenger John Ryder, and accomplished prospects Ted Cheeseman, Conor Benn and Felix Cash has allowed the Scot to cut his teeth, but it left him wanting more, not keen on learning to walk before running into stiff contests.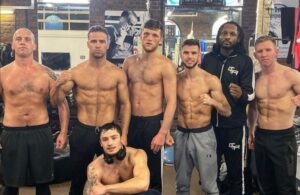 Returning to the Kell Brook-headlined Sheffield card on February 8th, Docherty feels he has something to prove, following consecutive distance-wins over the durable Darryl Sharp and Lewis Van Poetsch, over four and six rounds respectively. He wasn't happy hearing the final bell, but understood Sims' desire to test the gas tank before increasing his shift. From here on out, it was his aim to stop opponents — especially after watching stablemate John Ryder suffer a controversial, unanimous decision loss to Callum Smith in Merseyside last year.
"When I'm fighting, say I do a 10 rounder, I obviously want to stop them. But, my coach wanted me to go the distance and to get that experience and get the rounds in. Now we've done that — I'm going to look to stop everyone as quickly as possible. My last few fights I had to do the rounds, but from now on, I'll be looking to stop anyone and everyone — I promise you that.
"Obviously Eddie loves it when you knock these people out. Eddie liked me [when I was stopping people] and he still likes me now, don't get me wrong. I see him all the time in the gym and he wants me out as quick as possible, and he wants me to step up now. I'm ready, I can't wait for a step-up fight to show everyone I'm capable of becoming what I know I can be."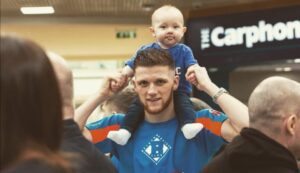 "We'll look (around) after this fight in Sheffield. But people aren't going to come out and keep paying ticket money to see you fight journeyman when they know you're going to win. So yeah, I'm just looking forward to trying to get in with somebody better and then I can go in there and show them what I'm all about."
When he makes his way to the ring for the February show, Docherty will be looking to steal a march on his domestic rivals in a division where the Lonsdale belt has recently taken up new residence. The Super middleweight landscape has noticeably changed of late, with the retirement of former world champions George Groves and James DeGale shifting focus towards fresh talent. Reigning world champion Smith has surpassed Docherty's current level, but was on the Scot's radar further down the line — perhaps as an act of vengeance for fallen stable-mate, John Ryder.
Recently, Team Sauerland fighter Zach Parker has given up the British belt after winning it controversially by beating Darryll Williams in Glasgow. It was then contested by London's Lerrone Richards and Leicester's Lennox Clarke, with the former emerging victorious on points. Docherty wants those fights now, unimpressed by all of his rivals. The likes of Zak Chelli and Tommy Langford still sit above him in the British rankings via BoxRec, but John is primarily hunting the newly-crowned champion. Richards, promoted by Frank Warren, is a technically well-schooled fighter, but the Montrose-man feels confident he could dethrone 'Sniper the Boss' in a contest for both the British and Commonwealth titles.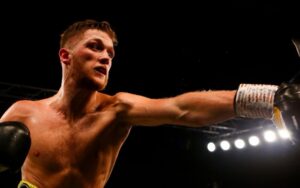 "Listen, I'm not going to just say it to big myself up, but Lerrone Richards? His last fight was actually terrible, genuinely," Docherty stated, bluntly. "Everyone else thought the exact same. He didn't look to land hard enough shots…His style would be suited perfectly for me and for the boxing that I generally do. If that was me doing a 10 rounder or an eight rounder, I reckon I could beat him right now! I reckon I could stop him, and that's not just me over-hyping myself.
"I'm basing it on many past, previous performances. I just watched them. You can look back and see his last performance. In that last performance, I would stop him in the middle rounds. He's a very lazy boxer and obviously you've got Parker, I think he's looking at a European title shot. I'm not sure, but that's what some people have said. But there's not really a lot of domestic level, Super middleweights around right now. They've all moved up to light-heavyweight or they've moved back down to middleweight, so there's not really a lot of people there for me."
The subject of drifting between weight classes seemed pertinent for John, a man towering over opponents with plenty of scope to grow. His physique wasn't all too different to the youngest of the Smith siblings, blessed with broad shoulders and a wide torso. However, that gift can become a curse, with the burden of facing the scales during fight week. Light-heavyweight will certainly suit Docherty once he matures fully as a professional, but for now, it was all about claiming championships in his current division.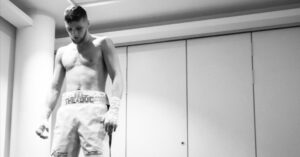 Despite hailing from a little-known Scottish town, Docherty has already achieved plenty. Married with his first child — and with a new, relentless determination — the successful amateur and now burgeoning professional truly believes that major titles are within his gift. Learning from three-time world champion and fellow Scot, Ricky Burns, has been a blessing, explained John, detailing Ricky's "incredible" dedication to training. With the pair holed up in Essex, improvement seemed inevitable, with both fighters passing one another at different stages in their careers. Burns, he remarked, should think about hanging up his gloves. Always easier said than done.
Ironically, Docherty's life away from the gym was quiet and uneventful. The opposite of the carnage that ensues between the ropes. His only pastime was fishing — another act of solitude, perfect for battling future periods of isolation and exercising the mind, rather than the body. On trips to rivers outside of Inverness, he would sit for hours, focusing only on that day's catch. Fishing is something he enjoys and has often used as a method of escape, yet the young father must remain focused ahead of imminent, tougher tests. John simply cannot afford to lose — he may have mentioned that.
"Obviously, it's going to be a lot of hard work," he reiterated. "I've got to be in the gym 24/7, I want more knockouts all the time. So I'm just getting ready to take the next test. This is it. I can't give up. I cannot lose. I'll be out on the streets."
"I want world titles in a couple of divisions in just a few years' time. That'll be the main aim. I don't just want to win one world title, I want to win world titles in a few divisions. And I don't want to be one of these false world champions with one of those random belts over there. I want to be the WBC world champion. The best of the weight, not just one of these fake world titles, I want to have the best. I want to be the number one fighter in my weight division. I'll make sure everyone classes me as number one."
Interview written by: Craig Scott
Follow Craig on Twitter at: @craigscott209