EXCLUSIVE: Jordan McCorry – "Seize the Moment…"
Boxing is a game of snakes and ladders. As soon as they start making tangible progress, climbing the rankings or opening emails offering sought after bouts, fighters can often find themselves kicked back to square one, left in the cold and waiting for the phone to ring – especially in Scotland.
One man determined to grab another golden opportunity, is Cambuslang's Jordan McCorry (18-5, 4KOs), set to challenge for the WBO European super-featherweight title this weekend, squaring off against unbeaten talent, Archie Sharp. Despite comfortably beating journeyman Alec Bazza last month, it was his fight with reigning British champion, Sam Bowen, that had opened doors for the Kynoch Boxing fighter, giving a great account of himself but ultimately falling short as a televised headline act.
I caught up with McCorry, a two-weight Scottish champion, as he settled into his hotel in London accompanied by a small team. He'd done it before, the journey South of the border, infact, he'd even recently travelled to Switzerland to fight for the less-heralded WBF title, losing to Patrick Kinigamazi in a tough scrap overseas. Boxing was about taking chances, he explained, as he looked ahead to Saturday's contest, shown on BT Sports.
"They gave me more notice this time", he explained, "But I think it was only a month or something. I fought about two weeks ago, so aye, it was only a month or so. Usually you want the longest camp you can get, just to get sorted, but you know what it's like. Apart from Josh Taylor and guys like that, this is the kind of chances you're gonnae' get and you just have to take them. Up in Scotland, you get last-minute calls to fight the boys down South and if you don't take them, you'll never know. It's risk-reward."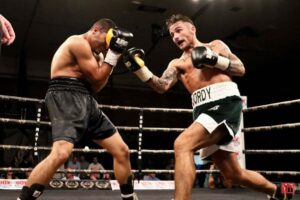 With his second high-profile British dust-up looming, the reward seemed far higher than the risk. McCorry had been fighting on smaller shows in Glasgow, plying his trade in hotels or leisure centres, racking up victories and waiting to pounce on the division's bigger names, should they come knocking at his door. In his fight with Sam Bowen, Jordan had tested the champion, somewhat unexpectedly, before being stopped in the ninth round.
Now aged twenty-eight, this year had been his most meaningful between the ropes. From a fighting city such as Glasgow, there had been pressure to perform, displaying grit for the televised audience. It was a far cry from his earlier days, doing keepy-ups and using his hands only to remain steady as he navigated himself through ninety minutes of a far safer sport. Glasgow and football are forever linked, and it was in an attempt to improve his physicality that McCorry first visited O'Neills amateur boxing club, in Westburn.
"Camby' is alright. I like Cambuslang. Everywhere is the same, you have obviously got your nice bits and your rough bits. I like it, for me it was a good upbringing. My family weren't well off, but we had alright money and it was good. It was a mix of Celtic and Rangers, so everybody in Cambuslang is brand new and that's where I started boxing."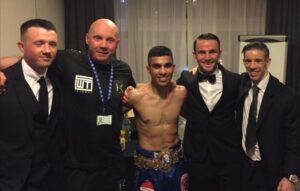 "I used to play football and I was pro youth with Motherwell [Football Club], but I was kinda small. At they times, you had to be big and strong so my Mum kinda sent me into boxing to try and toughen me up a bit. I must have been about thirteen, I went for about six months [to boxing] and they put me in sparring. I must have took an absolute pasting in sparring and I never went back for about a year. When I went back I was about fifteen and I started fighting. I just kinda fell in love wae' it from there. They kept me in fights regularly and I was fighting for Scotland about fourteen or fifteen fights in."
The weekend's card, staged at the wonderful O2 Arena in London, has two heavyweight clashes topping the bill, yet the Glaswegian's visit to the capital has plenty of boxing fans up North intrigued. A heavy underdog, McCorry wasn't short on confidence and spoke about learning from past defeats. That trip to Switzerland, his war with Bowen in Leicester and even an upset, suffered when fighting Andrejs Pudosovs four years ago had all taught him something.
His opponent, Archie Sharp, was coming back following the biggest win of his career, defeating the flamboyant Leicester-based, Lyon Woodstock. The 'Sharpshooter' from Kent possessed stellar amateur grounding, yet had barely mentioned 'Jordy's' name throughout the build-up, instead focusing on potential future pairings. McCorry felt Sharp had overlooked him, which renewed his confidence entering Saturday's fight.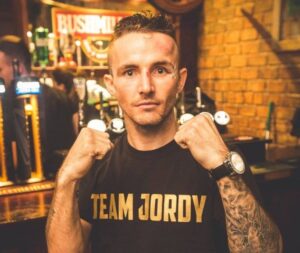 "He's a really good boxer, isn't he? I've seen a few clips from the Woodstock fight. He keeps everything at range, he's big, he's long and stuff like that. It will be a good fight. If I keep my tactics and my game plan, I'm sure we can beat him. I've seen interviews where he's talking about fighting for world titles. No disrespect, he's beat Lyon Woodstock, but should you get a world title shot after fighting him? He's not showing me any respect, to be honest. I'm not coming there to get blown over – I'm coming to win, so fuck em'."
McCorry continued, discussing another of his domestic rivals, "Zelfa Barrett, he's another one. Ronnie Clark put him out, but because he's come back and beat Lyon Woodstock, he's a world beater, aye? As I said, I just need to take that into the fight. There's no pressure on me, he's [Sharp] the one fighting in his hometown."
In the days leading up to the fight, the small, travelling Scottish contingent have been enjoying London. McCorry has been accompanied by a familiar face, his inseparable friend and fellow fighter, Ross Murray. Both had met over a decade ago, by chance, through boxing and had remained extremely close. They were known as the 'Bomb Squad' in Scottish boxing circles, constantly in each other's company and encouraging mischief.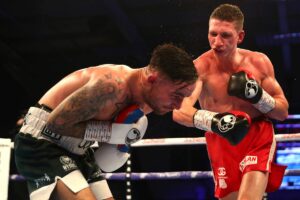 Both McCorry and Murray had taken the fights that others had swerved, travelling to test themselves and on occasion, falling short. Their approach to boxing was refreshing, as so often fighters avoid tests such as Sam Bowen, Archie Sharp or Sunny Edwards (who defeated Murray for a smaller version of the WBO European title). Both men worked full time jobs to support their boxing careers, so were fully aware of the impact of one big victory.
"Ross [Murray] used to stay in Cambuslang, so he used to come and pick me up for training. We've just struck a bond since then and I don't think there's a day where I've no' spoke to him on the phone, text him or whatever. I think we're about eleven years in, going strong!
"He'll tell you the exact same. It gets to a point, I don't care what anybody says, when you're winning everybody loves you. I remember one time, I'd won, me and Ross were in the hospital – I was getting stitches. My phone was just booming and booming! Then another time, I'd got beat and I said to him, 'My phone's not going this time'. It just shows you at your toughest times, who is there for you. I trust Ross wae' my life, I love the guy to death."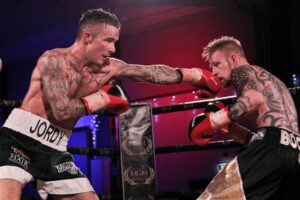 Jordan McCorry's fight with Archie Sharp may prove to be the toughest of a lengthy, twenty-five fight career, but it doesn't matter to him. The harder the better. He'd rather be striving for greatness, entering the lion pit in London than bounding around the small hall scene that had served him well, once upon a time.
Now in his prime, those four weeks to prepare were a luxury for the landscape groundsmen. With those closest to him making the trip, he had all he needed. He had an opportunity to snatch the headlines once again and, this time, he really believed he could take it.
"I'm still fighting and I didn't think I'd come this far. That last fight with [Sam] Bowen, it was on the telly. I didn't think I'd get that far. I'm chuffed to bits and my next fight's on BT Sport. This is why you start boxing. You start getting to a certain level where you think, 'I'm decent enough here to go professional'. Then you get to another point and you're fighting on the telly.
"I was in my Mum's house and BT Sport was on, I think it was the football, it's come up on the telly SAM BOWEN v JORDAN McCORRY and my Mum's saying, 'Go stand up next to the telly and we'll get your picture taken!'. I was thinking, 'Am I fuck, that's a brass neck!' – It's class, man."
Interview written by: Craig Scott
Follow Craig on Twitter at: @craigscott209