EXCLUSIVE: Jordan Thompson – "Boxing: The Most Honest Conversation"
The crowd holds their breath in silence as another burst of fast-twitch muscle fibre results in a thumping connection. This is what they've come to see: the veins of their chosen athletes' calves pulsing, shorts creased as they constantly sweep the perimeter of the arena, predicting sudden danger at unmanageable pace and facing the expectation of their paying audience.
Of course, tennis isn't quite as violent as twelve rounds of professional, championship boxing. But the lonely journey from school clubhouse to Centre Court is possibly more arduous. The hours spent before lessons or long into the evening after school has concluded can be lost, with bodies breaking down and interest waning as teens progress into later adolescence. The Andy Murrays of the world are hard to find, with Great Britain's third-rated male singles player currently rated 77th in the world.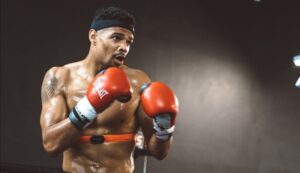 Towering Manchester-native, Jordan Thompson (10-0, 8KOs), didn't fancy lingering in the lower echelons of the ATP Tour, though he had plenty of potential. When talking to Boxing Social, the unbeaten cruiserweight said: "It's quite scary actually, how similar tennis and boxing are mentally. You can almost see that pressure in tennis.
"You can be winning the whole match, then have a little slip in focus, and next thing you've lost your match points. You're then in a battle in the second set, so it's very up and down. Similar to boxing. You can be winning the round; switch off for one second; you get flipped. Then you're on your ass. It's a bit like chess. You've got to be thinking, setting little traps and stuff like that. It is very, very similar."
The man dubbed "Troublesome" has suffered a stop-start tenure in the paid ranks thus far. At the time of our conversation, he was fresh from his afternoon run in Chiswick, a leafy part of North West London. Boxing, as we know it, is completely frozen for the time being, but that didn't stop Thompson discussing his renewed focus on capturing significant titles at 200lbs.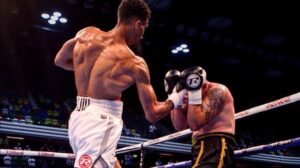 Working alongside famed, former Dereck Chisora-trainer Don Charles, Jordan is excited about his future in a bubbling, British Cruiserweight division. Fighters like Richard Riakporhe, Chris Billam-Smith, Deion Jumah and Jack Massey are hot on the heels of leading British contender, Lawrence Okolie, each giving solid accounts of themselves in domestic dust-ups — while Thompson's name has been left gathering dust.
"There's been two major pauses in my career," explained the Frank Warren-promoted fighter. "The first year it was great, I had about six fights. And then obviously I had a switch of trainer. That had me out for a little bit; all of the politics and whatnot. Then, I had just got a little bit of momentum going again, because I'd just come back from sparring Usyk. I had a fight on Fury's comeback card at the MEN, won that in good fashion. Then obviously my shoulder had gone. That was my major set back.
"At the time, I was devastated. There were talks of big fights, like potential European fights, and World ranking fights with other good prospects. I think that injury really stopped more than anything. Everything happens for a reason and I'm in a really good place now. I'm probably in a better place now mentally, than I was back before then anyway. I've got my independence, and I'm living a better life down here in London."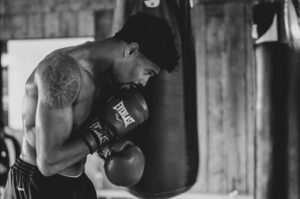 Those bouts with bad luck had toughened Thompson up mentally, preparing him for this assault on the division's top names. He was a key part of Tyson Fury's camp recently in Las Vegas, joining fellow London-based heavyweights George Fox and David Adeleye. The group would take up residence with the Gypsy King's training team, fulfilling sparring duties and playing the part of the toppled former champion, Deontay Wilder.
That experience was invaluable, with Jordan describing Fury's ability: "The size of the man; the way he moves; the way he operates around the ring. His fundamentals. The movement that the man is able to achieve — it's just crazy. You shouldn't be able to do it at that size, and at that weight. So I think that gives him the advantage. It just sits him miles ahead of the rest of them. Because, as well as being six-foot-ten, or seven foot, being able to move around, and do what he can with it, is just crazy."
"Sometimes he's up and down. He's got different personalities that will come out. You can see that set of different personalities with me. Sometimes he'd be a lot of fun, having a laugh. Sometimes he'd be totally locked in on a gym session. And you can see him turn to 'kill mode'. He could literally go from singing a song in his boxers outside the ring, having a laugh. Then get in the ring five minutes later, and he turns into a killer."
Laughing himself, whilst remembering Fury's antics, it was Thompson's thick Manchester accent that dragged us back to his roots. His upbringing wasn't typical of boxing's fetish with the hard-knock life. There wasn't a serious brush with authority, infact, Jordan comes from a family of high achievers.
He would list both parents as former World champions in different disciplines of martial arts. His sister is a professional dancer, currently touring with the Lion King production and his little brother is working on Wall Street after graduating from his American University. That just wasn't Thompson's path. It was always sport. His supreme physical capabilities, blessed with fortunate, transitional athleticism and a burning desire to become the best, had previously led to the 26-year old's decision to walk away from elite, junior tennis.
"I was heartbroken, but it was a decision I had to make. It was tough and at that time, I don't know, I was thinking, 'Do I come up with excuses?' and stuff like that. But it was more of a personal thing, and I'm the type of person that wants to be the best at what they do. I just had a look at myself and thought, 'Am I really going to be the best at tennis?' No. Realistically, it's not going to happen. Time was against me. To be honest, there were people three years younger than me winning grand slams at the time.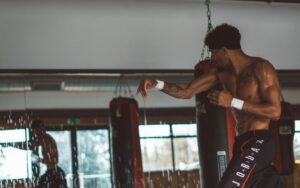 "When I moved from tennis to boxing, I was scared. I would be lying if I said I wasn't. But I think it's moulded me. I just feel like I'm more responsible now. That's been my biggest challenge through life. Being open and honest about what I wanted. I've always performed, whether it be on the pitch, whether it was on the court, whether it's in the ring. It's my performance off the court, away from the pitch, or out of the ring. That's where my main focus has got to be. And that's where I've really seen the improvements since the move has been made."
It's important when the sport's schedule resumes for "Troublesome" to pick up where he's left off. Sparring Fury and former undisputed champion, Oleksandr Usyk, could pay dividends, but it is the relationship with Team Sauerland, through his management deal with Nisse, that the young prospect hopes will provide opportunities, sooner rather than later.
The World Boxing Super Series, fronted by Comosa and Kalle Sauerland, has become one of boxing's biggest showcases, and the six-foot-six Thompson told me he would welcome a spot on the next installment after trying to negotiate one of the positions on their previous tournaments at 200lbs despite being vastly inexperienced. He demonstrated the bravado of a champion, fuelled by the hunger of tenacious challenger.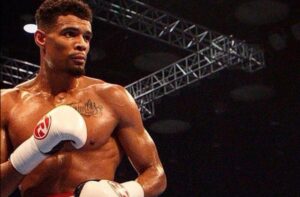 Ahead of his march towards the British title and beyond, Jordan Thompson seems to have found the tranquility he'd been missing in his previous endeavours. The comfort of his leafy green digs in London's affluent suburb has given him time to think. The loneliness he battled previously during a short-lived career in junior tennis has reared its ugly head again, this time presented in the form of punches to the head or gruelling, leg-trembling roadwork. The only difference is, this time he is prepared. He has grown, as a man and an athlete. Thompson seems ready to continue sacrificing time with his family and friends, in search of legacy and achievement.
"I think having that total responsibility and control over the outcome of the result is one thing that I love about boxing. You've got no one else to blame. If you're in the boxing ring, you've got yourself to blame. And no excuses can be made. You've got to be that guy. I'm just one of them. I'm just so competitive. I want to win. No matter what I'm doing. I just want to win. It's a blessing and it can be a curse.
"I don't really envision myself losing. There's a few fighters I've seen, a few stories, where a loss has really knocked them back, and they've literally just disappeared. There's a few fighters, where a loss has made them. It can go one-way or another. Make or break. But I don't know. We'll see if we get there. Do you know the thing that gets me with boxing? It's the most honest conversation you can ever have with yourself."
Interview written by: Craig Scott
Follow Craig on Twitter at: @craigscott209