EXCLUSIVE: Sam Cox – "Heart, Grit and Much More to Give…"
Behind the scenes at a packed, vibrant York Hall, fighters are milling about, smashing pads or lightly jogging on the spot. Weeks, and often months of preparation have led to this moment, fighting at one of the sport's historic venues in front of friends and family. Behind one chipped, wooden door, the sound of retching plays on repeat. A combination of nerves and refuelling post-weigh in, it's just another slice of education for a promising, novice professional.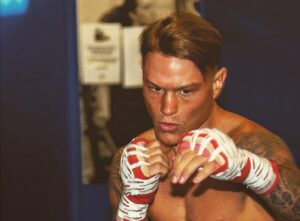 East London's unbeaten super-flyweight, Sam Cox (5-0, 1KO) managed to compose himself, winning every round and having his hand raised for his adoring, partisan public. Beating journeyman, Stefan Sashev, in his second fight should have been a stepping stone for the unblemished talent, however it would be the last time he'd grace the ring for almost exactly one year. Battling nerves in the dressing room was simple and fighting Sashev was a walk in the park, compared to the struggle his family would soon endure. Life was bigger than boxing.
"When we found out the news that my mum was terminally ill and she was given six-to-twelve months to live, I know what I'm like with my boxing and boxing, for me, is a selfish sport. I can't go for dinners, I can't go out, I can't do anything at this time because I need to give everything to boxing because it's not a game when you get in there," explained an emotional Cox, reflecting on his time away from the sport.
"For me, I took the whole year out to do our last holidays, spend time, be by my mum's bedside because if I was boxing, I would have put her to one side and I could never, ever forgive myself for that. It was only until she was out of our hands in terms of, 'This is the end', I got myself back in the gym just to get my head right – to get ready for when she did go. So it wasn't until, I'd say about a month or two before she died that I got myself back in the gym and to be honest, losing her gave me an extra drive."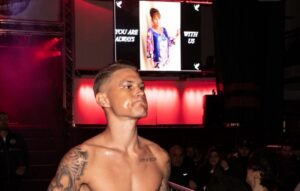 "I sat down and had a conversation with my mum at one point, and she was like, 'I know you really want to give this a go and I know you really want to get somewhere.' She was like, 'Promise me something, that you're going to give it everything and make something of yourself.' I promised her that. To be honest, that's stuck with me, because everyday I just want to make sure that I give it everything that I can. I've got no excuses. If it doesn't work out for me, at least I know I've given it everything and I've kept my promise to my mum. And if it does, then my mum's helped me get to another place."
He returned to the ring in March last year, scoring an impressive stoppage and emerging freshly determined to make up for lost time, amassing a further two victories since. Regrettably, the current global pandemic has put a halt to his year before his first contest which was set to be on an exciting Matchroom Boxing card. Such circumstances were out of his control, but the popular ticket-seller estimates that the COVID-19 has set him back a year in terms of progression to meaningful titles. It was a similar story for fighters up and down the country, though Cox's work as an estate agent ensured a slight sense of stability.
The ever-fashionable, tattooed Cox, now twenty-five, had always found life immersed in boxing relatively easy. His family were steeped in the Sweet Science, playing a vital part in the growth of the sport in and around Greater London. Explaining his introduction to boxing, Sam explained that his grandfather was a past-president of the ABA, with cousins and uncles all fighting as amateurs from an early age. There was no escaping an adolescence wearing vests and gloves like a uniform – but he never felt forced to carry on the tradition. He couldn't wait.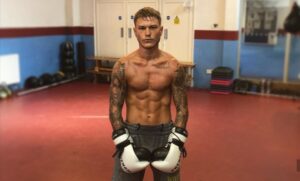 "On my mum's side, we had national champions and England representatives. And then on my dad's side, he was one of the top amateur referees in the world. He was on the World Amateur Referee's panel. So it's just in the blood really, both sides. It was a natural progression. I think at the age of four or five, I was screaming at my mum and dad to take me to the boxing gym and they were saying to me, 'Look, you're too young, you're too young. Wait, hold out.' And then my dad started the juniors club down at the Peacock Gym, in Canning Town. It was only ever a senior and a professional club. I was still probably too young for the gym but I pestered him so much, I think he just wanted to shut me up. And then that was it, I was in the gym ever since."
Due to his smaller stature, Cox endured a stop-start amateur career, with approximately twenty fights and suffering only four losses. He reached two ABA finals, explaining that in order to make weight, he strategically placed weights in his shorts and guzzled up to two litres of water on the morning of the weigh-ins. Determined to test himself and share the experiences of his stablemates, he would fight boys dropping down from fifty kilos, some seven kilos above his natural weight. That transition from amateur to professional wasn't always a certainty, but Sam simply couldn't shake the itch sitting behind a desk.
"From about eighteen, I was working and then finally got a job in an estate agents. I just didn't want to be boxing at the same time, so I kind of had two years away from the sport before turning pro. That was where I ended up. Because I thought to myself, I had done so much as a kid – even though I didn't have mass amounts of amateur fights, out of all the hours I spent, I learned so much. I had been sparring rounds my whole life, so the experience side of it was there. So it was just like, 'Why am I going to waste everything that I've done my whole life? Maybe I can turn this into something.'"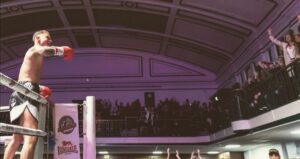 So far, he's turned in five impressive performances under the management of York Hall's resident promoter and manager, Steve Goodwin. It has been almost three years since Cox turned professional and, with all things considered, he's just getting started. Making something of himself through boxing was initially just a challenge, but the desire to succeed has taken on another meaning since the passing of his mother. He is now fulfilling his promise. The popular Londoner was desperate to return to boxing and could only look on as the headlines worsen, in London and across the world.
"I've just been ticking over really," explained the diminutive talent, "Most boxing clubs are closed or not allowing certain people to train. So actually, I do a lot of coaching for schools. I've just got my session in with my boys this morning. Just to punch something, just to keep the mind active. I've been going out there, doing my runs. I've been doing some training down at the new Dale Youth, yeah. Our company was partly behind the rebuild because they actually refurbished the building, we refurbished the gym that was in Grenfell Tower before the incident so we found them that home within the Westbury Trust – then it was picked up by DIY SOS [shown on BBC]."
"I was sparring unbelievably and I just wanted to get out and show people what I could do. Obviously this pandemonium at the minute, we don't really know what's going on. It's just thrown the whole year out really, hasn't it? People are just bulk buying like crazy. And I think we are just [being] stupid, really. All right, you can't get out, and you can't get things and mingle but there were still pubs open all over the country. Everyone's just getting on with things as normal, with their work. I've seen plenty of masks walking about. All of the big places are shut down. McDonald's is only drive-thru now, so…"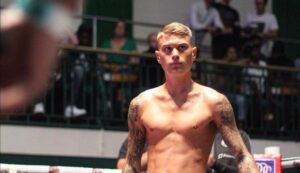 The Islington-based fighter needn't worry much about the opening of McDonalds, as he remains in shape, waiting for the green light to restart those halted cards up and down the country. Throwing up in York Hall's dressing room was a combination of nerves, expectation and inexperience when rehydrating. The nerves stemmed from the attendance of the Cox family, part of London's boxing furniture, chanting from the balconies of the capital's own boxing Mecca. He has since learned to channel it. As for the consumption of food and water after weighing in, Cox told me the best advice he received was from Olympian, Joe Cordina. Take in fluids before solids, to avoid the additional nausea. Practice makes perfect.
His sixth fight currently remains up in the air. Cox explained that Southern Area and English titles are firmly in his sights, though delayed indefinitely, and promoter Steve Goodwin can certainly deliver. Sam's division, super-flyweight, has only fifteen registered professionals in Britain. Climbing the rankings and earning shots at domestic titles is entirely achievable. The coveted, Lord Lonsdale British title would be his own World title, he explained. But whether he goes on to win every belt, or whether he never fights again, Sam Cox will have made his mother proud.
He's a success, balancing life in one of the loneliest sports with a burgeoning career in estate agency. After suffering for a lengthy period of time, he emerged a man, with his priorities accurately assessed.
"I watched my mum fight something that was so horrific that I think a few rounds in the ring could never emulate to what I've seen and what I've been through, so I've got that extra bit of fire and grit in me. And when times get tough, I think there's always more to give."
Interview written by: Craig Scott
Follow Craig on Twitter at: @craigscott209