EXCLUSIVE: Vincent Feigenbutz – "This Dog Can Bite…"
It was just over four years ago, in the Baden-Arena, Offenburg, when Italian super-middleweight Giovanni De Carolis slipped out of the side door with a briefcase he'd collected at the venue. The decision was disputed by the German fans in attendance – unsurprisingly – while crestfallen, deposed champion Vincent Feigenbutz pondered his future. He'd been touted as the next big thing for German boxing, winning the WBA regular World title aged just twenty, before watching De Carolis thrust it skyward.
Four years is a long time in boxing – a sport notorious for doubt, deceit and instability. Still only twenty-four, the resurgent Feigenbutz (31-2, 28KOs) powers his way towards reigning-IBF champion, Caleb Plant, with the pair set to square off in Nashville on February 15th. He's twice come back from defeat, knocking out a whopping 90.3% of his beaten opponents, and has proven mental strength to climb back to the top of a division where titles have recently been ever-changing.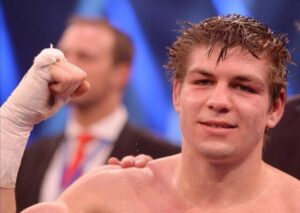 Team Sauerland's Feigenbutz spoke exclusively to Boxing Social about his chance to make history, life in Karlsruhe and swallowing that controversial defeat in front of his home crowd. It seemed Vincent's career belied his age, with plenty of time left to eclipse his already-impressive achievements.
"This means a lot to me," explained the heavy-handed challenger, "I was WBA regular World champion for only a few months before I unluckily lost to De Carolis. I want to thank my whole team; my manager, my promoter, my partners, my sponsors and of course, Team Plant for making this fight possible. I have waited for this chance for such a long time and I am just thrilled about it. I am training hard with my team in my hometown Karlsruhe and we can't wait for the fight to start. I am ready to go!"
"Fighting for a World title in the US is my childhood dream come true. So I don't have any concerns, I am just looking forward to it and I'm counting the days. Of course, I will need the knockout to become World champion, so I will be focusing on that to bring this belt back to Germany. Years ago, Axel Schulz was fighting for a World title in the US and he was cheated. So now I am coming over to get the belt."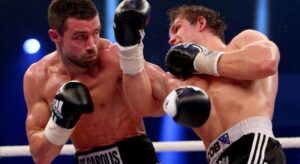 It seemed clear that the loss suffered when facing De Carolis in their rematch still bothered Feigenbutz, with talk of people being cheated and the use of words like 'unluckily'. On further inspection, De Carolis was actually ahead on all three scorecards and had stopped the German in the eleventh round to capture the belt then-recently vacated by Andre Ward. Records show our subject winning the pair's primary contest, however that result was also deemed highly contentious. But that was then and this is now. Any hype train that was attached to the Karlsruhe native had been temporarily derailed – under repair.
The city of Karlsruhe itself was stunning, with plenty of parks and stunning architecture. It didn't seem the stereotypical 'rags to riches', boxer's town. But Vincent was a fighter, unafraid of engaging in close quarters and proud of his heritage. Feigenbutz spoke of making a difference for the people of Germany and of changing the World for the better – countering that topic with replays of vicious knockouts and the spoils of competition. It made for an interesting cocktail.
"I grew up in Daxlanden, which is a very old and traditional part of my hometown, Karlsruhe. My grandfather was the local doctor and he did a lot of things for the community. I probably inherited my social commitment from him. When I turned fourteen, a friend of mine took me to the legendary Bulldog Gym in my hometown and introduced me to a trainer, Jürgen Lutz, who was also Regina Halmich first trainer and manager. She defended her WIBF World title about forty times and is still very famous in Germany. A real legend. I fell in love with the sport and I had my first professional fight when I turned sixteen. Before that, I played a lot of soccer, but boxing suited me more than a team sport, where you always have to rely on other people."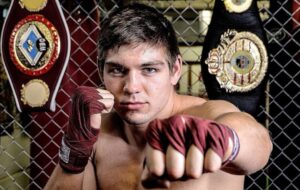 As well as Halmich – the owner of an incredible 54-1-1 record – the city had been home for famous German international footballers Oliver Kahn, Oliver Bierhoff and Mehmet Scholl. Sport was in their blood, just as it could be found in Vincent's, despite not coming from a family of boxers. It was ironic that his grandfather had been Daxlanden's doctor, fixing damage in its various guises.
Feigenbutz was Germany's youngest ever World champion and had left his footprint on the sport, but he had his eye on another slice of history. The defeat suffered and subsequent loss of his title to Giovanni De Carolis in a fight he described as 'ugly and dirty' still irked him. He explained that mistakes made during that bout had been highlighted and eradicated, and that now he was prepared to reclaim a World title. Caleb Plant is the man standing in his way, though, impressing in each of his championship fights and seemingly comfortable adapting his style under marauding pressure.
What else could the German offer? He has dedicated his life to boxing from a young age, closing the door on what many would deem a normal upbringing. Rewarded at age twenty with a World title and then swiftly brought back down to earth, Vincent must have spent time worrying that his prime had come prematurely. Approaching twenty-five years of age, he should now be entering the best spell of his career and only time will tell if the model professional and aspiring actor could perform on his biggest stage, once again for the people of Karlsruhe.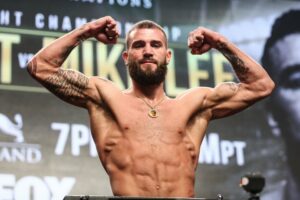 "In my opinion, he is the best of all four World champions. I am clearly the underdog, but this dog can bite, as well! On top of that, I am not a journeyman like [Mike] Lee and I won't make it as easy for Caleb. I will put on a great show and I will leave everything I've got in the ring. I really hope that the American fans show me the same respect they will show Caleb. I made a few mistakes in the second fight against De Carolis and I lost. Afterwards, we analysed this fight a lot and I won't make those mistakes again.
"I never went out [or socialised] in my youth. Since I turned pro at the age of just sixteen, whenever my friends went to a bar or a club, I had to stay healthy and get enough sleep to train in the gym. A lot of boxers make those sacrifices and I feel like people don't respect that enough in Germany. I feel like it is different in the US, where the people show a lot of support for sportsmen and women. On top of that, if you are successful, people tend to get jealous really quickly. So it takes a lot of mental strength and motivation, and I am very proud to fight for my country, but there have been tough times.
"I have made history, that won't change and I just hope winning the World title will turn things around a little bit, but also get me some more fights in the US. Everything else is a bonus, even though winning the title in America would be another historic moment, being only the second German winning a World title in the US – besides the legendary Max Schmeling."
Interview written by: Craig Scott
Follow Craig on Twitter at: @craigscott209