EXCLUSIVE: Zach Parker – "Fighting Blood…"
"I didn't really pay attention to anyone, to be fair," opened unbeaten super-middleweight, Zach Parker (18-0, 12KOs), when asked about the fallout from his controversial British title triumph, sixteen months ago.
"Everyone has an opinion in life and people will always disagree about things. It didn't really bother me, at all. I just get on with my own life. I just had to grit my teeth and get through it. I've never broke a bone or anything in my body. That's the worst injury I've had ever – in or out of the ring."
That tall figure standing at the bar, draped in the adoring arms of fans and wearing his British title across his healthy shoulder, focused on the positives. Primarily, that prestigious belt was making the journey back to Derbyshire with his team; secondly, it was another victory, secured by any means necessary.
I was there that night, looking on from a table by the window, struck by the sense of calm on display after escaping ferocious enemy fire, barely flustered after boxing ten rounds with a handicap. Exchanging laughs and taking pictures with those who'd travelled to support him, he wasn't wearing any significant signs of battle.
Parker, aged twenty-five, truly understood 'any means' on that typical rainy evening in West Central Scotland, defeating Londoner, Darryll Williams, with only one functioning arm. Pockets of the mainly-neutral crowd booed the result when bellowed through the SSE Hydro Arena, with social media in uproar, defending the more aggressive, but often reckless challenger.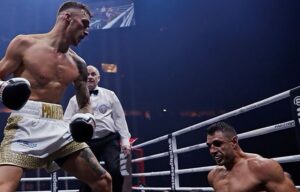 Williams would soon disappear from boxing, crestfallen and out of faith, denying Parker the chance to prove his superiority. Ahead of his fight this weekend with Australian, Rohan Murdock, the Team Sauerland star spoke to Boxing Social about returning from his only injury, the hunt for big fights in a bustling division and carrying the fighting Parker name towards World titles. But first, we spoke of Glasgow.
"I've only watched it back once. It wasn't my best night. Obviously if you get a knockout, you wanna watch it over and over again, but I've only watched that once or twice. In the later rounds, he was fading and I was coming on strong. I thought I won by one or two rounds.
"If you watch it back without commentary, the commentary was well biased. He was coming forward, but he wasn't landing clear shots, you know? That's how I would score a fight, anyway. Apparently he went off the face of boxing. He weren't in the gym, he quit or something, his trainer said. He didn't wanna know about it. I wanted that [fight] again just to shut people up. On my best night, I stop him in four rounds."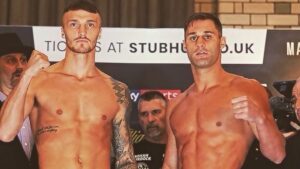 For now, the possibility of a rematch was far from Parker's mind, with his stiffest test just a few hours away. Redemption, however, meant something. Emerging from a family of fighting men, it wasn't good enough to just 'scrape by'. The 25-year old was hurtling towards far bigger nights, providing he can deliver against the little-known Western Australian and that was his sole focus.
The former British, super-middleweight champion was immersed in boxing as early as he could stumble around the gym. The family have been based in Swadlincote, near Burton-on-Trent, a quiet village home to former heavyweight champion of the sixties, Jack Bodell. Often, the involvement of parents or extended family can dissuade the next generation, but for Zach, it had the opposite effect. Punching heavy bags and skipping rope in his father's shadow provided a glimpse of what would follow.
"My dad boxed, yeah," confessed the most promising of the Parker clan. "He fought amateur and professional. He had about two-hundred amateur fights and boxed a couple of World champions as a professional. He boxed Chris Eubank and Cornelius Carr. I used to be down at the gym with my dad. He would try and get me into it from the early days. I'd watch him train a lot."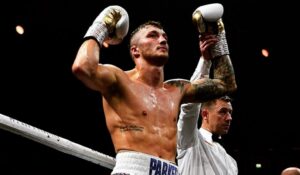 "I watched my brothers train, too. It's been good growing up around boxing and it's taught me discipline, absolutely. My brothers, they boxed, both of them were amateur and one was professional. He doesn't fight any more, though. He had fourteen fights, he won thirteen. But it ain't for him, for his family and stuff. He wasn't making enough money so he had to get himself a full-time job because he's got kids and stuff."
Now driving towards World title fights and highly-ranked by most governing bodies, Parker has created distance between his own achievements and those of his siblings. He was reserved when answering how friends and family rated his ability at an early age, reluctantly revealing he was 'probably' the most talented. Thankfully, he's proved them right thus far.
After briefly considering hanging up his gloves as a four-time, National amateur champion, Zach decided to throw himself into the professional arena. It was fairer and perhaps slightly more financially rewarding, but as a 19-year old wandering into the unknown – boxing as a business – even the Derbyshire-man couldn't have known just how far he'd progress. He paid credit to manager, Neil Marsh, a man renowned for battling on behalf of his fighters – a rarity in a business of backstabbing and bloodshed. Marsh had carefully helped carry Parker this far, but the best is yet to come.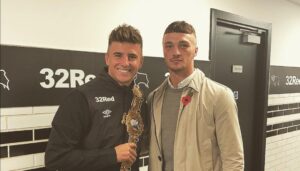 Facing Murdock, a somewhat unknown quantity, this is Parker's last stand before a potential WBO World title clash. The inactivity of the past eighteen months would be all-but-forgotten if his hand was raised this Saturday, preferably without controversy. Currently ranked second with the WBO, his bout with their number one contender was tantalising for Zach Parker's fans. He's the favourite with bookmakers and should have enough to dispose of the visitor. But after the unfortunate shoulder injury that almost ruined his night in Glasgow, the heavy-handed Englishman knows to expect the unexpected.
"In every fight, [Murdock] could be different and he might bring a different game plan when he fights me. I try to focus on what I do and what I can bring, but yeah, he's got a good record and he's #1 in the WBO. He ain't in that position for no reason, so it will be a good fight between us two.
"I want the big fights, the all-British slug-outs. I'm number two in the WBO, obviously fighting to become number one, but that's the kinda fights I want [against Billy-Joe Saunders]. I'm highly-ranked in most of the governing bodies, but this is where I'm heading – towards Billy-Joe."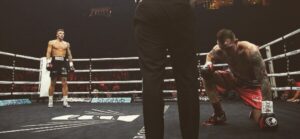 "He boxed in America, didn't he? He looked a bit flat, but he got the job done in the end. I only watched the end, but you can't fault him for getting the job done. I think it would be a good fight. My style is really awkward, I'm really slick. I don't walk forward and get hit with shots, I'd be trying to make him miss."
With reigning WBO champion, Billy-Joe Saunders, edging towards his bumper showdown with Saul 'Canelo' Alvarez, it seems as though the hungry challenger's quest for World honours could be placed on hold. But boxing is a waiting game – Parker knows that. When his body started breaking down early in his British title fight, he was forced to fight through adversity, waiting to see whether his valiant efforts would be rewarded. He was left waiting for the lure of a big promoter, snapped up by German giant Sauerland after seizing an opportunity on one of their undercards.
Patience is a virtue.
When Parker v Murdock reaches its conclusion, one man will progress to the top of the division's rankings. But this wasn't about the spoils of war or the shiny trinkets on offer for the sport's nearly-men. It was about the continuation of a legacy. Darren Parker finished his career after his eleventh contest, signing off with a seventh defeat. Of his three victories, though, the last against Chris Walker came just over thirty years ago. This evening, his son fights for the chance to potentially topple a World champion and cement their family's name in boxing's history books. Fighting was in their blood.
"I just want to be remembered for putting a show on for the fans. Boxing anybody and everybody. But putting a show on for the fans. That's what we are all here to do, isn't it? So that's what is most important for me, yeah."
Interview written by: Craig Scott
Follow Craig on Twitter at: @craigscott209