Undefeated super featherweight prospect Gervonta Davis is getting ready for his first ever title defense on UK soil against another undefeated fighter in Liam Walsh and expectations are high. Known simply as "Tank", the 22-year old Floyd Mayweather protégé has gained fame as a knockout artist with 17 wins and 16 via stoppage.
Davis tends to fight with a bit of a chip on his shoulder and when you take a glimpse at his past it's no wonder. The young gun hails from Baltimore, Maryland. A city not known for kindness or well-being, but instead infested with crime and tons of troubled souls. Davis's tale is no different. Both of his parents were battling or embracing drug addiction, leaving Gervonta and his brother on their own on far too many occasions. Both brothers, but especially Davis, had to learn survival and fighting from the get go.
In an interview with the Telegraph, Davis went into detail about his childhood and why he chose boxing over a life that would have certainly ended in death.
"When I was a young kid my mother and father were on drugs. My mother used to leave me and my brother in the house by ourselves. The authorities came and got us. It took a year or two to get us back with my grandmother. I've always been a fighter. I had to fight. We were in and out of group homes as a foster kid. Me and my older brother were taken from my mother at the same time so we were pretty tight. We were even fighting the other kids in the group homes. My uncle saw me fight in front of my house and one day he wanted to turn something negative into a positive, so he took me to the gym and I've been there ever since," said Davis
"Growing up in Baltimore, there were a lot of distractions. But I was so into boxing, it was like candy to me. The guys I looked up to as a kid are either dead or in jail. The guy who started me out was my coach's son. He died. He got killed in New Jersey. There were a lot of other older guys who got killed or are in jail. Growing up seeing what those guys were going through, trying to get money to feed their families… that showed me."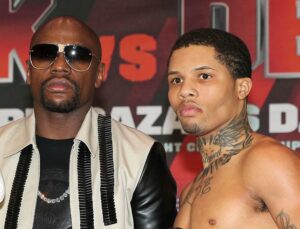 Ever since Davis stepped into the ring he has been used to winning. His trophy case is filled with amateur tournament wins, Golden Gloves titles and much more. Mayweather himself believes that Davis has the potential to become a future superstar in American boxing. Mayweather Promotions signed Davis in late 2015 with high hopes of him becoming a world champion and in early 2017 he did. Their plan is to make Davis a pay per view attraction. With the resources that Mayweather possesses it is achievable and realistic due to Davis's exciting style.
Some have even called him 'Mini-Mike' in reference to the great Mike Tyson, who also achieved his first world title very young at the age of 20.
Davis, 22, is the current reigning and defending IBF world super featherweight champion after he stopped Jose Pedraza in the seventh round back in January. In his first ever defense he will face against the previously mentioned Liam Walsh in May 20th. The year 30-year old is facing a prospect who is backed by boxing royalty. A loss for Davis would not be catastrophic, but will cause a setback. Mayweather absolutely wants Davis to achieve success now while the iron is hot and lets not forget he is the favorite against the Brit.
But why?
Lets not beat around the bush, Davis is a pure boxing talent. He is combination of skill, power and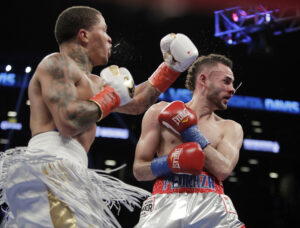 speed. Mix that with a healthy dose of aggression and you have yourself a bad man with bad intentions in the ring. He has knockout power in both hands and does not struggle with blazing combinations. His best punches are the left uppercut, left straight and the step-in right hook. While he likes to attack with aggression and not let the opponent catch his breath, Davis can also be patient when need be. At times he tends to wait for opportunities and then punish foes with power shots. Davis also possesses the athleticism and mental strength to get through tough spots in a fight.
Is he the next Mike Tyson or just a Mayweather hype job with a title? The win over Pedraza clearly showed that he certainly has the potential to success. Davis has left the streets and is now enjoying the suites. All that there is left to do is to become the next superstar of boxing.