Here's What Deontay Wilder Should Do Next
It's a question that is still somewhat tough to answer for many. What to make of Deontay Wilder, the current WBC heavyweight world champion? Will he ever rise to the occasion and truly solidify his position in the long line of American heavyweight boxing greats? Or will he fall under the category: mediocre at best? He has an undefeated record of 37-0 and 36 of those wins have been knockouts. "The Bronze Bomber" has defended his WBC title successfully on five several occasions. His fighting style is not boring, quite the opposite. But for some reason the boxing world does not seem to take Wilder as serious as other heavyweights that we are used to seeing in the headlines.
Some believe one reason is actually his style after all. Wilder can be a bit goofy and he tends to swing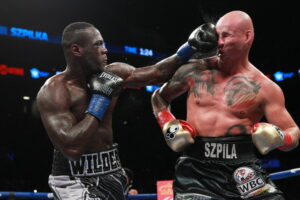 like wild man, which at times has looked humorous than frightening. Boxing purists will always seek flaws from Wilder's game and might not ever enjoy his style to the fullest. But come on now. We want to be entertained and that is a hundred percent guarantee when Wilder fights. Like him or not, you will watch him, or at least a video of his vicious knockout victory afterwards. So far whenever he is put to the test he's been money every single time. With a highlight reel like his, you are forced to take notice of the 6'7 and 220 pound monster from Alabama.
https://www.youtube.com/watch?v=Wp8_wqAcZP8
So lets just scrap all the nonsense talk about Wilder's style. If somethings not broken, don't fix it. The bigger issue is an obvious one. The thing that separates him from the upper echelon of heavyweight fighters such as Anthony Joshua, Tyson Fury or Wladimir Klitschko is a big name opponent with relevancy. Wilder has faced almost 40 foes in the ring, but none of them can draw a full house without Wilder. But the way things are headed that might change in the near future.
The Bombers Clash?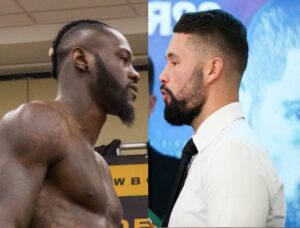 Is Tony Bellew the answer to Wilder's woes? The clash of the 'Bombers', Bellew and Wilder met behind the scenes in Wembley after the Joshua-Klitschko weigh-ins and made several verbal agreements to face each other, but as we know nothing is ever that simple in professional boxing. Still, Bellew could be just the right opponent for Wilder. The fact is that the American is not getting anywhere near Joshua. Not this year at least. Wilder has to do more than generate hype and talk, he has to step into ring with a fellow big name fighter and Bellew is the right guy for the job.
To clarify things up just a bit, Bellew certainly is not as big in the U.S as he is in Europe. Many Americans might even feel that 'The Bomber' from Liverpool is not worthy enough to face Wilder. But the truth of the matter is that heavyweight boxing is dictated by Europeans at the moment and has been for the past ten years or so. If Wilder wants to climb up the ranks towards Joshua then Bellew should be his next opponent. Fair enough, without a win over David Haye we certainly wouldn't be mentioning the Liverpudlians name in this conversation. The win over a former heavyweight champion gives Bellew tons of leverage and media hype. Wilder has to take advantage of this and face Bellew, who as we all know is not a natural heavyweight fighter.
US vs. UK
Lou DiBella, Wilder's promoter, expressed great interest in the fight. In an exclusive interview with Sky Sports the promoter had this to say:
"This is a fight that's US versus UK and a fight with Tony certainly might help that story line right? I think it's certainly interesting."
"Eddie Hearn knows how to reach me."
And reach him he will. This is an opportunity for both fighters to have a good pay day and it would be foolish not to put these two in the same ring. If Wilder manages to gain more ground in Europe and defeat Bellew or perhaps another big name, then maybe he can become the next American heavyweight great.