Money Mayweather and the Piano Man
People who are only used to Elton John's flamboyant "Piano Man" persona or know him by way of his greatest hits collections could be forgiven for not realising that in the 1970s he had an astonishing run of LPs alongside songwriting partner Bernie Taupin. Elton John, Tumbleweed Connection, Madman Across The Water, Honky Château, Don't Shoot Me I'm Only The Piano Player, Goodbye Yellow Brick Road, and Captain Fantastic and the Brown Dirt Cowboy are all amazing in their own unique ways.
The albums yielded classics such as Your Song, Tiny Dancer, Indian Sunset, Honky Cat, Rocket Man, Daniel, Crocodile Rock, Candle In The Wind, Goodbye Yellow Brick Road and Someone Saved My Life Tonight. Some of the lesser-known songs would proudly sit in most artist's greatest hits collection.
For example, if you haven't heard John's song Curtains then Google it and let its effortless and ephemeral beauty wash over you. Then bear in mind that John himself later dismissed it as "crap", such is the depth of his back catalogue.
John became a parody of himself as time rolled on yet could still roll back to the years to produce songs such as I'm Still Standing. The outfits, the spending, the tantrums, the Red and then The Million Dollar Piano residencies in Vegas — all of those things could conspire to make you forget those amazing albums that you can take in from beginning to end and then play again.
John's career reminds me of that of another Las Vegas staple, Floyd Mayweather (50-0, 27 stoppages). When people try to rank Mayweather's place on various unwieldy and unrealistic all-time lists many tend to ask how the 42-year-old would have fared at lightweight or welterweight against three of the Fantastic Four: Roberto Duran, Sugar Ray Leonard and Thomas Hearns.
Many fans are so completely tethered to those names due to either watching them live or catching them at the tail end that they cannot countenance the idea of factoring Floyd in against them. Part of the problem is the fixation on what weight division they would clash in yet it is probably better to draw a line between his two personas and compare them instead.
Earlier in his career Mayweather was known as "Pretty Boy Floyd" before transitioning to "Money" Mayweather after buying himself out of his contract with former promoter Bob Arum following his win over Zab Judah in 2006. Another crucial aspect to his ascent is that by the time he fought Oscar De La Hoya in May 2007 HBO had launched the seminal, often mimicked yet never bettered 24/7 for its biggest fights.
As the cameras rolled Mayweather's personality came to the fore and we began to witness the birth of "Money" and the "Money Team". Of course, in order for it to actually work he had to win the fight, and he did just that by defeating De La Hoya via a contentious split decision for the short end of the purse.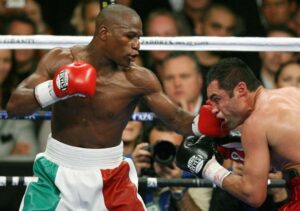 In the following years, he grew into the boxing version of one of the many entertainers who are handed lucrative residencies in Las Vegas. He even made the Cinco de Mayo May date his own. He was introduced as "Pretty Boy" for De La Hoya. By the time he met Ricky Hatton Buffer bellowed "Pretty Boy AKA Money" Mayweather. Then it was just "Money", piles and piles of the stuff.
Mayweather didn't fight as often yet he did huge numbers against Hatton (guaranteed $11 million plus TV profits), The Marquez ($10 million plus TV) Shane Mosley ($22+ and PPV revenue), Victor Ortiz (over $25 million), Miguel Cotto (a whopping $32 million plus), Roberto Guerrero (the first fight of his six-fight Showtime deal, he was guaranteed a minimum of $32 million for its opening fight), Saul Alvarez ($41.5 million), Marcus Maidana, twice and for a combined $50+ million guarantee, Manny Pacquiao (an estimated $250-300 million was split between the two of them) and Andre Berto (a flat $32 million that would be swelled by PPV sales).
In 2013, 2014 and 2015 he fought twice a year for the first time since 2007, just like an ageing rock star pulling off one last big tour before bowing out for good. For many, and as was the case with John before the release of Rocket Man, the film about his life, the Mayweather they know is the "Money" incarnation who fought in and around welterweight. A fighter who used his defensive brilliance to weave victories over a variety of opponents by not getting hit while routinely posting 50%+ accuracy stats.
Mayweather was so dominant in so many of those fights that when he looked poor by his own standards in a winning, and deservedly so, first effort against Maidana in May 2014 fans demanded a rematch, which he duly won. His margins of victory were built on his unerring accuracy, only the odd aberration such as CJ Ross's godawful 114-114 card in the Alvarez fight marred this run.
It is a shame, though, as when we ask about how he would have fared against greats of bygone eras we should be looking at the lighter "Pretty Boy" instead. His win over Genaro Hernandez for the WBC's Super featherweight world title in October 1998 was a virtuoso display of high punch accuracy against a two-time world titlist that meant Mayweather had won the race to become the first 1996 US Olympian to win a world title. When Hernandez died due to cancer in 2011 it was Mayweather who quietly paid for the funeral.
The battering of Angel Manfredy in his first defence also highlighted how dangerous the man seen as a boxer first and foremost could be. Once he hurt Manfredy in the second he seized the moment with a series of punches. Against Carlos Rios he did 12 rounds for the first of what would be many times.
A change in management to music mogul James Prince created a chaotic backdrop for his fight against Gregorio Vargas in March 2000 with a purse of a mere $750,000 said to be on the line. Nursing the hand issues that would plague him, Mayweather won a wide decision yet was still criticised.
His opponent claimed that "He lacks courage" after the fight due to what is an innate inability in some to understand what lateral movement is, and why and when it should be used. In May 2001 Carlos Hernandez criticised Mayweather in a similar way by stating "He just kept throwing his jab" — it is almost as if the jab is a scoring punch or something.
In contrast, co-headliner Diego Corrales stopped Derrick Gainer in three to defend the IBA (remember them?) and IBF belts A tall fighter who fought with a more exciting style than you would expect given his frame, "Chico" was seen as a latent threat to Mayweather.
There was time for an interim fight, though, as he met "Drunken Master" Emanuel Augustus/Burton in a 10-round non-title affair, one that Mayweather would later refer to as the toughest fight he had had up to that point. Augustus was pulled by his cornerman Nelson Lopez in the ninth. Seeing Mayweather bleed from the nose was a new thing for boxing fans.
Behind the scenes it was all hand problems, novocaine jabs and the controversy caused when he referred to a potential 1999 deal with HBO for $12,500,000 for six fights as a "slave contract". Seeds of change and of what was to come were laid when he got Corrales in a fight in which both men earned over a million apiece, which is nice but was still miles away from the money he would earn after the split with Arum.
Their January 2001 meeting was an absolute battering that made a mockery of pre-fight predictions that it would be a tough night for Mayweather. It was also one of many fights where his defensive brilliance limited his opponent to a low success rate. According to the figures Corrales registered a woeful 60 or so punches on CompuBox after failing to land in double figures in any of the rounds.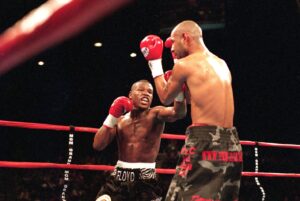 This was the moment, the genesis that eventually led to the "Money" moniker and the Mayweather most fans remember due to the immediacy of those recent Las Vegas mega fights and nights. HBO were impressed, a new six-fight contract worth $15 million was handed over to the winner.
There were wins over Carlos Hernandez, a fight that saw him suffer his only official knockdown after dropping to one knee when pain flared through his left hand hand after landing a hook in the sixth, Jesus Chavez, WBC lightweight holder Jose Luis Castillo, twice, and he deserved both of them, and a winning run that peaked when he battered WBC light-welterweight holder Arturo Gatti in six. Mayweather earned $3.2 million in front of a healthy 12,675 crowd, many of whom had come hoping to see Gatti pull off a miracle. Instead, the popular fighter was reduced to an accuracy rate of around 17% and thoroughly out-classed.
By the time Mayweather defeated Sharmba Mitchell and then Judah for the IBF welterweight title — the vacant IBO belt was also on the line — he was ready and waiting to walk into his new persona and usher in a period of huge numbers, massive attention, controversy over the failure to secure a fight with the likes of Pacquiao and a level of dominance that made people forget some of his earlier work.
What he really needed, though, was someone who could elevate his name and earning capacity, and he got that in WBC light-middleweight holder De La Hoya, who got around $52 million to Mayweather's $25 million, over a 50% disparity. The head of Golden Boy was the true money man, the guy you needed to help hit those eye-boggling numbers and they did just that on Cinco de Mayo in 2007. In 2013 former manager Price told BoxingScene that "He couldn't draw flies to a dumpster before he beat Oscar". The figures support Price's claim.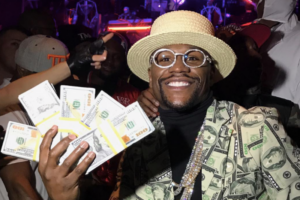 Mayweather was never a shrinking violet so was still is a divisive figure yet that monster run from De La Hoya onwards was that of a fighter who was aging. Mayweather often admitted that his body had started to break down and, crucially, he opted to cut his cloth accordingly by adjusting his style when most fighters would have just carried on trying to fight like younger men. The hard work and dedication that had got him to the money would eventually secure his legacy. He never pulled an Andy Ruiz Jr.
Greatness can lie in many things and longevity is one of them, so it is fair to list Mayweather with some of the greats while putting him way below others. What isn't fair is to discount him completely. On his night, when physically right and when he was "Pretty Boy", Mayweather would have more than matched up with many, many fighters on the all-time great lists.
Dismissing him by saying "Leonard beats him in every department, Duran would be too much for him and Hearns was all wrong for him" is similar to dismissing modern-day footballers by comparing them to either Pele or Maradona.
Falling short in our mind's eye to Leonard, Duran, Hearns and others is hardly a failing on the part of Mayweather. When we do cast our mind in that direction it is worthy bearing in mind that, like Elton John, we may be blinded by the glitz and glamour, the low, albeit quality, output in some recent fights, and forget all of those other defining hits.
When at his very best Mayweather was an outstanding defensive and offensive fighter. He would shine in any era, especially at Super feather and lightweight, even if that meant taking a few Ls due to a higher level of opposition. He created his persona from the ground up, he pursued the fight that would take his stratospheric and he has never looked back — some of us fans and critics haven't, either. So stick on some of those fights and fire up some Elton John LPs, they really do go great together.
Article by: Terry Dooley
Follow Terry on Twitter at: @Terryboxing