Nunez: "Davis Fight Won't Go The Full Rounds!"
After manoeuvring his way into a career-changing mandatory slot, Panama's Ricardo Nunez readies himself for both his US debut and maiden World title voyage this weekend when he takes on WBA super featherweight champion Gervonta Davis.
Nunez – known as – 'El Cientifico' – is a relatively unknown quantity among boxing fans, but an impressive haul of 19 knockouts from 21 victories, including back-to-back first round stoppages in his last two outings, suggests the Panamanian carries enough power to garner respect from the unbeaten Davis.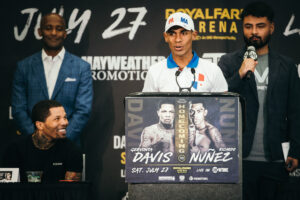 Speaking to international media via conference call, the 25-year-old challenger said he does not believe there is a chance that the super featherweight pair go the full twelve rounds on Saturday. 'Tank' Davis has closed the show inside the scheduled distance in each of his five World title fights to date, and Nunez believes a shootout awaits him this weekend in Baltimore. He said:
"I definitely don't think this is going to go the full rounds because [of] the high percentage we have of knockouts. So somebody is definitely going down. We're looking at trying to hit him, and when we hit him with the hardest punches we can, knowing how he's also a strong boxer. So that's our game plan.
"It's going to be a great fight. If you look at our records, it's two rivals that the percentage of knockouts are high. I think he has one more knockout than me during his career. So that's why this fight is going to be action-packed, because we're both knockout artists."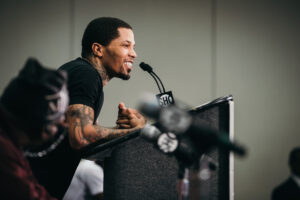 WBA champion Davis – also on the conference call – jokingly added that he needed to get back to work after hearing Nunez' prediction of an early, explosive ending. The 24-year-old, who says he is making the 130lb with ease, responded by saying:
"I'm not going to lie – I need to hurry to get off of this interview because I need to go running. He said he isn't going to go the distance. I'm scared, so I need to hurry up to get a good workout in. It's going down for real. I'm a little nervous now."