One of a Kind: Lomachenko vs Campbell
Darts flew dangerously up ahead as we perched on the edge of the sofa on the upper mezzanine of McGuigan's Gym, Wandsworth, South West London. The men engaging with haphazard mini-spears? Soon-to-be IBF junior-welterweight champion, Josh Taylor and then-undefeated cruiserweight, Chris Billam-Smith.
It was a warm summer's afternoon and the pounding of the gym's newest addition's feet, former Olympian and current British and Commonwealth cruiserweight champion, Lawrence Okolie, filled the silence between tetchy legs of '501'.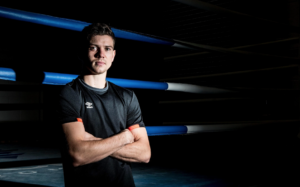 Joining us, relaxing on the couch and casting an eye over the ring below, draped in its bright blue canvas, was former world title challenger and Olympic gold medalist, Luke Campbell (20-2, 16KOs). Quiet, calm and collected, he was scrolling through his social media accounts when stumbling on the WBC's announcement; he would be challenging Vasiliy Lomachenko (13-1, 10KOs) for the lightweight world title.
There had been talk of a transatlantic showdown with Devin Haney, with both men hunting their maiden championship honours, whilst undefeated Russian, Zaur Abdullaev, was in contention thanks to his seemingly over generous ranking.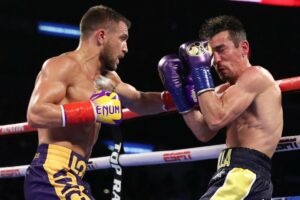 Campbell, in typical 'Coolhand' style, gave a gentle shrug of shoulders, before stating unflustered, "We were planning on beating Lomachenko, anyway". Trainer Shane McGuigan has spoken of his charge's chances this Saturday, facing one of the sport's greatest artists on home soil. As Lomachenko lauded his athleticism to a packed York Hall in London's Bethnal Green, the size of the task at hand seems lost on the thirty-one year old from Hull, East Yorkshire.
He'd come a long way since suffering that shock loss to unfancied Frenchman, Yvan Mendy, overcoming personal tragedy with the loss of his father, an inspiration to him throughout his amateur success, and struggling to find a steady base, leaving famed Cuban, Jorge Rubio before linking up with multiple world title winning McGuigan. Now, with the London-based trainer in his corner and a stable as incredibly talented as that mentioned in the opening paragraph, why wouldn't Campbell ooze confidence?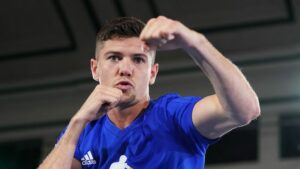 Despite reaching his physical prime, however, Luke Campbell isn't facing a good fighter; he isn't even facing a great fighter. In challenging the diminutive, juggling, backflipping, robotic, human computer, he is stepping up to attempt what now appears the impossible.
Vasiliy Lomachenko has humiliated Olympic gold medalists, multiple-time world champions and proven, top level professionals. He has played the role of the matador expertly, time-after-time, luring his opponents to dramatic and conclusive defeat, often without breaking a bead of sweat.
His amateur career spanned 397 fights. He won 396.
'Hi-Tech' captured his first world title in only his third fight, beating current world champion, Gary Russell Jr, after suffering his lone, controversial defeat to streetwise Mexican, Orlando Salido. He would become the quickest fighter to secure three world titles at different weights, achieving that feat in only twelve professional contests.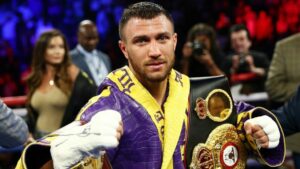 Lomachenko, by all accounts, is an immeasurable talent, able to dissect and deconstruct the game plans of accomplished fighters within only minutes. Those pivots and swiping hooks have dazed fans and fighters alike, with an unusual use of lighter shots to strategically pick holes in weakened men, softening them up, like prey. The two-time Olympic gold medalist boxes so fluidly, it's difficult to comprehend his rate of thought as he glides in ninety degree angles, unleashing vicious hooks whilst his helpless challengers attempt to locate him.
He can be hit though…
In his lightweight title fight with well-known Venezuelan, Jorge Linares, Lomachenko tasted the canvas after eating a straight right hand which resigned him to the seat of his pants. Those questions that had laid dormant since he was bullied and perhaps. Unfairly beaten by Salido, once again reared their ugly heads, although Linares would later suffer defeat in the tenth round, sucking up a huge body shot in the centre of the ring.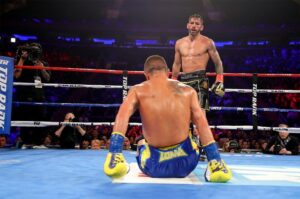 Luke Campbell is blessed with a significant height advantage as both men approach Saturday's contest, standing just over two inches the taller man. A six-inch reach advantage could prove vital for the man from Hessle, Yorkshire, with those long levers potentially able to dictate the range from the opening bell. Under McGuigan's tutelage, he's found additional punching power, which the pair believe could separate both fighters.
Both winning Olympic golds in London, their careers have taken different paths, with Campbell as yet, perhaps underachieving. The incredible pairing of Lomachenko and his countryman, former undisputed cruiserweight champion, Oleksandr Usyk, has taken boxing by storm, reinventing elements of the sport for trainers and young enthusiasts. Luke's career was, for a period, disrupted, but as he attempts to pull the rabbit from the hat, it could be one of British boxing's crowning moments.
When countryman Anthony Crolla travelled to fight the unified lightweight champion, it was widely accepted as a mismatch – whereas this weekend's bout at London's O2 Arena retains a sense of intrigue. Nobody expects a Luke Campbell victory, but there is the lingering feeling that a valiant effort could see him run the champion close, which would be deemed as close to a victory itself.
Can anyone beat Vasiliy Lomachenko? Is he truly one of a kind?
When peacefully revealing his plan was always to beat Lomachenko, after reading the WBC's tweet only a few months ago, dodging stray darts and friendly insults, Luke Campbell returned to the sofa, sinking comfortably into it whilst continuing about his business. Pressure didn't seem to phase him then – it was all business. I couldn't help but hope that same sense of calm followed him into the ring, for surely, he'd need it.
Feature written by: Craig Scott
Follow Craig on Twitter at: @craigscott209