EXCLUSIVE: Scott Quigg – No Stone Unturned
THE Greater Manchester market town of Bury — initially named Buri, an early form of the word borough — was given its name because a stronghold grew around an ancient marketplace during the Roman occupation of what we now know as the United Kingdom. It is close to the river Irwell. Indeed, Bury Castle was originally built on high ground overlooking the Irwell Valley. Sir Robert Peel was born there, so too were Gary and Phil Neville, and fellow sportsman Scott Quigg (35-3-2, 26 KOs) hails from and still lives in the modest borough.
Quigg is a unique case as he took control of his career early on after his parents handed him the chance to develop himself into the best boxer he could be by allowing their son to leave school early. It was a decision that raised eyebrows, probably prompted some gossip and, in the end, was completely vindicated when he netted the British and WBA World Super bantamweight titles. The 31-year-old is now an ex-boxer, a decision that he always told me he would make for himself and never revoke.
However, it came earlier than expected following his 11th-round defeat to Jono Carroll earlier this month. Behind on points and struggling to find form, the decision was taken out of Quigg's hands when trainer Joe Gallagher threw in the towel.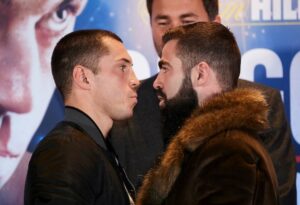 The former fighter told Boxing Social that the decision to call it a day is one that he doesn't regret in the slightest. He turned over on a Wally Dixon-promoted show at the old Jarvis Hotel here in Manchester before making it all the way to the Manchester Arena. Those Dixon shows were the epitome of small hall yet I was at Quigg's debut win over Gary Sheil as well as his wins over Shaun Walton, twice, and Delroy Spencer, and there was always something a bit different about the fighter who came from a Muay Thai background then entered boxing with very little amateur experience.
"I really did start from the bottom in this life," recalled Quigg. "I didn't have a big promoter. That is what helped me. I didn't have that amateur background to fall back on so was an unknown quantity. I had to build a reputation early with my performances and by stopping people who don't usually don't get stopped. I was also selling a decent amount of tickets. I'd knock people out properly, I didn't waste shots — that was all down to the education from (his first trainer) Brian [Hughes MBE].
"Brian would get me to watch lots of tapes. He was the one who introduced me to Wilfredo Gomez. He is my favourite fighter — I couldn't believe how well he could box and punch. I'd watch hours and hours of him. I learned so much from those old tapes. Brian would know whether I had watched one as soon as I came into the gym as he would look out for things I should have picked up from them."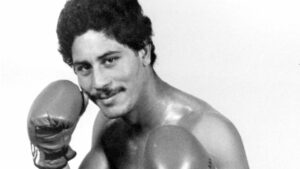 Quigg's relentless self-belief was shared by his parents. The decision to take him out of school early to pursue a sporting career raised eyebrows yet he remains thankful that his parents show so such faith in his ability to reach the top of his chosen profession due to the relentless drive that they instilled in him from an early age.
"I had belief that I'd be a world champion," he said. "Other people couldn't see it. My mum and dad shared it, and that is why they did what they did for me despite the fact that people whispered about it because they thought it was wrong. This is why I have the relationship I have with my mum and dad. They were there for me and made a decision based on how hard I was working.
"I'd just sit there (in school) not writing anything on my papers. I would be quiet as I didn't want to disrupt classes. Just because I didn't want to do the work didn't mean I should spoil it for the ones that did. It never interested me, it was just something I had to do. I stuck to what I said I was going to do. I wasn't bad-mannered or anything like that.
"Some teachers I didn't like so was a cheeky sod to them, like anyone can be, but I know how to be respectful to people. The lads I knocked about with weren't bad lads. I'd see them at school yet didn't go out on a Friday and Saturday with them, I've lived this life from a young age. I saw a couple of teachers in the last six-months and they said I'd done well despite it being a risky decision."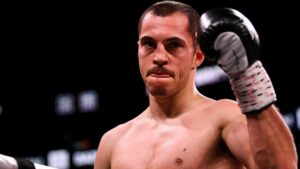 Quigg dabbled in football at first, his father would spend hours on the field with him working on different things, then he moved into Muay Thai before heading into boxing. Those many, many hours spent working on his football skills with his father were eventually parlayed into boxing and although his mother worried about him he assured her that the work they had all put in during his teenage years would pay off.
"I sacrificed a lot of family and other time for boxing so I want to make that up," he revealed. "That discipline and graft always stuck with me. I had that from my dad plus my mum's support. I would train as hard as I could knowing that it would help my mum. If she knew I was working as hard as I could, if I was as good as I could be, she wouldn't worry as much about me fighting. That is why I am respectful and disciplined — I can't argue with the way I grew up. I was always more than ready and told her not to worry, I go in there to win. I talk to her about everything. She is my best friend and always will be."
Unlike many fighters, Quigg made the decision early on to manage his own career alongside long-time friend and advisor Paul Speak, who worked with Ricky Hatton for years before helping guide Quigg's career. Now the dust has settled he can look himself in the mirror knowing that he did it his way.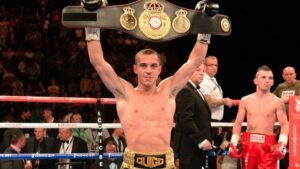 "I make the decisions," he said. "I have great people like Joe [Gallagher] and Paul yet I was always observant in the gym in my early days. When I was with Brian, I would watch people like Michael Jennings, Thomas McDonagh and Robin Reid talk about the business side of boxing, what people get paid and all that.
"My ears were always open when they talked about those types of things so I was always observant in that way. It helped me when I became self-managed and took control of my career. I put a great team around me, too, to help me with that and help direct everything to where I needed it to be. I am happy with the job I did for myself."
Making your way to the top can be arduous, especially in boxing because for every one person offering you a helping a hand you get more than a few who just want to stamp on them and send you tumbling back down to the bottom. Quigg broke out of the small hall scene then chased a domestic showdown with former British, Commonwealth and European champion Rendall Munroe. Their first fight ended in a disappointing third-round Technical Draw after Munroe was cut due to a clash of heads. The rematch handed Quigg what he feels was his first big bite at the cherry.
"The second Munroe fight at the Manchester Arena [W rsf 6 in 2012] was a breakout performance and so was the first one with Joe against [Jason] Booth for the British title [a seventh-round retirement win in October 2011]. That platform at the arena was my breakout night and performance, the one where you know you are going to kick on with the next stage of your career.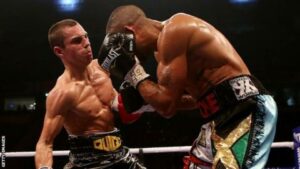 "Munroe operated at the top level. He had some good wins. It was a chance for me to go in and take him apart. He wasn't used to someone doing that to him. It wasn't just size of work rate, I chipped away at him with the right shots and broke him down. I boxed, really, and that showed a different side of what I could do as well. It was quite a big statement at the time."
That one was for the interim WBA title yet it wasn't an easy ascension due to a majority draw against Yoandris Salinas in his first fight for the full title. Quigg started slowly in that one yet maintains that he deserved to be handed the decision. It was a setback, one that he used to kick-start one of the best period of his career with wins over Diego Oscar Silva (W rsf 2 for the full title), Tshifhiwa Munyai (W rsf 2), Stephan Jamoye (W rsf 3), Hidenori Otake (W 12) and Kiko Martinez (W rsf 2) to set up up a huge clash with long-time rival and IBF holder Carl Frampton.
The draw with Salinas was a real setback, Quigg's response to it characterised his response to adversity and how he deals with it. "I had that draw with Salinas and think I definitely won it by two rounds," he said.
"It wasn't a draw. He was a slick, quality fighter and for the first few rounds he was hitting me with everything he threw, but I knew that I would grind him down. From the fourth round I was chipping away at him. I don't kid myself at all, I won that fight by two rounds.I went on a run after that fight, but I'd say Kiko was the big one in that run because it got me the Frampton fight and was a good performance."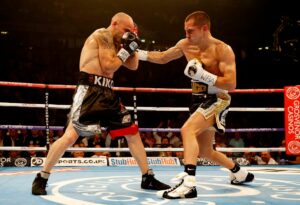 Sometimes a fight becomes so big it overwhelms everyone involved. The fighters might be hesitant, failing to engage early and turning it into a cagey affair. Quigg's partial unification contest against Belfast's Frampton in February 2016 took a long time to get going, and by the time it got going it was gone from Quigg's grasp. Fingers were pointing in the aftermath: he took too long to get going, the mistakes of the Salinas fight were repeated, the blame was all on him and Gallagher etc. For Quigg, the simple truth is that it didn't go his way yet he had gone out of his way to make the fight.
"I wouldn't say the pressure got to any of us, but the will to win was so great on both sides that we both stuck to our game plans and it became the case that neither of us wanted to put a foot out of what we were doing," he said. "Then I came on more late on and picked it up a bit. The pressure has never got to me. The only pressure I feel is the one I put on myself.
"It was a great, big fight to be involved in. I didn't get the win yet it was a big fight for the fans. Sometimes you need that dance partner in the division to get that big fight. We had each other, we were putting in top performances, and it is good that we were both around at the same time and got to have that big occasion and fight. It was good for us and our families to be on Sky pay per view."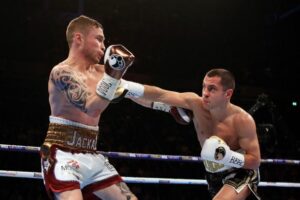 It was a huge setback for Quigg, one that he handled by rattling off three wins to ensure that he was handed another world title shot, this time against WBO featherweight holder Oscar Valdez in March 2018. Although he could not contest the title itself after missing the weight.
It was brutal during the early going. Quigg was cut by the left eye and suffered a broken nose. Valdez lost a tooth and his jaw was broken by a right hand in the fourth yet Quigg told me that he enjoyed the back and forth of that contest, arguing that damaging Valdez's jaw turned the fight against him as it meant that the California-based Mexican had to adjust his tactics.
Hearing a fighter say that they found a brutal fight like that "Fun" might be strange. No one likes to get punched in the face, but when Quigg's nose went he thought "Fuck it!" and went for broke to produce some brilliant exchanges. "I enjoyed that out of all my fights, we both caused a lot of damage — it was enjoyable," he said.
"Don't ask me why, I just liked being in there and slugging it out," he added when I asked how having your nose splattered across your face can be fun. "The worst thing I did was break his jaw because he switched up and changed his game plan. My foot was injured in training so my feet were a bit too slow to cut the ring down on him.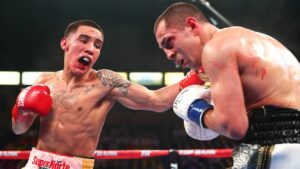 "I wasn't thinking anything at the time, just that I'd get to him and stop him as we'd done lots of rounds in sparring knocking seven bells out of each other. He is a very good fighter who is still improving. I was confident that he would stand and trade, and I win that one all day long. Credit to him, he boxed and was a top amateur in his day as well.
"Valdez was the most brutal fight I've had, but, if my nose hadn't have gone I wouldn't have had a mark on me. To others, it looks like I'm taking a lot of shots yet I ride them and take the sting out. I know people say I walk forward with my face and all that, but show me photos after all of my fights and most of the time there isn't a mark on me."
"You have to give Valdez credit, though, because a lot of people would panic in that sort of crisis, but he handled that pressure, got his instructions in the corner, and went on from there," he added. "Top boxers have the ability to not only control their minds but to also control their emotions.
"The funny thing is that it was like being back in Bury that week because it was absolutely pissing it own. It is a fight that didn't go my way, but one that I can still look back on and enjoy. I can look in the mirror and see someone looking back at me who I can be at peace with because I never cut any corners."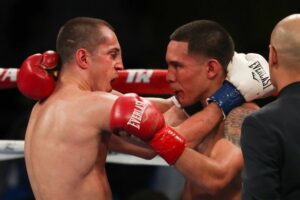 The loss to Valdez was one Quigg could live with. When I spoke to him in a greasy spoon cafe in Bury back in February he was philosophical about it. He looked well, was in good shape and insisted that Father Time was not knocking at his door only to realise it was no longer there for him during the early going against Carroll. The former world titlist could still see the openings as well the shots coming his way, he was just unable to do anything about them so he fully supports trainer Joe Gallagher's decisions to throw in the towel.
Quigg decided to retire in the immediate aftermath. Like Gallagher, he insists it isn't a choice he will regret down the line. "Joe made the right decision," insisted Quigg. "I only asked him if he had stopped because he thought I was getting hurt, because I didn't want that. I only condoned it if he thought it wasn't going to happen for me.
"Joe said I was never going to find that perfect shot or get my timing, he said he could see the frustration in me. Once he said that I said: 'Joe, you did the right thing'. Joe isn't just a trainer, he is my friend so he knows what it means to me and I totally respected his decision. People gave him stick over it, but they are just idiots."
With boxing now firmly in his rear-view mirror, Quigg is searching for his next passion. He was fanatically dedicated to the sport yet told me that he will take that same approach once he has decided on his next move, whatever that may be.
"You mature as a person in life," he said. "I am a lot more settled now in my own life than before. I have my own life, things I can do outside of boxing, and it makes me a lot more content and happy. I tick over, look into a few little things business-wise and that keeps me occupied."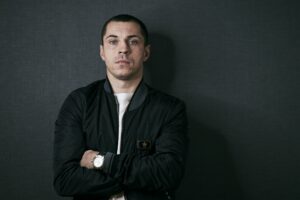 "Nah, it will be outside of boxing," he said when asked if he will go into the training side of things. "The fighter has got to want it. The way I am is that I'd help some fighters with advice, but a lot of fighters now go about things their own way and I wouldn't be into that."
As for his personal life, Bury is where his heart is despite stints in LA at Roach's Wildcard Gym over the years. Quigg headed over there a decade ago on a busman's holiday to learn from the best and won Roach over. Bury and LA are polar opposites yet Quigg was so consumed by boxing that he lived the same life in America as he did in Greater Manchester.
"I'd never leave Bury, well maybe only for LA, as my family, friends and the people I know are here. I have no reason to leave. It is a nice place to live. I am proud to be from here. I learned Thai Boxing here, I learned to box here, and I appreciate Bury and all it has done for me."
Quigg's legacy is tied in with the town. Bury banned boxing in 1997 after Mike Tyson bit Holyfield's ear for, erm, reasons only for Quigg to campaign tirelessly to bring it back. He fought three times at Bury's Castle Leisure after taking his right to fight in his place of birth to the local authorities. He may not have lifted a world title in his hometown yet just being able to fight in front of his fans was a triumph in and of itself.
"The Leisure Centre means a lot to me as boxing was banned in Bury and I managed to get that ban overturned," he said when we last met in person. We were standing a stone's throw away from the venue.
"It was the first fight here for many years. That first fight against Andrey Kostin [W rsf 1 in May 2010] is probably up there with the top three nights of my career. It was a big thing, a big occasion and it makes me proud. I went to the council myself. We spoke on many occasions so I could put my case forward. I said it was a detriment to my career if the ban wasn't overturned. Everyone was fully behind me. It was considered and then, thankfully for me, the ban was overturned. It was a nice achievement."
Quigg has often been painted as a simplistic caricature of the quintessential hard-working fighter who drags his way to the top. Like Terry Flanagan and Josh Warrington he went from the small hall to the big arenas due to sheer determination and hard work.
Still, the fact he was self-managed for so long, listened, learned and adapted, and did things his own may means that he can walk away with his head held high after maximising his talent. How many people can say that in any walk of life? You can mock Quigg all you like, and some do, but can you go head-to-head with him when it comes to achievements?
"You have the special talents, but if you have a special talent with an unbelievable work ethic you get those rare fighters like Floyd Mayweather and Manny Pacquiao," he said. "I was never the most naturally talented, but I had that work ethic. Some people might pick up things more naturally and quicker than me, I'd just make sure I got it through hard work and become better than them by working on things."
As for that busted nose of his, I asked Quigg if he plans a Carl Froch style surgical makeover to straighten it out. "Nope, my face is staying the way it is," he said before heading towards his new life.
Article by: Terry Dooley
Follow Terry on Twitter at: @Terryboxing