Spence: "I Guarantee I Will Become Undisputed Champion!"
As Errol Spence Jr eyes up the opportunity to become unified welterweight World champion next month, the message from 'The Truth' at yesterday's press conference was clear – Shawn Porter, quite simply, is in the way.
Having dominated the decorated Mikey Garcia back in March, IBF kingpin Spence now pits himself against WBC champion Porter at LA's Staples Center on September 28.
Spence – radiating confidence – declared that though he will be sharing the ring with a top-class dance partner, he believes he can add the WBC strap to his collection in impressive fashion.
"I guarantee you, I will become the undisputed welterweight champion of the world," He said. "But I have to get through Shawn Porter first and become unified. This is going to be a tough fight. Shawn is a dog and he has amazing heart. I am not going to say he has all the skills in the world, but he does have talent.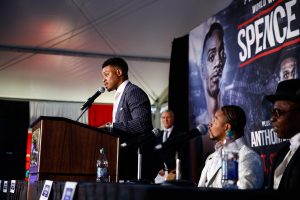 "He's a guy that's going to come to fight and give it his all. But I believe I do have the skills and talent and the dog and the heart to not only make this an easy fight, but I can stop him and that's what I am looking to do.
"He didn't want to fight me. I wanted him. I have no choice but to come out on top. I'm the guy that's going to make the fight on pay-per-view. I'm the guy that's going to make the most money. So I feel like he didn't have a choice but to fight me. It just had to happen.
"I want to be the best. I want to be the undisputed welterweight champion of the world and he is in my way. I feel like by the end of next year, you'll find out who is really the best welterweight in the division."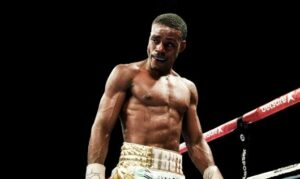 Porter – known as 'Showtime' – likened the upcoming unification bout to his closely-contested unanimous decision defeat at the hands of Keith Thurman back in 2016 – adding that he feels more prepared this time around.
In spite of being the underdog going into his clash with Spence, the 31-year-old said there will be no surprise on his end when he is crowned unified champion. He added:
"When I fought Keith Thurman in 2016, he was considered to be the most dangerous guy in the division. I wanted to take that away from him. I wanted to take that title away from him. So yes, in a lot of ways, I've been down this road before. I think I'm more prepared this time around.
"When you talk about the new monster in the division as Errol Spence Jr., I'm not foreign to taking on those challenges, or being prepared for this kind of challenge. I'm not foreign to understanding what a fighter can do and what skills he possesses.
"He knows I'm a dog and have plenty of heart. I have heart to give and he knows I'm bringing all of it. He's saying there's going to be a man down, but I'm not focused on that. I'm focused on being prepared.
"I know he thinks in some ways he can make it an easy fight, but trust me, me and my team are looking at the exact same thing. No surprises on September 28 when I knock him out, it's been said."