Spence v Porter: Papering Over the Cracks
I can remember it as though it was yesterday. I'd spent all year behaving myself, making sure I'd focused on my education and stayed out of trouble, all in the hope of securing a mammoth Christmas present. It was a games console, fresh from the factory and the talk of the town – amongst sixteen-year olds, anyway.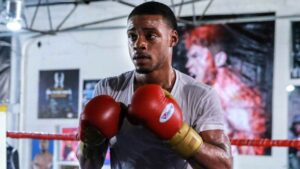 My parents split up in the Autumn, however, fracturing Christmas, understandably, into two smaller chunks. Not wanting to one-up each other, they agreed on budget gifts for myself and my sisters, which we accepted with smiles painted on our faces – staring at the gaps on the sofa where our larger item would normally reside. Situation dictated, as it often does.
Now, don't get me wrong, some of our new accessories were great. I had a pair of sunglasses worn by The Rock – a necessity in December, in Glasgow. There were other bits-and-pieces, which I was grateful for, but it just wasn't that little square box that I'd been playing when visiting my richer friend's place immediately after its release.
Excuses were made and time rolled on… The console was old news by the time I'd bought one. The window of opportunity had passed. The board games and zany pairs of socks disguised a far deeper issue, making excuses and ultimately, saving face.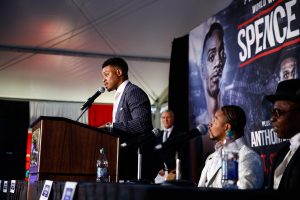 Errol Spence Jr v Shawn Porter is good – of course it bloody is – but it's not the one we are craving. It's not the bout we've been saving up for, anticipating and investing in, whether debating amongst friends or like-minded social media acquaintances. But, without sounding ungrateful, let's work with what we have…
This weekend's all-PBC unification bout continues the promotional company's strong 2019, in comparison to their market rivals. The welterweight division has nearly positioned itself amongst the top three, when considering depth of talent and potential clashes between champions.
Errol Spence Jr (25-0, 21KOs), the chiselled Texan, has yet to taste defeat, beating the over-optimistic Mikey Garcia in Spring. Talks of pound-for-pound rankings may seem premature for some, but the undefeated fighter knows that claiming another portion of the 147lbs crown is only a matter of hours away, in a contest that sees him the wildly heavy betting favourite.
Shawn Porter (30-2-1, 17KOs), however, has tread a very different path. Since losing to Sheffield's Kell Brook and relinquishing his IBF world title, he's been clawing his way back to the belts, facing top contenders at almost every outing. Porter hasn't always been in the driving seat but, through dogged determination, finds himself the defending WBC champion. 'Hard work and dedication', and former superstar may remark.
The beauty of this contest, for both red and green straps, is that we are almost guaranteed excitement.
Spence doesn't take a backward step, mixing relentless combinations to the head and body, intelligently. He seems a step ahead, dictating the pace in almost every outing, stepping through the gears as each bell sounds. With his opponent, though, he'll be facing a tough, seasoned campaigner, known for consistency and solid fundamentals – levels above Carlos Ocampo or Leonard Bundu.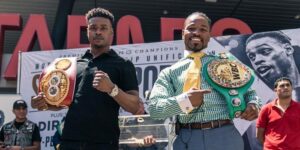 Former professional, Derrick James, has guided Spence thus far, training him at their gym in Texas and winning plaudits for his work with the champion and the Charlo brothers. His reputation as an astute trainer proceeds him, delivering success, time-after-time, during a career still in its infancy. The pair have an immovable bond – built from the gloomy amateur tournaments that James would frequent, expanding his knowledge after hanging up his own gloves.
Now, Shawn Porter doesn't hit the hardest, but escaped an amateur career spanning hundreds of fights, including victories over Oleksandr Usyk and Danny Jacobs. Can we expect the thirty-one year old to continue excelling for much longer? He's the older man on Saturday night – but not by a distinctive margin. Two years Spence's elder, the man from Ohio is a consummate professional, led responsibly by one of boxing's warmest characters, his father, Kenny Porter.
The noticeable difference between Kenny Porter and Derrick James, age aside, is their personal investment in their charge. Porter SR has been involved with the Team USA national team, often travelling with his son – and Spence Jr – to both domestic and international tournaments. On visits to the UK with Lenroy Thomas, Kenny worked the corner of an away fighter at late notice, a true testament of his unwaivering love for a testing sport.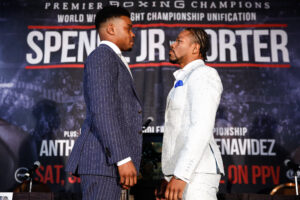 Both fighters and both trainers are aware that the threat of defeat is very real. Despite odds as wide as the Clyde, Porter should prove Spence's toughest test. The Texan has only beaten a damaged Kell Brook and a massive, yet timid Mikey Garcia, to capture the attention of the boxing public. Have we seen enough? Is he truly that special?
For me, this welterweight clash papers over the cracks. Shawn Porter has recaptured a portion of the world title displaying tenacity and depth of character. He'll fight anyone and he'll look pretty good doing it. But Errol Spence Jr is a notch above and I think that'll show when they lock eyes on fight night.
Spence Jr is bigger, fresher and has an ability to switch his tactics, fighting on the back foot or roughing up Porter with work to the body on the inside. I'd imagine it goes the distance (Shawn Porter has only been beaten on the cards), but for me, Errol Spence wins by three rounds or more.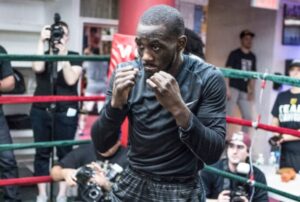 … Yet regardless of Saturday evening's outcome, the whispers from Omaha grow louder. He who must not be named shall watch, grasping the chain holding back one of his enormous dogs, soaking up a fight he was never close to securing.
One of the most talked about fights in the sport of boxing remains a thing of fiction. Let's hope if we get it, or when we get it, that it's still very much in fashion. But, as I know only too well from growing up in a split household, you don't always get what you want.
Feature written by: Craig Scott
Follow Craig on Twitter at: @craigscott209