BRITS ABROAD: Top Five Overseas Victories
There's little more pleasure in sport than seeing your compatriot travel to an opponent's back yard and capture that elusive World title. From stunning, against-the-odds upsets to jaw-dropping knockouts, we look at five of the best victories from British boxers on foreign soil.
NIGEL BENN vs DOUG DeWITT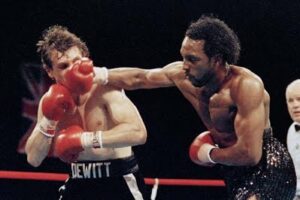 'The Dark Destroyer' was a true force of nature, and proved as much on the global stage when he fought for his first World title against Doug DeWitt in Atlantic City. Rushing forward with the intention of securing a trademark destructive knockout, Benn soon found himself on the canvas after being dropped by a left hook in the second round.
Benn's reply? A vicious assault, which saw him return the knockdown in the following round. The challenger threw every punch with bad intentions and produced an onslaught to eventually break down the champion within eight rounds. Benn had arrived on the World stage, crashing to his knees to celebrate his WBO World title win.
ALAN MINTER vs VITO ANTUOFERMO 1
Alan Minter made history by becoming the first British fighter to win a World title in Las Vegas when he faced Vito Antuofermo at the iconic Caesars Palace. Upon hearing the first bell, 'Boom Boom' used his height and reach advantage, in addition to his southpaw style, to keep the Italian-American at bay.
As roars echoed from the travelling UK crowd, a motivated Minter let his hands go, finding occasional success on the inside. After being knocked down in the fourteenth round, Minter recovered and continued to unload until the final bell – claiming the WBA & WBC World titles with a contentious split decision victory.
TYSON FURY vs WLADIMIR KLITSCHKO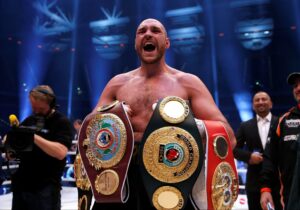 Tyson Fury shocked the World when he defeated long-reigning unified heavyweight champion Wladimir Klitschko on November 28, 2015. Despite being priced as a 3/1 underdog pre-fight, Fury utilised mind games and mental warfare at every turn during the promotion to try and get under the skin of the Ukrainian.
Fury would replicate his confidence when he entered the ESPRIT arena that night. Utilising his impressive head movement and feints to throw off 'Dr Steelhammer's rhythm, Tyson Fury put together effective combinations and boxed out of his skin over the scheduled twelve rounds. Hands behind his back, the challenger made it look easy at times against the former champion of almost ten years – producing a masterclass that is sure to be looked back on for some time.
LLOYD HONEYGHAN vs DONALD CURRY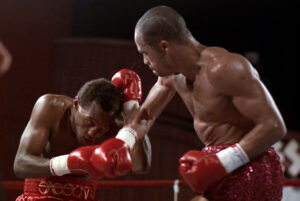 Against all odds, Lloyd Honeyghan travelled to Atlantic City in 1986 to take on pound-for-pound star Donald Curry. This would be Honeyghan's toughest test to date, and unexpectedly – it was Curry's too. In the build-up to their fight, the defending champion asked, "Who is this ragamuffin?" at the press conference – dismissing any chance that the challenger had even a remote amount of success.
Honeyghan had amassed a record of 27-0, collecting the European, British and Commonwealth titles along the way, but was priced as a 6/1 underdog. Oozing confidence, the Londoner began backing up the American immediately with lunging, hard shots. Slowly but surely, Curry's heart began to break, with the challenger becoming more dominant as the rounds went by. Encouraged by his success early on, Honeyghan delivered a one-sided beatdown until the end of round six to win the WBA, WBC & IBF World titles. The 'Ragamuffin Man' was born after producing a major upset in World boxing.
TYSON FURY vs DEONTAY WILDER 2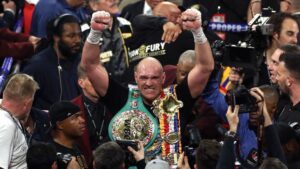 Undoubtedly up there as one of the all-time great overseas performances, Tyson Fury's destructive win over Deontay Wilder cemented his place as the World's best heavyweight. Fury was looking to make things right after his controversial draw with Deontay Wilder in 2018. In the build-up to their second meeting, 'The Gypsy King' raised concerns when revealing his front-footed, aggressive strategy to the media.
Staying true to his word, Fury bullied the bully and launched an all-out offensive which negated Wilder completely. Imposing his size and strength, Fury walked the World champion down, knocking him down twice and forcing him into submission to become the WBC World heavyweight champion.
Article by: Chandler Waller
Follow Chandler on Twitter at: @ChandlerWaller