With eyes that could pierce holes in sheets of steel, the heavyweights' newest threat strikes an unusual balance between haunting predator and abstract comedian. Peering over a barrier with those glaring pupils, he seemed part-manic, though only days ago was filmed performing a flowing, improvised dance routine. Boxing's Tommy DeVito.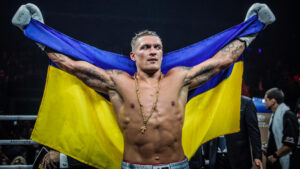 For Oleksandr Usyk (16-0, 12KOs), this weekend's fight with Chazz Witherspoon acts merely as an introduction to the glamour division. It's not a test. It's not a hurdle, lingering at the end of a torturous track. It's a friendly wave from the back of a limousine that states simply, 'I'm here now'. Beating the American tells us very little, but what more do we need to know at this stage?
We watched on as the Ukrainian dazzled here in the London, almost a year ago, decoding a very game but ultimately overmatched Tony Bellew. Usyk, unlike his little counterpart Vasiliy Lomachenko, is a puzzle yet to be solved. However, when capturing the inaugural cruiserweight edition of the World Boxing Super Series only months prior, he'd secured his status as a high ranking, pound-for-pound fighter.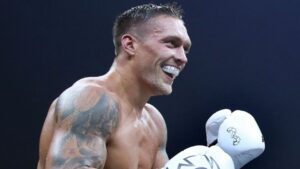 Easing past veteran Marco Huck, Usyk was forced to dig far deeper when thrown in against Mairis Breidis in Riga, Latvia – arguably his trickiest assignment. In the tournament's grand finalé, the unified champion became the undisputed champion, once again on the road, beating fearsome puncher Murat Gassiev. The pair fought in a hostile Olikpiyskiy, Moscow, leaving another man crestfallen on his own soil.
Forged in the Crimean Oblast, Usyk was an aspiring fifteen-year old footballer when he'd first laced up the gloves, discovering that boxing was his true calling. His amateur career culminated in a World Championship gold medal and an Olympic gold medal, back-to-back. After turning professional in 2013, it would be less than three years until he captured the cruiserweight WBO title, defeating Krzysztof Glowacki comfortably.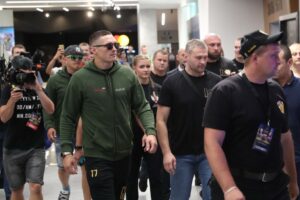 But can Oleksandr Usyk, now aged thirty-two, truly tackle the world's elite heavyweights? Standing at six-foot-three, he's not the smallest man in the division, but would be shipping three inches at least when challenging Deontay Wilder, let alone the enormous Tyson Fury. If facing the fearsome WBC champion, could he withstand the Alabama man's heaviest artillery? The Bronze Bomber is the closest of the reigning champions in weight, though he lacks the intelligence of Usyk in the heat of battle.
Many have favoured the former Ring Magazine, ESPN and Sports Illustrated 'Fighter of the Year' (2018) to triumph in a hypothetical bout with Anthony Joshua, pointing towards his fluidity. His fight with former Russian IBF and WBA cruiserweight champion, the heavy-handed Murat Gassiev, highlighted just how impressive Usyk's footwork is, completely nullifying the thudding attacks of the bearded home fighter. Pivoting, sliding in and out of range or remaining in Gassiev's face, Usyk had it all that night. Could Joshua cope with that overwhelming variety?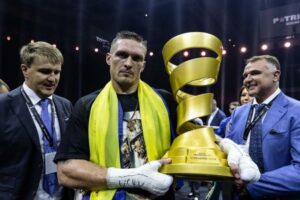 You can't help but assume that Tyson Fury, all six-foot-nine and nineteen stone of him, may be a step too far, though. The difference between Wilder and Fury is approximately four stone – something we have to factor in to a potential Usyk v Fury contest. The Gypsy King can move, boxing on the back foot and taking advantage of his ultra-dominant reach. Sure, Usyk could evade Tyson's heaviest punches, but would he have enough in the tank to physically assert dominance over the Morecambe man?
Politically speaking, we cross our fingers and toes that the fights mentioned above come to fruition. The outcome of Ruiz v Joshua II shall determine the pace of the Ukrainian's ascent, with a WBO ruling that offers a champion an immediate title shot in the weight class above. On their return from Saudi Arabia following the December 7th rematch, the emerging victor will have plenty to think about, facing a tougher test in the New Year in a defence of their championships.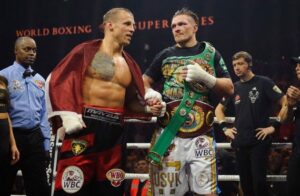 Making his way to the ring in Chicago this weekend, draped ominously in the number '17', Usyk jumps headfirst into the most intriguing division in boxing. He was due to fight former MMA/kickboxing star Tyrone Spong, but after adverse VADA findings, now shall lock eyes with Chazz Witherspoon, who appears painfully out of his depth. It doesn't matter whether it's Spong, Witherspoon or whether it's anybody else. They are coming to play a supporting role.
The Wintrust Arena plays host to the heavyweight debut of Oleksandr Usyk, but it's the beginning of a fascinating rebirth for the cruiserweight King. This isn't just another fighter.
Usyk can become an integral part of the heavyweight jigsaw and have no doubt, he can secure those portions of the world title. Behind those eyes and behind the scenes, he's a 'once in a generation' talent – a freak – a prodigy. Entering the heavyweight division doesn't pose the question, 'can he do it?'. But rather, 'who can stop him?'.
Feature written by: Craig Scott
Follow Craig on Twitter at: @craigscott209