A CUT
SOURCE: BBC Sport
A frequent cause of postponements and cancellations, fighters and trainers dread the possibility of sustaining a bad cut in preparation for a big fight.
Head guards are designed to prevent this manner of injury but, while they greatly reduce the likelihood of a fighter sustaining cut eyes, they are not infallible.
While some fighters are accused of being disingenuous when they withdraw from a certain date, it seems extremely unlikely that any boxer would fake a cut, although David Haye was suspected of precisely that when pulling out of a scheduled blockbuster with Tyson Fury in late 2013.
A HAND INJURY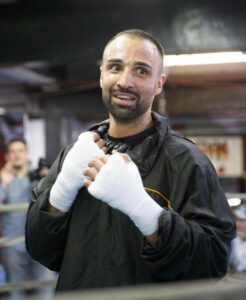 SOURCE: New York Daily News
Given that the tools of a fighter's trade are his hands, it's hardly surprising that they are prone to malady during the constant process of sparring, bag work and pad work.
Sometimes a fighter will crack on regardless with one good hand, either confident of victory or willing to take the risk.
Rest assured that, in the event of a loss, or uninspiring performance against a man they were fancied to KO, it will be the first thing he mentions in the post fight interview.
HEAD NOT IN THE GAME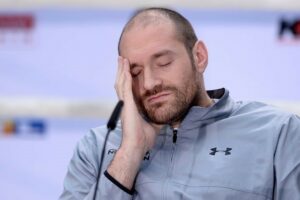 SOURCE: YouTube
Sometimes a variety of issues, filed under the generic tag of 'personal problems' prevents a boxer from fulfilling the contract.
Few will remember Marvin Hagler withdrawing from a 1984 mandatory defence against former victim, Mustafa Hamsho due to his failure to 'get motivated' following the surprise abortion of Sugar Ray Leonard's much touted comeback that same year.
More recently Tyson Fury pulled out twice from scheduled rematches with Wladimir Klitschko, with depression, drug use and accusations of banned substance abuse seeming far more pivotal than reports of a badly twisted ankle.
For the record, Hagler annihilated Hamsho when the rescheduled October date came to pass at Madison Square Garden.
RETIREMENT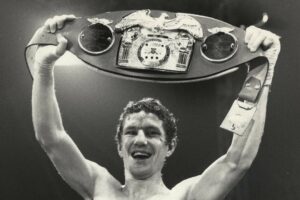 SOURCE: LCB
Not common in this context but it happens on occasion.
Both Terry Marsh and Steve Collins signed contracts to defend their respective world titles only to ride off into the sunset.
Marsh, bizarrely, was scheduled to meet IBF No.1 light welterweight contender, Frankie Warren, before various issues with his namesake promoter, Frank Warren, caused a bitter fall out that culminated with Marsh being charged and acquitted with the attempted murder of his former mentor.
Collins, for this part, pulled out of a date with the young upstart version of Joe Calzaghe citing a blister on his toe before deciding to hang them up for good.
MONEY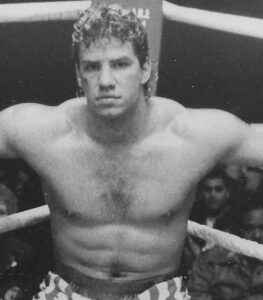 SOURCE: Cyber Boxing Zone
More commonly a reason not to sign the contract in the first place, financial wrangles can still be a stumbling block thereafter.
The most notorious example in boxing history is probably the cancellation of the entire 'High Noon in Hong Kong' card, set to have featured Tommy Morrison vs Herbie Hide and Frank Bruno vs Ray Mercer due to major financial difficulties, involving fledgling player, John Daly, whom official promoter Bob Arun seemed unwilling to bail out and guarantee the purses.
ILLNESS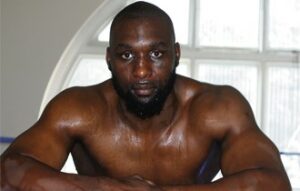 SOURCE: Zimbio
A frequent cause for pull outs and postponements and usually no more serious than a common virus.
One such dramatic example would be Danny Williams withdrawing from a televised British Heavyweight title challenge to Matt Skelton on the morning of the the fight on July 16, 2005.
Williams claimed to be suffering from flu despite Frank Warren angrily denouncing his charge as a 'bottler.'
Chesterfield butcher, Mark Kreme, stepped in a 12 hours notice and lost in 7 rounds.
A BACK INJURY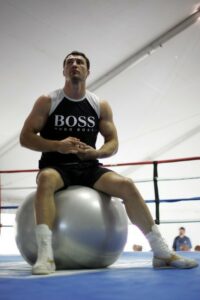 SOURCE: LiveFight
If it's not a cut or an injury to the 'extremities' than some kind of back problem is likely to be the next most given reason for a fighter's unreadiness to be alright on the night.
Wladimir Klitschko pulled out of 2 back to back (forgive the pun)defences against Dereck Chisora on the grounds of a bad back despite a blizzard of allegations that he was simply having second thoughts about sharing a ring with a dangerous unpredictable foe who brought big risk in comparison to reward.
GIRL TROUBLE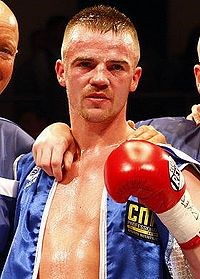 SOURCE: Boxrec
If there is one thing that can send any fighter, great or good, off the straight and narrow then it is probably the mystery of womankind.
Usually, a fighter will mention his romantic woes or over indulgences after losing a big fight but Frankie Gavin pulled out of a televised main event with Frenchman Frank Horte in October, 2011, shortly after the weigh in and allegedly down to relationship problems.
Dean Byrne took his place and was stopped in 8 rounds.
A LEG INJURY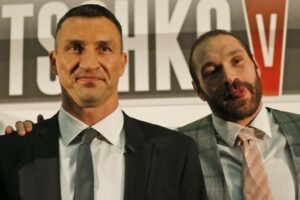 SOURCE: Bleacher Report
Not so common in fight circles compared to broken hands and twisted ankles but Wladimir Klitschko did withdraw from his original Düsseldorf date with Tyson Fury in October 2015 after claiming to have sustained a calf injury while disembarking from an aircraft.
Many hardened observers of the fight game were a tad sceptical, of course.
INCARCERATION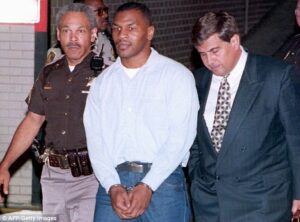 SOURCE: Daily Mail
A cast iron alibi that is pretty much impossible to 'blag.'
Every now and then, in the course of Boxing history, we have seen a fighter on the verge of a major fight only to find himself at variance with the law.
Tony Ayala Jr's shot at WBA light middleweight champion never came and Mike Tyson's scheduled blockbuster with Evander Holyfield was delayed for 5 years.
In each case a rape conviction was the obstacle.
Ayala's case was openly gruesome and he was sentenced to 35 years.
Tyson served 3 years in the Indiana Youth Correction Centre before returning to the ring while many championed his innocence.