AJ's GOLDEN MOMENTS: Top Five Anthony Joshua Performances
During his exciting 24-fight career to-date, heavyweight king Anthony Joshua has established as one of boxing's certified superstars. From dramatic elevator battles to show-stopping knockouts, we look back at the unified champion's top five showings in the paid ranks.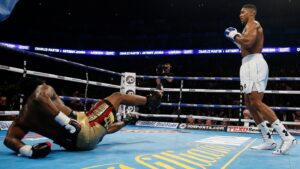 ANTHONY JOSHUA vs CHARLES MARTIN
Charles Martin was the reigning IBF titleholder when he elected to face Britain's 15-0 undefeated hopeful Anthony Joshua. Although the southpaw – who had won the belt three months earlier with a third-round retirement victory over Vyacheslav Glazkov – came into the fight as the reigning champion and harboured an unbridled confidence in his ability to upset the home favourite, he was almost immediately put onto the defensive by Joshua's powerful punching and superior hand speed. Two perfectly-timed straight right hands dropped 'Prince' in the second round, the second one putting him out for the count, as Joshua captured world championship glory as a professional for the first time in front of his adoring home fans.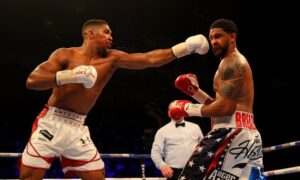 ANTHONY JOSHUA vs DOMINIC BREAZEALE
17-0 Dominic Breazeale was Joshua's maiden defence of the title he snatched away from Charles Martin in a supremely clinical fashion. The fight took place in June 2016, representing a relatively quick turnaround for the Watford native. The Californian was a patently big, strong, and powerful opponent with previous Olympic experience however Joshua ruthlessly went to work from the outset with his combination punching and faster footwork. The American was effectively reduced to a punching-bag and was repeatedly nailed with heavy, hurtful shots before the ending came in the seventh round, sealing a punch-perfect performance.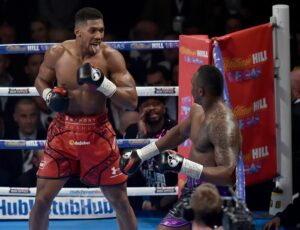 ANTHONY JOSHUA vs DILLIAN WHYTE
Dillian Whyte, Joshua's former conqueror with in the amateur ranks, was generally regarded as the latter's first 'live' opponent in the professional ranks; something which was vindicated by the fact that he was able to severely hurt Joshua in the second round with one of his trademark left hooks. Despite this, Joshua steadily regained his composure throughout the following rounds; navigating his way through an intense affair where emotions were clearly running high, before putting together the necessary punches to stop the fight in the seventh round.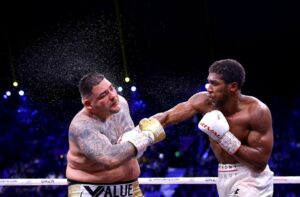 ANTHONY JOSHUA vs ANDY RUIZ JR 2
The nature of Joshua's loss to Andy Ruiz meant that many (myself included) were prematurely penning his career obtiruary when he rematched the unlikely Mexican-American champion in Riyadh, Saudi Arabia, of all places. However, an overweight Ruiz was cumbersome and slow throughout and Joshua capitalised accordingly. Joshua was assertive yet educated with his approach, fully utilising his physical advantages, moving well and ultimately registering a virtual shutout over the 'Destroyer' with an inspired, assertive performance to return to the summit of the heavyweight division.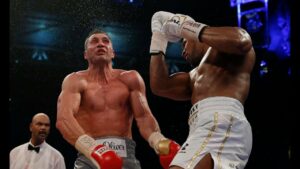 ANTHONY JOSHUA vs WLADIMIR KLITSCHKO
Joshua's mammoth collision with returning ring legend Wladimir Klitschko at Wembley Stadium was surely one for the ages. The Londoner made a lively start despite the fact that Klitschko's intelligent movement and overall pedigree was obviously causing him problems. Despite making an offensive breakthrough in the fifth round, Joshua himself succumbed to return fire before being dropped heavily in the following round. With much of the nation watching with bated breath, Joshua somehow survived several rounds of Klitschko dominance before gaining a second-wind and halting 'Doctor Steelhammer' in memorable style.
Article by: Navi Singh
Follow Navi on Twitter at: @DarkMan________