The Mexican Showdown Preview: Alvarez vs. Chavez Jr
Saul 'Canelo' Alvarez (48-1-1) vs. Julio Cesar Chavez Jr (50-2-1)
Catchweight (164.5 lbs)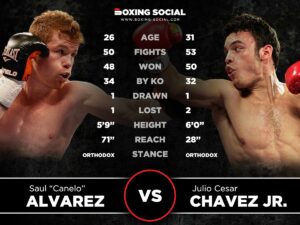 Touted to be the greatest Mexican boxing fight ever. This Cinco de Mayo weekend Saul 'Canelo' Alvarez and Julio Cesar Chavez Jr will go to battle on Saturday. All eyes will be mostly on Alvarez who is clear favorite before the fight.
The 26-year old is about hit his prime as a professional boxer. His highlight reel is already filled with several vicious knockouts and it's an unrealistic gamble to pick against him in a boxing match. Alvarez does so many things well in the ring. Among his peers he is an elusive fighter, who can take control of a fight in different ways. His efficient jab is quick and accurate as shown against Floyd Mayweather and countless others. He has some some of most flamboyant, but accurate combination punching when comparing him to middleweights. He fights with intelligence especially when avoiding opponents shots by using excellent sways, shoulder rolls and he's great at ducking under punches as well. If a fighter rushes in carelessly, Alvarez has no issues avoiding the hit and countering with a powerful hook or a straight.
But when he really turns it on, that's when 'Canelo' truly strikes fear into his victims. Alvarez has 34 knockouts to his name. He lands powerful uppercuts and hooks with tremendous accuracy. When he senses the kill, he goes for it without exceptions. But make no mistake about, Alvarez can out box people and has the abilities to approach a fight from a strategical point of view. Nevertheless, when he puts on a beating is when he truly shines.
And then we have Julio Cesar Chavez Jr, the son of the most legendary Mexican fighter ever. Many times before the pressure was always on Chavez Jr to deliver and most of the times he did. Unfortunately he's leaving his prime behind. He hasn't had a stoppage win in nearly five years and staying consistently active has also been an issue for Chavez Jr.
The key to his success is constant pressure. Chavez Jr is known for attacking head first like a bull and then hit the body with confidence using wild swinging punches. Size, physicality and brute force are his main tools when entering into a ring these days, especially against Alvarez. He smothers opponents with relentless combinations from close range, but also has demonstrated consistent single power shot striking with success.
The fact here is that Alvarez is too good of a boxer for Chavez Jr. In his absolute prime Chavez Jr could have caused serious problems for 'Canelo', but not at this stage of his career. At close distance Alvarez will be significantly faster and connect with more shots. Though Alvarez should avoid the clinch due to the massive size difference, but other than that Chavez Jr does not possess any significant strengths over his opponent. It will be an entertaining fight for sure, but eventually it will become the Canelo-show and he takes it via one sided decision.