Bellew: "I'd make a fool of Ruiz!"
Speaking on his newly-launched Talk The Talk podcast with Eddie Hearn, former Cruiserweight World champion Tony Bellew has claimed that he would "make a fool" of Andy Ruiz Jr if the pair were to meet in the ring.
Bellew, who retired following his clash with Oleksandr Usyk in 2018, said that it remains unlikely that he would risk making a sensational ring return, even though he feels like he'd have the beating of former unified champion Ruiz.
"I've got a mentality that just switches sometimes," Bellew said. "I could switch at any moment. If I was to comeback, there's no way I could deal with another pullout. I'd literally have a breakdown.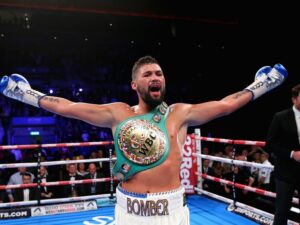 "I do still feel like I could do it. I'm not an old fighter. I had some hard fights – a couple of wars – but I wasn't battered. I knew I was coming towards the end, because I was getting injuries towards the end of camp, but I still feel like I could beat people.
"I'm pretty confident I'd play with Andy Ruiz. I'd absolutely make a fool of him. I'm confident – 100%. Would I be willing to risk it and put it on the line? Probably not."