Boxing is Dead? Long Live the Internet…
As Nonito Donaire wipes the last tears from his sons' eyes and as Josh Taylor manages to peer through his own, now significantly deflated, boxing is faced with a genuine conundrum. We have lauded contests in recent weeks between hardened warriors, yet find ourselves smothered by coverage from a bout that holds no meaning.
This coming weekend's glorified white collar bout has been injected with fan lunacy – though boxing has merely been used as a stage for the modern celebrity.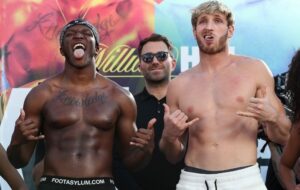 In recent weeks, we've witnessed tremendous action in the form of; Spence v Porter, Beterbiev v Gvozdyk, Taylor v Prograis and only earlier this week, Inoue v Donaire. The year has taken time to reach room temperature, but has sizzled throughout late summer into Autumn.
Some have recently claimed that boxing is dead and, however ridiculous that headline may seem, surely this can't be the way to resurrect it?
I don't need KSI v Logan Paul. But similarly, I can't escape it. Everywhere I look, half-celebrities are throwing opinions across the internet, dominating every Social Media outlet and infuriating those of us considered 'hardcore' boxing fans.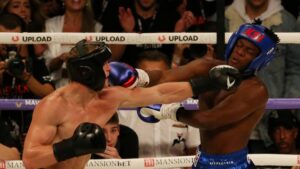 I'm trying to rationalise the bout, between two men specifically licensed as professionals purely to fight one another, but I'm lost beyond dollar bills. The undercard features two 'world' champions. Young prodigy Devin Haney defends the title he was handed electronically, whilst Billy-Joe Saunders fights a man I've never heard of, defending the title he won against a man I've never heard of. It's hardly a spectacle.
Throughout the week, Boxing Social have scored their first video interview to scale one million views on YouTube. It was a ten-minute interview with Ethan Payne, sorry, you may be familiar with his YouTube persona, 'Behzinga'. I'm not. The circus has truly rolled into town with Justin Bieber expected to appear ringside and with KSI (a bloke from YouTube) yelling at former heavyweight champion Shannon Briggs 'Vitali fucked you up!'. If you're here looking for an explanation, you've come to the wrong place.
https://youtu.be/ySC3DCIKc28
I did, however, listen to Eddie Hearn's interview with Marcos Villegas of FightHype. Hearn explained that behind the scenes, beyond the bluster and bravado, we are looking at two of the smartest business minds he's ever worked with. I'm inclined to agree with that.
Both KSI and Logan Paul have amassed a combined FORTY million YouTube subscribers. How have they managed that? By tapping into a generation. Gaming, pranks, sport and comedy clips garner millions of views whenever posted. They are extremely wealthy men, self-made, using only their imagination and a solid WiFi connection. There is something exceptional about the pair – whether you understand it or not.
Much of the ill-feeling surrounding the fight is the involvement of promotional giants, Matchroom Boxing, fronted by Eddie Hearn and home to a large stable of current or former, legitimate world champions.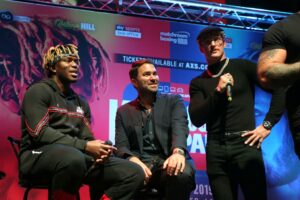 They've scooped the fight up and stuck it on Box Office (pay-per-view), often reserved for mammoth fights between the sport's elite names. Hearn's continued attempts to legitimise the contest have angered fans, with the 'bringing a new audience to boxing' argument wearing thin.
KSI has a video exploring haunted tunnels. Do we have evidence that the haunted tunnel community has experienced a sizeable increase in popularity? Logan Paul has posted several videos of him adopting the role of a bounty hunter, capturing convicted felons. Have thousands of people taken up similar acts of dangerous heroism after watching? I wouldn't have thought so.
Fans of the pair tune in to watch them – not to become wholly absorbed by whatever absurd hobby they're filming.
There will be thousands, maybe millions of eyes on their fight this weekend. The world is changing. The media outlets in Las Vegas have reported crazy viewing figures, with our own platform gaining a month's worth of views in only three days. There is something in the water. It's for Hearn & Co. to dissect, with the hope of bottling the formula and increasing profit margins down the line. We can't escape it.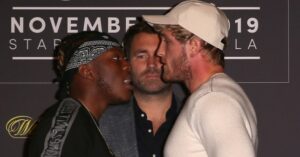 Men and women who have boxed since they were old enough to hold their hands up have a right to be frustrated. But they have to take a look at themselves.
These two imposters have swaggered into the Staples Center, licensed as professionals and headlining a sold out, Box Office show at their first attempt. But dig deeper and understand the importance of creativity. Understand how integral character and online presence has become. I've known talented fighters to retire because they can't sell tickets or reach new audiences – this is what boxing must learn from KSI v Logan Paul.
Will I watch the fight? No. But to appreciate the shifting focus of boxing's target audience, this event has proved a useful experiment. 'Behzinga' was trending at number one on YouTube, the most watched/shared video on the entire platform. He isn't even fighting.
It's time to look out from beyond the print copy of your favourite boxing magazine and accept that the world of entertainment has changed forever.
Written by: Craig Scott
Follow Craig on Twitter at: @craigscott209