Canelo Becomes WBO World Champion With Sickening KO Of Sergey Kovalev
Saul 'Canelo' Alvarez is the new WBO light-heavyweight world champion after spectacularly knocking out Sergey Kovalev in the penultimate round of their fight at the MGM Grand, Paradise, Nevada.
The defending champion made an promising start, firing out his trademark lead hand with frequency as Canelo marched forward with earmuffs on, attempting to catch many of the shots on his gloves.
Guadalajara native Canelo, meanwhile, fired back with some sharp single shots but it was Kovalev who appeared to be largely getting the better of some of the early rounds, courtesy of his more consistent work.
On the other hand, Kovalev at points struggled to find openings in the face of Canelo's seemingly impregnable defence, as the challenger grew in confidence and was able to string together some meaningful combinations to the body.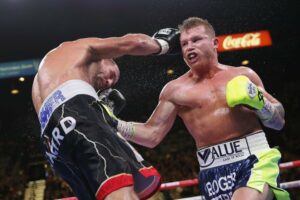 Canelo's conservative approach was able to completely nullify Kovalev's right hand for the most part before the Mexican upped the intensity somewhat in a dominant seventh round.
However, Kovalev bounced back with a solid showing in the eighth and ninth stanzas, appearing even to briefly sting Alvarez in the former, before continuing to pepper him with jabs.
Even though Kovalev was arguably winning the fight going into the eleventh, it was ultimately Canelo – no doubt operating with a greater sense of urgency – who was able to produce a violent stoppage to secure victory.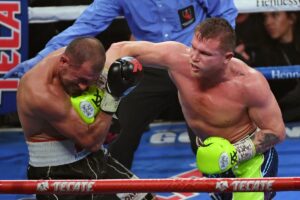 After appearing to briefly lose concentration in an exchange, a visibly tiring Kovalev was nailed with a spiteful right hand that was followed up mercilessly by a left hook, in addition to another right hand, as Kovalev collapsed dramatically against the ropes.
With the win, the Mexican is a now a four-weight world champion and is likely to pursue more opportunities at 160 and 168, including potential showdowns with the likes of Callum Smith or a trilogy showdown with Gennady Golovkin.
Article by: Navi Singh
Follow Navi on Twitter at: @DarkMan________