Cheeseman Takes on Fitzgerald in British Title Defence
Next weekend in Newcastle, Preston native Scott Fitzgerald will be challenging Ted Cheeseman for the British light-middleweight championship.
In his last outing, the Lancastrian delivered an inspired display, outfoxing undefeated rival Anthony Fowler over ten rounds to capture the WBA international title on away soil in Liverpool.
Fitzgerald, who is rapidly becoming a fan favourite despite the fact he was actually underdog, frustrated Fowler and consummated his performance with a dramatic knockdown in the final stanza after connecting with a devastating left hook in an exchange.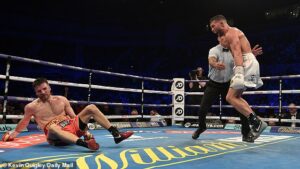 Cheeseman, meanwhile, experienced markedly contrasting fortunes in his European title bid, suffering a punishing unanimous decision loss to Spaniard Sergio Garcia.
Bermondsey-born Cheeseman, who is renowned for his strength and stubborness, was thoroughly outworked and consistently beaten to the punch by his Spanish counterpart throughout twelve rounds.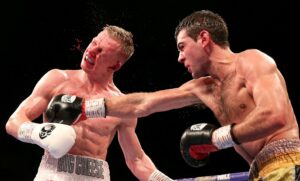 Whether the nature of his loss will have any long-lasting ramifications on his confidence going forward remains to be seen, but Cheeseman must be applauded for his willingness to accept the challenge against someone like Fitzgerald, who is certainly a tenacious customer himself and comes into this contest with his own aspirations.
Fitzgerald is the marginal favourite but Cheeseman is surely aware of the fact that a successful defence of his British title would go some way towards ressurecting his own world title aspirations.
Ultimately, expect Cheeseman's defensive irresponsibility to be his undoing, as the challenger keeps the champion honest with early power shots, before putting together the necessary punches to secure the stoppage victory in the later rounds.
Preview by: Navi Singh
Follow Navi on Twitter at: @DarkMan________