In the aftermath of tasting defeat against Gennady Golovkin, Brooklyn boxer Danny Jacobs (32-2, 29 KOs) is looking for his next opponent. Make no mistake about it, Jacobs has his eyes set on Billy Joe Saunders (24-0, 12 KOs) and clearly has been on a while. According to Jacobs the problem here is that Saunders doesn't seem to care or even acknowledge who Jacobs is.
The American had this to say in a recent interview with boxingscene.com: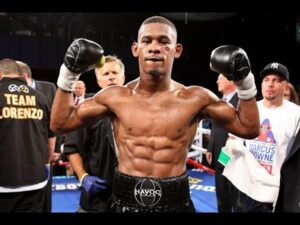 "If the opportunity comes up where I can fight Saunders, obviously that's something that I would love to do, I would even travel over to where he is. That's how confident I am that I can beat B.J. But he has shown no interest. He has never even been verbal about fighting me. He's never even mentioned any of my fights in interviews. It's surprising to me. It's as if he doesn't even know I exist. And to see these different things, it's not looking good for me and him [to fight] because I don't know if he takes me serious or not," worried Jacobs.
It's definitely going to take a while for Jacobs to land a date against Saunders. The current WBO middleweight champion is set to face mandatory challenger Avtandil Khurtsidze (32-2-2, 22 KOs) from Georgia on July 8 in London. If Saunders remains undefeated, Jacobs is hoping to fight him next.
"He talks a lot of smack. He's one of those comical characters in the sport of boxing that throughout the history we have and we entertain and we love. But it's getting to the point now where it's too corny. It's not time for fun and games anymore. Let's get to the real deal. Are you gonna further your career and fight the best? Or are you gonna play with it? What are you trying to do?"