Commission reveals a date for Mayweather-McGregor?
Don't get your hopes up just yet,
But
A date has been booked by Mayweather Promotions and as far as we know there is only one Mayweather event coming up this year that is the much-discussed fight between Floyd and Conor McGregor. Take a look at this piece of information: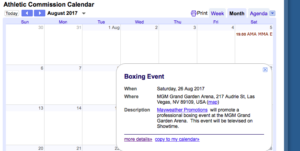 Mayweather Promotions has booked a date – 26th of August 2017. As it says on the calendar, the event will be televised on Showtime whom which Mayweather has an exclusive deal with.
Could that be the official date for the fight? Time will tell.
All we know now is that McGregor has signed the deal. Meanwhile Floyd is taking his time to give a response but it's more than likely that an announcement will come shortly from Team Money.