Wilder, the WBC heavyweight champion, has stepped up his campaign to face the winner of Joshua vs Klitschko.
(Check out Deontay's heaviest hits at the bottom of the page!)
Ahead of the biggest heavyweight boxing fight in a generation. The man regarded by many as pound for pound the heavyset hitter in boxing was eager talk up the possibility of facing the winner in a unification bout of epic proportions.
"I would love to scrap with both of them but particularly Joshua."
Wilder, who'll be present at ringside on Saturday, has the intimidating record of 38 and 0. Impressively 37 of those wins come by way of knockout.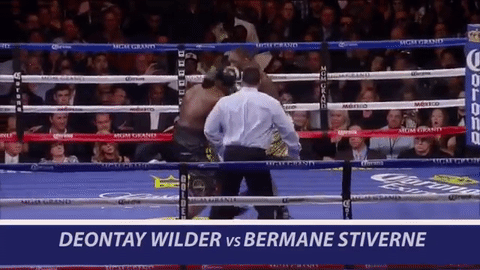 Speaking ahead of the bout, the Bronze Bomber was full of praise for the match up.
"I love this fight for these guys. I love it for the sport of boxing. The fans seem to be well in-tune with it and I think this is a super fight for the heavyweight division.
"I can't wait for it. I can't wait to see what happens and hopefully those guys go in healthy and come out the same way. This is a very dangerous sport, especially when you're trying to perform and put on a show."
"You only see mega-fights in boxing once in a while and in the heavyweight division, I think that would be the most exciting and the best in the history of heavyweight boxing for a long time."
When asked for his prediction on how the fight will go, Wilder didn't hold back.
"My heart is for Joshua, but my mind is for Klitschko. My heart is for Joshua because I would love to fight him – I think that would be a mega-fight. Even though Joshua is fighting Klitschko, people are still talking to this day about a Wilder and Joshua fight. It's almost demanded. If this kid beats Klitschko it's like the only fight he can have is me, because it's been so demanded."
Without doubt boxing's premier division is back in the big time.
We can't wait for Saturday and the possible match up with Deontay Wilder that will follow.
Still not sold on the fight, why not watch some of Deontay's greatest hits?
https://www.youtube.com/watch?v=X-PYG1An3xs