Deontay Wilder Declares War On UK Boxing And Blasts Eddie Hearn – "He's A Spoiled Brat Kid"
Deontay Wilder is amping up his trash talk game to the next level.
He is looking to face Anthony Joshua in 2018 but there are obstacles in front of him. Matchroom Sports wants to build up the hype between the eventual Joshua-Wilder showdown that will unify the heavyweight division but Wilder thinks his weight class is not stacked enough for such delays and multiple champions.
"All I wanna do is prove that I am the best. That's all I wanna do. I don't care about nothing else. The best should fight the best. In the heavyweight division, there should be one champion, one face, one name and that's Deontay Wilder. The division is too small to have so many champions. There's too much confusion. People don't even understand what is going on with the belts. What matters is, the best need to get on with the best. I've been ready to get in with the best for a long time. I've called them all out over and over again," stated Wilder in a recent press scrum.
Wilder said that despite boxing thriving in the UK, the hub of the sport is in the United States. According to him, the big Joshua shows in Wembley and Cardiff did not matter because they were not on US soil.
"I'm a champion, he's [Joshua] a champion, I'm an American champion. I'm not going to chase anybody. At the end of the day, It doesn't matter what anybody is doing their country, the Mecca of boxing is here in America. The money is here in America. It looks good over there. That small country, it looks good and I'm happy for what they are doing but if you want to establish yourself it must be here.," commented Wilder.
Promoter Eddie Hearn's ideal situation right now would be a fight between Wilder and the WBC Silver Heavyweight champion, Dillian Whyte. Wilder believes it's just a plan to keep him as far away from Joshua as possible.
"Dillian Whyte is just a decoy. It's just to stir things up. Dillian Whyte? Please. That is a laughable opponent. I am a danger factor. I am a risk to what they have going on in England. All it is, is just a big circle, a big experiment of Eddie Hearn's and Anthony Joshua is in the middle," said the WBC World heavyweight champion.
Wilder then went on a rant about Eddie Hearn, saying that the promoter doesn't respect loyalty but only money. The American also sent a message to all of Joshua's UK fans.
"Eddie Hearn, He's a spoiled brat kid that grew up with everything. It's money before loyalty for him. He doesn't know what's it like to go through the mud and come back up.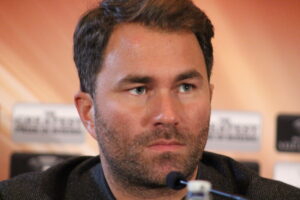 With Joshua all he sees is money and I'm a blockage for his money. I'm supposed to fight Dillian Whyte who barely beat Robert Helenius? Do you guys see what the f*ck is going on?" pondered Wilder.
The American then declared 'war' on British boxing fans and Joshua.
"Listen, mate, if you all think that you have got the best, we know we got the best, lets put 'em up to the test. I've been ready. Are you guys ready? Or are you just gonna sit around and cry? 'AJ this, AJ that', let's see who's the best. I dare y'all to test me. I'm the blockage to everything y'all want. I'm the blockage to Joshua getting these titles. I'm the best. I declare war. Are you up for the test?" summarised 'The Bronze Bomber'.
READ MORE:
Wilder: Joshua's Stamina Will Be His Downfall Against Me
Report: Matchroom Offered Joseph Parker An 80-20 Split In Joshua's Favour, Team Parker Declined
Wilder Wants 7-10 Million For A Fight Against Dillian Whyte
ENTER TO WIN 2 TICKETS TO BELLEW-HAYE 2