A Dish Best Served Cold: Luke Campbell Looks For Revenge Against Yvan Mendy
Revenge is a dish best served cold, so the expression goes, and this perfectly encapsulates Luke Campbell's approach to his upcoming fight on Saturday.
At Wembley – another stadium venue becoming increasingly familiar to boxing fans – the unflappable and aptly-nicknamed 'Cool-Hand Luke' will have the opportunity to avenge his first professional loss inflicted by Frenchman Yvan Mendy, nearly three years ago.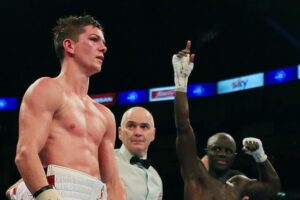 Like then, Campbell will be facing Mendy on a card headlined by former GB stablemate Anthony Joshua, who has remained undefeated and become a unified heavyweight champion since his thrilling shootout with Dillian Whyte on December 12th, 2015.
It is said that statistically speaking, most rematches result in 'repeat' as opposed to 'revenge'. It is fortunate, therefore, that the Hull native is not an overly superstitious type; otherwise he may have harboured some reservations about fighting Mendy once again, especially under these circumstances.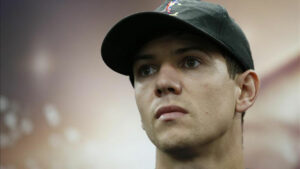 Incidentally, the card features three former Olympic champions including Campbell himself, as Watford's Joshua seeks to make a successful title defence against fellow gold medallist Alexander Povetkin.
Indeed, the fundamental differences between amateur boxing and professional boxing are sometimes underappreciated. Success as an amateur does not necessarily guarantee as a professional and this is something that has been repeatedly exemplified in the cases of several former British Olympians throughout the years.
As a result, many observers were prematurely penning Campbell's career obituary on that December date, when he was thoroughly outworked, bullied and dropped by the relentless, rugged Mendy on his way to a split-decision loss.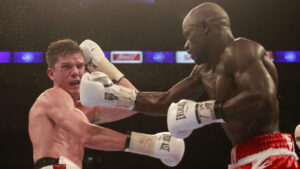 The stereotype is that certain talented amateurs, primarily accustomed to the point-scoring nature of amateur fighting, can lack the necessary intangibles to overcome professional adversities.
However, Campbell has emphatically defied this lazy stereotype; displaying heart, grit and a spiteful left hand in not only his victories, but also his setbacks.
These include the Mendy loss, where, clearly exhausted, he courageously answered a ten-count to fight to the end of a torrid ten rounds; not to mention arguably his most notable performance to date one year ago in an ultimately unsuccessful WBA lightweight title shot against Jorge Linares in Los Angeles.
Following two dominant performances over compatriot Anthony Crolla, Linares – a silky veteran and seasoned champion from Venezuela – went to work immediately with his trademark flashy combinations, dropping Campbell early in the fight and opening up a cut beneath the Englishman's right eye.
Like before against Mendy, Campbell rose to his feet and fought tenaciously for the remainder of the fight, nearly pushing Linares all the way in a thoroughly competitive affair that was ultimately determined by the second-round knockdown.
Despite the split-decision loss, many observers – not to mention Campbell himself – believed that his efforts on the night were sufficient to earn him the victory. Having worked his way back into the fight, Campbell was able to cause Linares numerous problems from the outside, landing consistently with straight punches and employing intelligent movement to win many of the subsequent rounds.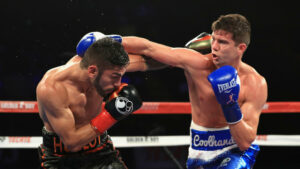 Correspondingly, after a successful defence against Mercito Gesta, Linares was himself competitive in a tenth-round stoppage defeat to Vasyl Lomachenko, dropping the former amateur great in the sixth round with a straight right hand.
Although it is certainly is the case that styles make fights, it could be equally argued that Linares' performance against someone of Lomachenko's calibre puts Campbell's own showing against Linares into perspective, and reflects Campbell's successful transition from southpaw prospect to tidy boxer-puncher under respected Cuban trainer Jorge Rubio.
After relocating from Miami back to the UK, Campbell is determined to simultaneously re-establish himself as a top contender in the lightweight division and right a wrong with clinical revenge over Yvan Mendy; someone who has never been stopped and has remained on an uninterrupted win streak since upsetting Campbell in their first encounter.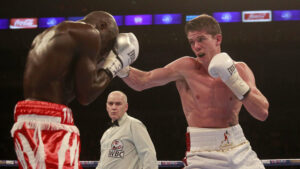 For this purpose, he has now joined forces with Shane McGuigan – someone who guided Northern Ireland's Carl Frampton to glory in two weight divisions – and will be training alongside a talented stable of fighters including George Groves, Josh Taylor and Lee McGregor.
In all likelihood, Campbell will once again encounter adversity in his rematch with Mendy; a perennially tough operator who is supremely confident of doing the double over the Yorkshireman.
Neverthless, expect 'Cool Hand' this time to be equipped with the knowledge and the experience to effectively navigate through these obstacles en route to a unanimous points win.
Article by: Navi Singh
Follow Navi on Twitter at: @hombre__obscuro