Devastating Dubois Destroys Fujimoto
Daniel Dubois has ended the year in spectacular style with a chilling one-punch second-round knockout victory over Japan's Kyotaro Fujimoto, claiming the WBC Silver title in the process and extending his undefeated record to 14-0.
The Londoner appeared emotionless as the first bell rang and immediately put Fujimoto onto the defensive with a thumping left jab as the slippery Fujimoto was largely content to survive and spoil.
Despite the fact that Fujimoto was able to make it through a treacherous first round, Dubois' methodical approach eventually paid dividends as he was able to drop his Japanese counterpart with an exquisitely timed counter jab in the middle of the second stanza.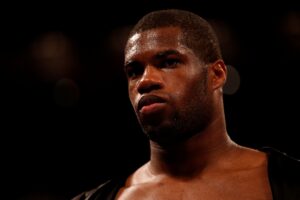 Although Fujimoto made it to his feet, the ending was in sight – but even Dubois' most ardent supporters would have been stunned at the clinical nature of the finish, when a concussive right hand completely laid out Fujimoto, who was left lying motionless on the canvas as doctor's administered oxygen.
Indeed, Dubois' development has been rapid and his consistently impressive displays will only serve to heighten the intrigue surrounding his career progression as he pursues bigger and better things in 2020.
Meanwhile, on the undercard, Liam Williams secured arguably the biggest win of his career with a sensational fifth-round stoppage over Alantez Fox, capturing the vacant WBO intercontinental title in the process and staking his claim for a world title opportunity in the foreseeable future.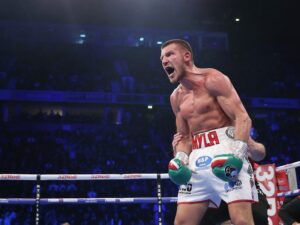 Many were speculating whether this could be a potentially problematic evening for the Welshman, who was positively dwarfed by his American counterpart – someone who had previously gone the distance with current WBO titlist Demetrius Andrade – as they touched gloves to signal the start of the fight.
However, Williams quickly put to bed such notions with a sharp opening round, working Fox with busy combinations whenever the American languished momentarily in punching range. Although Fox had his moments, landing some choice shots – including one that seemingly cut Williams – these were few and far and unable to seriously deter William's relentless assaults.
By the fourth round, Williams was clearly in the ascendancy as the fight was being fought at a furious pace; one that Fox simply could not cope with. Although the American was stubborn and consistently attempted to spoil, Williams had a breakthrough in the fourth round, scoring a knockdown.
The American was also deducted a point for excessive holding, and finally had the resistance beaten out of him as another brutal bombardment of punches from Williams prompted the referee's timely intervention.
Article by: Navi Singh
Follow Navi on Twitter at: @DarkMan________