Errol Spence Jr Defeats Shawn Porter to Become Unified Welterweight Champion
Errol Spence Jr has successfully unified the IBF and WBC World welterweight titles with a split-decision triumph over Shawn Porter at the Staples Center in Los Angeles, California.
A solitary scorecard of 115-112 for Porter was superseded by two tallies of 116-111 in favour of the undefeated Texan, who has now added the prestigious WBC belt to his collection.
In a hard-fought win, it was Desoto native Spence who took the initiative with a composed and confident start, sinking in straight lefts to the body and nullifying Porter effectively with counters, winning the majority of the exchanges.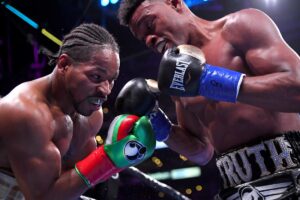 However, the nature of the fight increasingly suited the underdog Porter as it degenerated into something of a phone-booth slugfest, much to the sheer delight of the thousands of fans assembled in the arena.
A lively Porter, bouncing up and down on his toes, consistently swarmed his counterpart with his trademark flurries of pressure throughout the subsequent rounds.
Launching attacks in an unpredictable and relentless manner was something that clearly disrupted Spence's rhythm and forced 'The Truth' to rethink his strategy as the fight approached the midway point.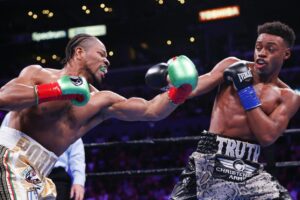 'Showtime' Porter, in typically dogged and awkward fashion, capitalised on Spence's uncertainty by continuing to out hustle him at close range with clubbing shots and claiming many of those rounds in the process.
After Porter had enjoyed an extended spell of success, the rounds once again became more competitive as Spence employed smart footwork and positioning to land the more meaningful and powerful shots at various points in the rounds.
Both fighters struggled to sustain the furious pace set, following a series of utterly enthralling back-and-forth exchanges in the penultimate stanza, but it was Spence who landed a decisive left hook that dropped Porter.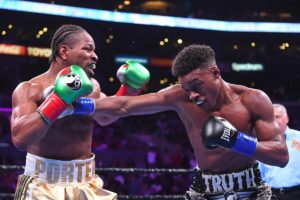 Although the knockdown perhaps was ultimately decisive in the outcome, Porter somehow answered the count and beckoned Spence forward.
In the final round, the two fighters continued to trade wildly for an additional three thrilling minutes before the bell rang to signal the end of an unforgettable encounter.
Article by: Navi Singh
Follow Navi on Twitter at: @DarkMan________