EXCLUSIVE: Austin Williams – "Heavy Artillery…"
Austin 'Ammo' Williams (2-0, 2 KO's) makes his third outing as a professional this weekend on the undercard of Maurice Hooker vs. Jose Carlos Ramirez. Promising his best performance to date, the unbeaten middlweight told Boxing Social:
"Training has been great. This camp has been the best one that I've received.I've been to LA to get some good work – we had some people who came in from France. I got some of the top fighters from there. This is all around my most growth in a single camp so I'm very happy about the work and I feel good physically."
The 23-year-old has scored two first round knockouts since turning his attention to the paid ranks three months ago – gaining the fans' interest with destructive power and an eagerness to finish a fight early. Williams says we can expect more of this on Saturday night. He said:
"Yes, fast finishes is what I'm looking for right now in the first couple of fights. I'm training to show my explosiveness, but also my accuracy – to be able to land a fight-ending shot early on, when my opponent is really energised and game for that nature.
"I'm looking to show that I can do that because it's still chess, but it's more like speed chess. I think the most exciting thing for people to see from new young prospects is that ability to finish.
"I think that gives you lifelong fans, career long fans who will stick with you because they know what you do. My goal and first plan is to have a first round KO. I want this KO to be in even more explosive fashion and more devastating fashion. That's what you can expect from me on Saturday."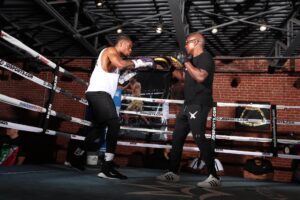 Displaying quick finishes has certainly got the American being mentioned in boxing circles. From a spectacular 47-fight record in the amateurs, he won the Golden Gloves as well as the Western regionals twice – an impressive feat for a relative novice who started boxing at the age of nineteen.
The paid ranks were always the target for Williams, who finds his fighting style to be a perfect fit so far in his two-fight career. He explained:
"Yes, the pros are definitely more suited to me. It's crazy – I look back at my whole career and my trainers had me in the gym called Main boxing gym. I always trained at the professional times. Even when I was just starting up as an amateur, I was training at the professional times and in those sparring sessions of course it's a slower pace but you're trying to find more critical shots than you are trying to accumulate points.
"That's what I've been surrounded by since I started boxing. So I developed boxing and it's actually more fun for me to connect with those types of shots and look for the finish rather than go and fight on points. I'm not saying that I can't fight on points because I can and I had to learn how to do that as an amateur of course.
"I had to make adjustments to be a top amateur. I couldn't go in and carry the same mentality that I do when I spar with the pros. I had to make those quick adjustments and get more punches off and fight at a higher pace.
"Even when I fought at a higher pace, I still found those shots and I got a lot of stoppages in the amateurs. I definitely love the taste of pros more. In fights I haven't been able to explore the slower pace of the pros, because my fights haven't gone the distance to where I would have to worry about a true pace. Overall the whole objective of the professional fight game is definitely more suited to my fighting style and I love it a lot more, it's a lot more fun than the amateurs was."
Being signed with Eddie Hearn's Matchroom Boxing USA, the two-time Golden Gloves champion has already been exposed to the UK fanbase. Earning his spot on the Joshua-Ruiz bill after an impressive debut, Williams wowed the Brits who travelled over with another fast night's work. When asked about his interest fighting in the UK, he said:
"I'm definitely open to a UK bout. I've never been outside of the US so that would be an extreme experience. The love that I received from the UK fans after the Joshua fight was insane.
"Me, my trainers and my dad – he was outside taking pictures for a couple of hours with these fans. I really enjoyed the atmosphere and I enjoyed the spirit of the UK fans so I would love to go there and put on a show for them early in my career."
Williams was due to fight on the cancelled July 6th Manchester show headlined by Lawrence Okolie. This would have been an early UK debut for 'Ammo' which he insists is on the cards. Speaking to Boxing Social, he said:
"I know I'll be able to get a lot of calls because Eddie [Hearn] puts on so many shows. I've just got to make sure that I'm healthy and get help to travel but that's about it.
"I'm excited to go. I actually wanted to go this time because I was scheduled to fight on July 6th in the UK, but I got a cut in my last fight that deterred me from that. It's definitely something that I look forward to doing – fighting in the UK."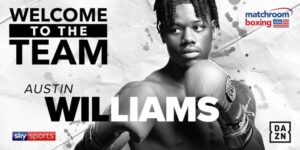 Power is a key factor for the American up-and-comer. On one side you have the entertainment and fanbase that it provides, and on another it remains a crucial part of his success inside the ring. When asked by Boxing Social about his path to the top, Williams replied:
"With my punching power, I think I'm still growing into it. My coach tells me all the time, I'm just starting to touch my actual strength. What you're seeing right now is not a complete ammo. This is not the strongest ammo, not the fastest Ammo, I think even now I have top power in the 160lb division and I'm not even planning on staying in that division.
"I weigh that on how many stoppages I had in the amateurs, how many people I hurt in sparring and then of course what I do in fights. Sparring is probably one of the things that I do which reassures me about my power pretty much weekly. I spar weekly unless I'm outside of camp.
"Everyone is pretty much hurt or buzzed, almost every single sparring session, they let me know that I have probably one of the top 5 punches in the middleweight division. I think when I move down to 154lbs, I will be the puncher at that weight."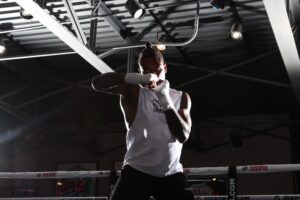 With Saturday night ahead of him, 'Ammo' is expected to deal with the occasion in similar fashion to his last two bouts. Tougher tests will soon follow, and the American prospect remains eager to be moved through the ranks at a good pace. He said:
"This is a funny one because my coaches are definitely having to slow me down. I want to step up as soon as possible. I wanted to step up in this fight that we have, but the matchmaker and my coaches – they want to see a little bit more.
"I think after this fight, I will move to six rounds and then I can get a step up. It's something that is really going to aid my ranking. It won't be an extreme step up but I think it will be a challenge and that's what I look forward to, that's when I perform at my best."
Interview written by: Chandler Waller
Follow Chandler on Twitter at: @ChandlerWaller