EXCLUSIVE: Chris Jenkins – "Beyond Expectation…"
Chris Jenkins (21-3-2, 8 KOs) makes the first defence of his British welterweight title against Paddy Gallagher in Belfast this weekend.Taking place on the Conlan-Ruiz bill, the winner of the twelve-round showdown will also claim the vacant Commonwealth strap. In an exclusive interview with Boxing Social, Jenkins said:
"[It's] been going great to be fair – I've had about five weeks of notice. Everything we've been doing in camp we're hopefully going to replicate in the fight."
After seeing off Johnny Garton to claim the Lonsdale belt last time out, the self-proclaimed 'Rok'N'Rolla' now has a golden opportunity in front of him to unify the British and Commonwealth titles. Having fallen short in his quest to claim domestic honours on two previous occasions against Tyrone Nurse, the 30-year-old realises that unifying both belts this weekend would be an unexpected achievement. He explained:
"It'd be smashing [to unify]. I honestly thought that due to the setbacks I've been having with the Tyrone Nurse fights and taking last minute fights against Darragh Foley and Akeem Ennis-Brown [that it wasn't likely].
"Obviously boxing at Belfast against Phillip Sutcliffe Jr I did not have a fair crack at the whip or time to prepare. Getting kept [back] and stuff, unifying is going to be an achievement I honestly didn't expect."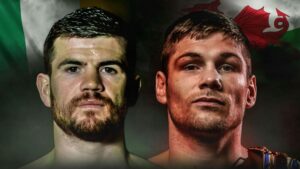 The British champion is keen to put on a show this weekend. Having watched his opponent, Jenkins – though respectful of Gallagher's power – believes his boxing ability will prove the difference. He said:
"To be honest with you – he bangs, doesn't he? I think I'm technically better than him, but I think he carries more power than me. I watched his last fight against Liam Wells. I've seen bits from that fight that I can probably work to my advantage.
"I also think that's a fight he was very strong at. I know he's going to come forward on fight night and he's going to let some bombs go. I've basically got to be on it from rounds 1-12 – no turning off. If I relax or lose concentration, I could easily get hit and the fight could be over."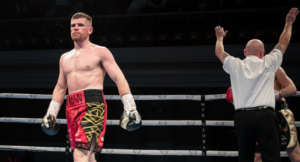 After twenty-six fights as a professional, Jenkins says his desire is to secure a big payday. Should he be successful on Saturday, he will take one step closer to achieving his dreams. He told Boxing Social:
"It could open up more doors. People might start talking about me rather than overlooking me. It's mainly and hopefully to make some money from this game. I've got three children and a very supportive wife and it would be nice to give back to them.
"That's the reason for it all. I obviously want to be World champion and stuff but, everything plays down to money at the end of the day. I just really want to achieve something now."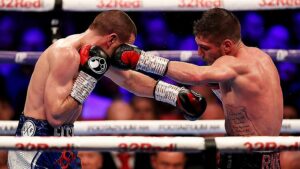 'Rok'N'Rolla' has already achieved something significant when he showed his boxing ability back in March to win the British title against Johnny Garton. Jenkins reflected on his performance by saying:
"I think it just shows how good I can actually box. It opened my eyes, because I wouldn't call them confidence issues but I wasn't 100% confident in myself.
"If it weren't for Gary Lockett, my coach, who was basically saying 'listen to me now, you're a good kid, you're this and you're that' – I don't think I would have done it without him. Now I know what I actually can be. Obviously I want to be World champion, I know I can be and how good I boxed that fight, it's shown how good I can be."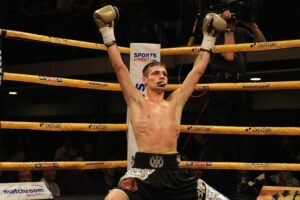 Having won the Prizefighter tournament back in 2013, Jenkins looked set to go on and achieve his goals. Now after his setbacks, Paddy Gallagher stands in front of a more confident man this weekend. 'Rok'N'Rolla' believes we'll see a different version of himself this weekend.
"Yeah, basically it put a rocket up my ass. It just made me more focused and more driven. I'm a highly driven person anyway. Whether it's playing Playstation with my children or building Lego with my kid who's only seven years old. I wanna be driven, no matter what it is, you know. It's just made me a more confident person all around inside the ring and out. It's made me more professional if that makes sense." He concluded.
Interview written by: Chandler Waller
Follow Chandler on Twitter at: @ChandlerWaller