EXCLUSIVE: Freddy Kiwitt – "The Road Warrior…"
Considering Freddy Kiwitt's (17-2, 10KOs) journey, it's remarkable that he'll be fighting as chief support on a Matchroom Boxing NXTGEN show this Thursday. He will be in the away corner as per usual, facing Luther Clay, who is coming off a recent victory against undefeated Dario Morello.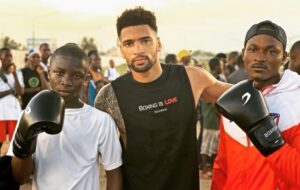 Kiwitt, the Liberian-born Welterweight, has never had anything in boxing or in life handed to him. His parents fled Liberia when a full-scale civil war erupted a few weeks after the fighter was born. The Kiwitt family settled more than 4,000 miles away in Freddy's father's home nation of Germany. Like most children growing-up in Central Europe, the young boy started playing football but his career in that sport was cut short in his teens after an injury.
At age eighteen, 'Pretty Boy', who balances modelling with combat, took up boxing at a gym with links to his former football club. Never intending it to be more than a past time to keep him away from trouble, he then flourished.
Shortly after taking up the sweet science, he was competing in Germany's premier amateur competitions and winning contests. It was then he realised that he had potential to make a living out of an often brutal sport. Subsequently he moved to the United Kingdom, to Devon infact, to pursue a career in boxing. After a handful of professional fights and some quality training Freddy realised the limitations of the South Coast as a hub for quality sparring and recognition on a broader scale.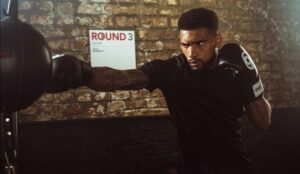 The now 29-year old, took the plunge as an undefeated prospect nearly five years ago and moved to London looking for a bigger platform to showcase his talents – only to realise that without being a ticket-seller he was going to have a difficult time. The orthodox fighter's talent was evident.
His previous management team negotiated a trial deal with Team Sauerland promotions, as Kiwitt recalls, "It [the agreement] started off really good, then he got me a deal with Sauerland in Germany. Three fights there and I was meant to get signed if I win the three fights and get a long-term contract, but my manager at that time fell out with the Sauerlands because of other boxers, so he didn't want to work with them."
Once again, the stars weren't aligned. He had completed his end of the bargain by stopping each of the three opponents that the Sauerlands put in front of him. Poetically, he returned to Germany to elevate his boxing career – the very country that he left for the UK to better himself years prior.
After making the decision to return from his German adventure at the advice of his management, he took a fight at 140lb against a fighter without a blemish on his record in Akeem Ennis-Brown. The weight-drained, natural welterweight suffered his maiden defeat. The Liberia's Kiwitt then bounced back, beating a battle-hardened Erick Ochieng, before losing a close points decision against Louis Green – once again fighting in the away corner.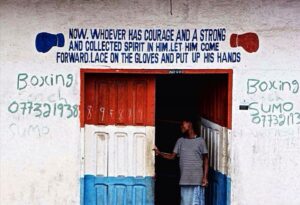 His troubles with his management team persisted. The man born in a place called the Nimba Country told Boxing Social about that torrid period of his career, "I went back to the small hall shows again [after Germany], then something went wrong with that manager. I found out later that he had been taking money off the Sauerland fights and found out a lot of bad stuff [that he was doing]."
The former, German amateur star added, "At that point I wanted to stop boxing. I thought, 'Why do I put my body through this and for me not to get paid?'" Concluding that spell, Kiwitt severed his ties with that management team, cancelling his contract upon discovering these issues.
The Road Warrior…
Despite not growing up in Liberia, Freddy is passionate about his roots. He recognises that as a boy luck was on his side compared to many of his countrymen. His trip back to West Africa, had an unintended impact on his boxing career, the Liberian Boxing Ambassador explains, "When I went back to Liberia the first time with my dad in 2015 I kind of felt like that there was so much that needed to be done there. I kind of feel like if my dad wouldn't of have took us out from the war at that time I probably would still be there or whatever could of happened to me [could have been worse]."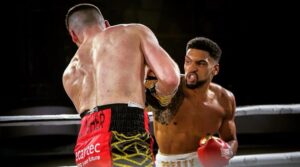 Inspired by the visit he got involved with clothing brand BOXRAW, which champions the 'Boxing Is Love' project in his native country. He has also recently visited his native land for a Save More Kids initiative, which helps young people channel their energy into boxing. Kiwitt passionately says that the projects that he is involved with will help build boxing gyms across Liberia, a country best known for producing legendary footballer and current president, George Weah.
By coincidence, when the welterweight was looking for a boxing coach to get involved with his humanitarian effort, he stumbled across his countryman, Lee Manuel, who was a talented Cruiserweight in his day. The former fighter-turned-trainer convinced Kiwitt to continue his career in the paid ranks.
Since the switch of trainer and since becoming self-managed he has fallen back in love with the sport. The boxer has fought on the road as a promotional free-agent in countries ranging from Ghana to Denmark. He is now on a five-fight win streak and captured the WBO European title against Paddy Gallagher as an away fighter on an MTK show. 'Pretty Boy' Kiwitt also won the African Boxing Union 147lbs belt in Ghana.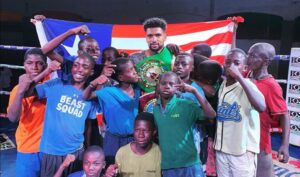 The scorecards don't historically favour away fighters. So, there's something commendable about a father willing to go on the road to achieve his dreams and provide for his family. When asked about being at a disadvantage boxing away, the eloquently-spoken boxer calmly replied, "It's tough to be the away fighter as you've got more pressure. At the same time, I like to spoil the party. In my next fight I am going to be the away fighter, but I get to showcase my talent on a big platform."
His upcoming fight against Luther Clay has the potential to be career-defining. Clay comes into this fight as the favourite, but the consistent away fighter isn't fazed, "I don't actually think that he is better than Gallagher. He has a similar, aggressive style where he likes to fight fire with fire. I've just got to stick to the gameplan and box – try not to get involved in a war."
His ultimate dream is to defend some form of belt in Liberia, which would be the first ever professional boxing show in the country's history. If he can win the contest in York Hall on a Matchroom card with the World watching – it will be a giant leap in the right direction and perhaps he will be able to fight in the home corner for once, back where it all began.
Interview by: Rikku Heikkilä
Follow Riku on Twitter at: @Lead_Right