EXCLUSIVE: Jason Easton – "The Long Road Back…"
Just shy of eighteen months have ticked by since Edinburgh's Jason Easton last took to the scales before a crammed conference room in Glasgow's Hilton Garden Hotel. Weighing in ahead of the most significant fight of his career, the relieved grin of a man on-weight masked a thousand inner concerns.
What played out the following evening against the rugged Glenn Foot at the SSE Hydro was arguably the most public episode of a series of catastrophes the 27-year-old would face during a disastrous 2018. Easton – down in the 2nd round – rallied to play his part in one of the best rounds of the year as the domestic pair went toe-to-toe in the eighth.
The brief second wind caught by 'The Warrior' counted for little, however, as he was dispatched by former Prizefighter champion Foot in the 11th. Hurt and exhausted, Easton was given oxygen before being rushed to hospital. Speaking to Boxing Social about his last outing, he said: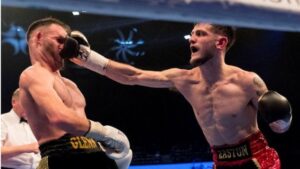 "I was struggling with everything in my head, and I couldn't keep focused on the biggest fight of my life. I usually make weight so easily – I'm normally only 2-3lbs off going into fight week. I was 10lbs over going into the week of the fight.
"I was a pound and three ounces over the day of the weigh-in. I skipped for 20 minutes, and I just felt nothing coming off. I remember thinking, 'Shit, man. This has never happened'.
"I'm not using any of this as excuses – I know what I've done wrong, and I'm going to learn from it. I'd like to face Glenn Foot again down the line. He announced he's retired, but I spoke to him on Facebook Messenger and he said that if given the right fight, he'd come back."
Unbeknown to those outside of his tight inner-circle, the Edinburgh super lightweight headed into his unsuccessful Commonwealth title challenge with the possibility of time behind bars lingering in the back of his mind.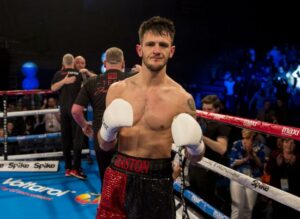 Following an early-hours altercation back in July 2017, Easton assaulted and rendered a 26-year-old male unconscious before putting him into the recovery position and fleeing the scene. A stretch in prison seemed a serious possibility for the former Celtic champion, as he awaited sentencing in the weeks that followed his first pro loss at the hands of Sunderland's Foot.
After showing remorse for what he described as 'stupid' and 'embarrassing' actions, Easton was spared jail – though the repercussions of his assault were still life-changing. Recalling the torrid months that followed, he said:
"This last year has been shit to say the least. I lost any love and affection for boxing. I had the loss, I had a breakup to deal with, I lost my boxing license and my head was just in a terrible place.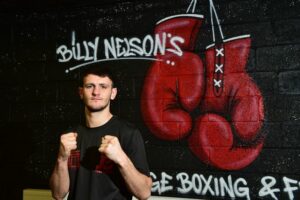 "I'd moved back in with my dad, and I was genuinely coming back to the house and not even speaking to anyone. I just wasn't opening up to anyone. I was going to my room and crying my eyes out every night. I was so depressed man.
"After a fight or whatever, I'd always want to go out and have a drink. It's a shit state to be in. I have my boy on the weekends, and he's the best thing to ever happen to me. All I want to do now is spend time with him.
"I used to go out on the weekends and be stupid. I lost my license for it. One punch almost lost me my life in jail, and almost lost another boy's life. I know I'm not a bad person – it was just a spur of the moment punch that I regret. It's totally my own fault, but I've came out the other side a better person.
"I met my girlfriend late last year, and honestly, I couldn't be with a better girl. She's kept me so positive. I've had 250 hours of community service, and she's helped me get through that to get my life back on track. If it wasn't for her, I don't know where I'd be after this last year. Everything's starting to pick up again."
Following what he refers to as the toughest year of his life, Easton has been training under the tutelage of Gary Young in the hope of returning to the ring in the coming months. The 27-year-old was stripped of his license in the wake of the charges he faced back in July, but appears to be on the verge of re-securing his right to box on British shores once-more.
With the likes of Lewis Ritson, Robbie Davies Jr, Joe Hughes and Ohara Davies floating around domestic level at 140lbs, Easton says he is determined to mix it with anyone and everyone in the country should he be cleared to fight in the immediate future as expected.
"I can't wait, honestly," He exclaimed. "I want to maybe have a six-rounder and an eight-rounder, then I want to be in the mix with the top guys in the country. I want to get myself back into the top five or ten again. I'm so excited to get back, and I feel like I've learned so much with Gary [Young]."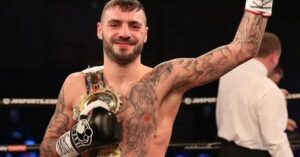 Now in a visibly better place after what he described as a largely-depressing stretch of his life, Easton concluded by pleading with others to open up to those around them if they are struggling mentally.
'The Warrior' expressed his gratitude to his loved ones for providing a much-needed support network, before also paying tribute to his late friend – the popular Connor Law – who tragically took his own life just over a month ago.
"It's important to talk," He said. "My friend Connor Law for instance – we used to play Fortnite together all the time, and we were playing only a couple of days before he passed away. We'd have a laugh and a joke together, but he'd never speak about how he was struggling.
"He had a great family and a wonderful girlfriend. He was the kind of person that wouldn't want to bother anyone else with his problems and put that stress on other people. He's taken his life because of it. It broke my heart, man. He was such a nice guy.
"If you are feeling like that, you should definitely speak out. Speak to somebody close to you. It's helped me in this past year when I was really struggling and my family have been great. It makes you realise that people care about you. If you bottle it up, it messes with your head."
Interview by: Ryan Elliott
Follow Ryan on Twitter at: @RBE_73