EXCLUSIVE – Kieran Gething: "Ready to Step Up…"
Kieran Gething has endured the highs and lows of tempestuous career.
From capturing the Welsh title in only his fifth amateur fight, to a disastrous 0-1-1 start to life as a professional, the Pontypool-based puncher has experienced a lot in a short space of time.
Now 9-2-1 (2 KO's) and the holder of the Welsh super lightweight title, things are looking up for Gething.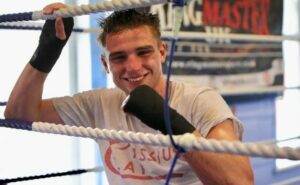 Speaking exclusively to Boxing Social, the 25-year-old tells how he was introduced by younger brother Connor to the local boxing gym in Pontypool, South Wales. It is a journey familiar to the Gething family.
"Boxing has always been in my family about four or five generations. My dad was probably the better one in my family and most recognised for boxing. Naturally, I was always going to follow him, but I never really had any interest until I was 12.
"My brother wanted to go to the gym. He had a bit of trouble down there with some travelling boys, so I went along to the next session thinking I would be the big brother and look after him – when really I couldn't have done anything!
"[But] I went anyway. Although he [Connor] eventually stopped going, I carried on. He is doing fantastic as a coach now anyway."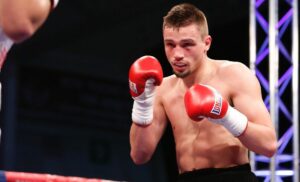 Gething would quickly decide to compete as an amateur, enjoying instant success in picking up the Welsh national title in his fifth outing at just thirteen years old.
Though an incredible achievement for one so inexperienced, Gething spoke of the difficulties in being thrust into tough match-ups on the back of his success.
"I had 55 amateur fights and won about 35." he remembers.
"But winning the Welsh title in my fifth fight, I had to box at quite a high standard almost straight away. Because I won it so early, I only really fought higher quality guys from then on. If you are Welsh champion, then you are Welsh champion and facing tougher guys with more fights: so that made it difficult to match me at the start."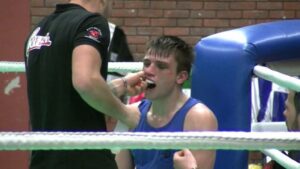 As he continued to develop and hone his skills in the unpaid ranks, Gething took the opportunity to travel Europe in search of further success.
He spoke with pride at being named captain of the Welsh amateur team, before describing his 2015 Welsh senior title as the "pinnacle" of his amateur career – following in the footsteps of his late father, Gary, who claimed six titles between 1973-1982.
"As I got older, it became easier because the competition becomes so much wider.
"I won five titles in total: three ABA's and two boys club titles. I got a silver medal in the British boys clubs, and I got a silver medal in the International tournament as a senior for Wales. I captained Wales for 2 years in the amateurs, which was a really proud time for me. I got to travel over Europe and be a big part of the team.
"The pinnacle of my amateur was winning the senior title in 2015, because my father had done it. I wanted to follow my dad in winning that, so it was a good feeling."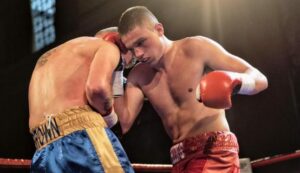 After a disappointing loss in the semi-finals of the Welsh Championship, Gething admitted to growing tired of the amateur set-up. Ambitious – and impatient – he would soon set his sights on turning over into the professional ranks.
"I wasn't able to commit fully to the amateur programme the way it was set up." said Gething.
"I lost in the semi-finals of the Welsh Championships when I really shouldn't have. I boxed really well and didn't get the decision, and I felt really fed up by that time. I was young, ambitious and I didn't realise that I had as much time as I did. If I had my time over, I probably would have stayed amateur for another two years – but I'm in a good position now so I don't really regret it."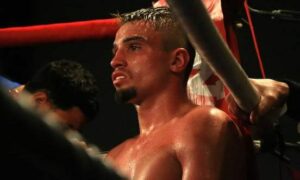 The difficulty in going from a successful amateur career to life as a professional is not lost on Gething. Though he believed he had the right attributes for a smooth transition, three years into life in the paid ranks, Gething still sees a further twelve months of learning on the job.
"I was always told that I had a professional style. In other words, I come forward and don't mind getting into a fight!" he laughed.
"[But] when you actually turn pro, and you're ten fights in, you realise that there are a lot of subtle differences. I think my transition is only just starting. I'm still picking little things up.
"Maybe when I get another twelve months in I will feel like I have really transitioned into being a professional. I've only done two full years. This is my third year, and I think I have done quite a bit in that time – but there's more to come."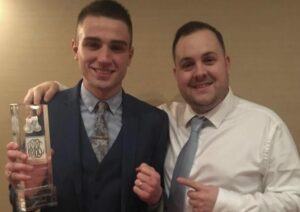 As important as any technical aspect of professional boxing is choice of representation. Management remains something of a minefield in combat sports, and Gething admits his initial choices may have impacted on his early career.
After passing between a number of ill-fitting teams – whom he believes did not have his best interests at heart – Gething would sign with managerial powerhouse MTK Global. It is a move that he credits with taking his career to the next level.
"At the start of my career I was managed by a guy called Paul Boyce, who was just coming to the end of his time in boxing and he thought he could have one last hurrah with me – but it just didn't happen for him. Then I went to Jamie Arthur, and things didn't work out with him because of false promises.
"Then I made the move to MTK Global. I signed with them after I fought for the Welsh title [a points reverse to Tony Dixon in October 2010] – and because I signed with MTK after I had already negotiated that fight, I'm technically unbeaten since I signed with them!
"It's a great time to be with them [MTK]. The deal they have with ESPN, the iFL TV coverage – it's fantastic. The time, effort and promotion they put into you makes you feel like you are a big deal. Being part of a team like MTK will really help take my career to the next level."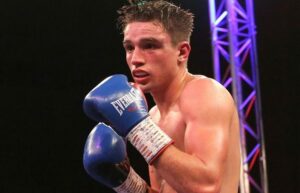 Though he trains with a small team in his home town of Pontypool, South Wales, Gething believes he is afforded the same high-class training that can be found in much larger stables. Brother Connor, now a leading trainer in Wales in his own right, presides over his training alongside head trainer Lyndon James.
"Lyndon [James] is a great trainer. He only trains me and an MMA fighter called Mason Jones who fights on Cage Warriors. He [Jones] is an ex-professional boxer as well. Lyndon always wants to keep his stable small so he can give people enough attention. He's a really good coach.
"My brother does some pad work with me, as well and Lyndon's brother. They are with the Welsh national team, so I'm getting high quality training all over, which is the key."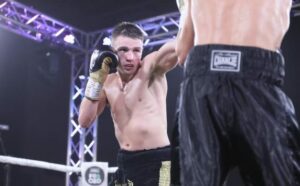 Gething would be welcomed into the unforgiving world of the professional ranks in November of 2016, when a draw against Kevin McAuley left him deflated – both mentally and financially.
"I took the fight [against McAuley] on two weeks notice. I was fit and although Lyndon couldn't work my corner, I was still determined to get in there.
"Because it was short notice, I only took a bus load of people with me. I ended up not getting paid for the fight because I didn't sell enough tickets – only enough to cover the opponents wage. I was so disappointed with the draw. I watched it back and I definitely thought I won the fight – but I look back at it as a good learning experience."
After losing another short notice bout to debutant Aaron Sutton (now 9-0) in his next outing, Gething grew frustrated with his less-than-ideal start to life as a professional.
However, six wins in fifteen months would follow, including points wins over recognised journeymen in William Warburton and Jordan Grannum, as well as a successful rematch with McAuley in Pontypool. Now 6-1-1, Gething would challenge for his first title as a professional, meeting Chris Sanigar-managed Tony Dixon for the Welsh title in October 2018 in Newport.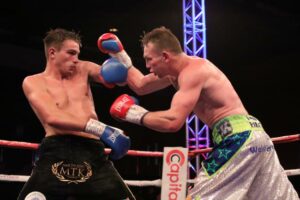 "I had just come off a win in August when I was offered the [Tony] Dixon fight at six weeks notice.
"I didn't box to the best of my ability – and there was still only a point in it. In fact, the only reason he won that fight is because he caught me on a spin out and dropped me in the fourth round. It was probably the best 1-2 he is ever gonna throw in his life!
"Looking back, I can see my mind was tired because I had just been out [a fourth round TKO of Jorge Moreno] and I should have waited to rest and recover a bit. I'm not making excuses for losing the fight, because there is no way I should have lost to Tony Dixon."
"I was disappointed in that I couldn't prove how far ahead I think I am than him, but I learned a hell of a lot from the fight and I'm a better fighter for it. I said straight after I would go on to achieve more. I knew I would. He [Dixon] hasn't fought since but I have won a title, defended it and had a fight in between. It looks like I'm gonna fight for another title before he even puts the gloves on again."
The fight against Dixon would be named as the British Boxing Board of Control 'Welsh Area Fight of the Year 2018'.
Now pride of place in the trophy cabinet, Gething admits the recognition appreciation of the fight "took some of the sting out" of the defeat.
"Nothing makes me happier than being appreciated by my peers. It's not like attention seeking, but you do have to have that kind of sociopathic attitude when you are a fighter. You aren't going to achieve very much while thinking about everyone else before yourself in this game – so it was nice.
"Winning 'Fight of the Year' did take some of the sting out of it. It means a hell of a lot to me to be nominated for awards by the board because I have a lot of respect for what the board stands for".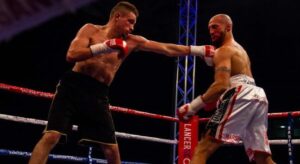 Gething would quickly bounce back from defeat, moving down to super lightweight in his next outing to pick up the Welsh title with a dominant ten round decision win over Henry James in Newport in February of this year.
"It was a huge relief!" Gething said.
"Especially after the loss to Dixon. I feel like I deserved my chance, and now I've got that title, I will hopefully fill the trophy cabinet with more belts in the future!"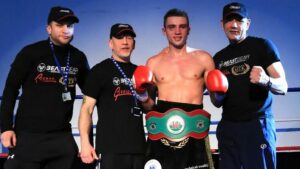 A routine six round decision win over Damian Esquisabel would follow a month later, before a boxing smartly en route to a successful first defence of his Welsh title against Craig Woodruff in June.
Buoyed by the confidence gained in collecting – and defending – his first title, Gething has now set his sights set on more titles in 2019. Having so far boxed as heavy as super middleweight in his fledgling career, Gething spoke of his willingness to move back up to 147lbs in order to secure a potential bout British welterweight champion Chris Jenkins, as well as a possible rematch with Dixon in the future.
"I am making the wait easy at the moment, but it is an ambition of mine to move back up to welterweight and possibly avenge that loss against Dixon." stated Gething.
"If someone like Chris Jenkins has still got the [British] welterweight title, then it would be great to have an all Welsh battle for that!
"[But] my immediate target, and a dream of mine, would be to become the fifth Welsh British champion. At the moment, there are four and that's the most there has ever been, so I would like to be the fifth!"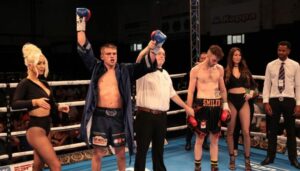 Backed by the might of MTK Global, Gething believes a number of opportunities will become available in 2019 as he seeks out more championship gold, and earmarked the vacant Celtic super lightweight title as a realistic target in the upcoming months.
"By the middle of next year I would like to have won a major title." he said, resolutely.
"There is talk of me fighting someone in the top 15 for the Celtic title, so with a bit of luck one of these fights will come off.
"A British, maybe a Commonwealth title by the end of the year? That would be amazing for me. I think I'm ready to take that step up within one or two more fights."
Interview by: Emmily Simcock
Follow Emmily on Twitter at: @emmily_jane