EXCLUSIVE: Lisa Whiteside – "Chasing Glory…"
Lisa Whiteside (2-0) looks to continue her perfect start in the paid ranks, as she returns to action tonight in Bolton. With training camp done and dusted, the flyweight talent says she couldn't be happier about her progress since turning professional just over four months ago.
"Yeah, it's good and I'm enjoying it. I was pretty much straight back at it [after my last fight]. I had a few days off, went to Ibiza with my husband for a few days then back home and straight back into it. My manager just wants me to be busy and box as much as I can which I'm quite happy about." She told Boxing Social in an exclusive interview.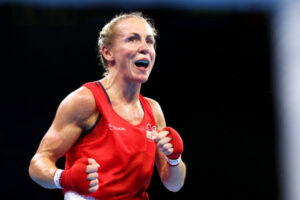 Currently sitting at 2-0, Lancashire's Whiteside is hoping to secure a 'War of the Roses' fight with WBO World champion and domestic rival Nicola Adams down the line.
Ahead of her clash with the experienced Evgeniya Zablotskaya this evening, decorated amateur star Whiteside has expressed her desire to mix it with some of the division's best in the near future. Talk of a 'War of the Roses' fight with WBO World champion and domestic rival Nicola Adams lingers on, though the 2-0 Lancashire up-and-comer must first climb the flyweight ladder.
"This next one will just be getting another one in to keep busy, and then the one after that will be when my team are going to get some good fights arranged for me. I don't want to keep boxing nobodies or anything like that." She said.
Stepping up to six rounds last time out, Whiteside has demonstrated a productive start to her professional career – having only turned over in May on the Saunders-Isufi card in Stevenage. Reflecting on her progress, she said:
"My debut was decent – the girl was game. It was a good fight, but like my last one, she pretty much ran away.
"They've got me a Russian to face in my third fight. I got a good four rounds in on my debut, a good six rounds in my last fight and this will be another six rounder. I don't think I'll be waiting round for long after September. I think I'll be out again pretty soon after that."
Winning medals in the Commonwealth, European and World championships, Whiteside had an extensive amateur background that was sure to garner interest when she turned professional. Discussing the transition from amateur to professional, she responded by saying:
"It is weird in the fact that you're doing a camp for one fight. Normally, you have things like the Commonwealths and stuff like that when you're going in and boxing and holding your weight over a ten day period to fight five times.
"It is completely different for weight management and things like that but it's much more enjoyable I feel, especially for my style."
"In the amateur game, even though they've changed the scoring from point scoring to performance scoring, it's still a bit tippy-tappy and running away. This for me, the longer the rounds the better, because I can really use my power and strength as part of a pro career, I think that's the main thing."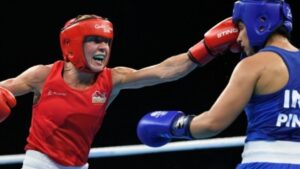 Delivering another performance on Friday night is a minimum expectation for Whiteside, who harbours big ambitions for the coming years. Entering the ring just before her 34th birthday, the 2-0 prospect outlines her intentions.
"Well, I think most people would say the same and I do think it's possible – I want to get a World title. I definitely want to do that, in the amateurs I was just off becoming a World champion by split decision.
"I missed out on that. I've become Commonwealth champion, the Europeans I've got a silver and a bronze, so I think you know what – why can't I become a World champion? I believe it is possible." She concluded.
Article by: Chandler Waller
Follow Chandler on Twitter at: @ChandlerWaller