EXCLUSIVE: Lisa Whiteside – "A Long Time Coming…"
Amateur standout Lisa Whiteside (2-0) started her professional career in May on the Billy Joe Saunders vs. Shefat Isufi undercard in Stevenage. Since then she's kept active as expected for a bright prospect turning over. With her ambition to win a World title, it was a shock for the Commonwealth gold medallist to hear about Nicola Adams' elevation to become WBO World champion. Discussing the latest news in an exclusive interview with Boxing Social, Whiteside gave her reaction:
"It's a bit of disbelief really, it's disappointing I think. If I'm truly honest it's a bit of a mockery and a bit of an insult to people who'veactually boxed and earned those belts.
"I don't believe it's because the other girl wasn't capable. Just because she wasn't capable I think that belt should have become vacant.
"She should still have had to box to obtain a belt, not just because she had the interim, 'oh by the way here you go, here's a belt'. I don't think she'll be happy with that but who knows."
The paths of Whiteside and Adams – two decorated amateurs – almost crossed before the pair turned over, and since then the two names have been frequently linked to one-another.
The recently-stripped Arely Mucino last defended her World title in March, a date which Adams was expected to face the Mexican. Pulling out due to injury, the World title bout was postponed for later on in 2019.
When negotiations for the fight began, Mucino revealed an injury – and the belt was automatically awarded to former interim champion Nicola Adams. When asked by Boxing Social about that decision, Whiteside replied:
"I don't know, I really don't know – it's absolutely baffling. Nicola was supposed to box her in March but Nicola pulled out. If Nicola has already pulled out, why then is she entitled to that belt.
"Do you see what I mean? I don't see that as a fair ground. I feel quite sorry for Mucino – it seems to be one rule for one and another rule for another. Is that the politics of boxing? There was a lot of politics in the amateurs so I'm obviously new to the pro side of it, who knows."
Whiteside has been vocal about the decision since the news broke on Tuesday. Using Twitter to give her opinion on Adams becoming World champion. Regarding her comments on Adams' inactivity, Whiteside expanded by saying:
"Just obviously, we were supposed to have boxed each other three years ago prior to [the] Rio Olympic qualifiers. She pulled out of that one due to personal circumstances.
"We never met in the amateurs. Now I've turned professional all of a sudden she's gone very quiet. I'm going to be having my third fight in September, having only had my debut in May.
"She's only had five fights in two years and hasn't boxed since the back end of last year so it's a bit frustrating for someone to become a World champion after that."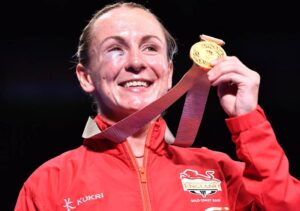 Despite showing a big interest in a fight with the WBO World flyweight champion, the 2-0 amateur standout states it will not define her career. She told Boxing Social:
"Everybody wants that fight. My pro boxing career is not based on me boxing her. She might be a World champion now but I'd wanna box someone and earn the right to be a World champion. I don't believe she will ever box me.
"I don't think she will at all – I think she'll hide from the matter to be fair. We'll see. There's a lot of people pushing for it so it would be a great fight but for it to happen, who knows."
With a rivalry extending to over three years, it is likely the names of Whiteside and Adams will continue to be mentioned in the same breath. Similar boxing rivalries can sometimes be left to 'marinate', and occasionally do not come to fruition. When asked if she'd be disappointed if the fight didn't happen, Whiteside said:
"No, I wouldn't say so. I've not turned onto the pro side just to box Nicola Adams. Even in my amateur game, I was disappointed I didn't get that opportunity to box her and show everybody what I was about.
"I do believe I would have beat her as an amateur and I believe I'll beat her as a pro. I wouldn't lose sleep over it, if it doesn't happen, it doesn't happen and I'll still continue with my journey and I will become a World champion."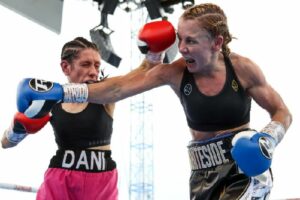 Whiteside looks to go 3-0 on 13th September with her World title goal kept close in mind. She is keen to crank it up a notch and potentially challenge the new WBO flyweight champion in the near future.
Frank Warren featured Whiteside on BT Sport recently, which could potentially host an all-British clash. The Commonwealth Gold medallist believes that is the key to her World title goal and rivalry to be settled in one night. She concluded by saying:
"Obviously with Frank Warren and BT Sport, they need to push it. I had my debut on Frank Warren's show in Stevenage on the Billy Joe Saunders bill, it was fantastic.
"I believe it would be a British box-off of the War of the Roses. It'd be an absolute storm. I know the following I would get for that. I've always had a fantastic following anyway, but if you've looked at the fights, the clashes between domestic [fighters] have been the best ones.
"I think it's something that the public would want and I think Frank Warren and BT Sport need to push on for it."
Interview written by: Chandler Waller
Follow Chandler on Twitter at: @ChandlerWaller