EXCLUSIVE: Shakan Pitters – "Our names will echo around the arena!"
The 29-year old Shakan Pitters (12-0, 4 KOs) continues his journey on the 27th September, when he fights for the English title against Dec Spelman. Pitters previously overcame 'Kid Nytro' in the final of 'Ultimate Boxxer' back in November.
Since winning the eight-man tournament, Pitters has waited patiently for another chance to shine. Now, the opportunity arises over 10 rounds to announce himself on the 175lbs domestic scene.
"It's a 10 round fight, English title on the line and I'm glad to have this fight," He said. "At the end of the day, I was happy to hear that I'm gonna be fighting for a title. It's always great to have a title on the line."
The Ultimate Boxxer tournament gave Pitters the exposure he'd been waiting for, but the most intriguing fight on the night was when the Birmingham man took on Dec Spelman. The three-round bout offered a taste of what may play out on September 27th, as Pitters knocked down his counterpart en route to a comfortable points win.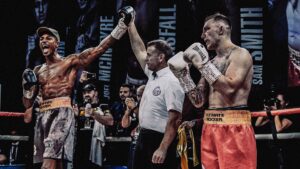 "It's also just good to put to bed [the first fight with Spelman]. Not that I care what people think – because I really don't – but a lot of people said they'd love to see me and Dec Spelman over 10 rounds, so it's good to give the fans what they want to see. We had a good fight in the Ultimate Boxxer final and I'm sure it will be even better now."
The Ultimate Boxxer champion was praised on the night of his victory, with many expecting him to go and challenge for domestic titles. The 29-year-old was quick to pay homage to his team in an exclusive interview with Boxing Social.
"I know my coach and Carl Greaves were in talks in regards to Dec fighting for an English title, because Carl Greaves brings David Avanesyan, the guy who won the European title to our gym to spar.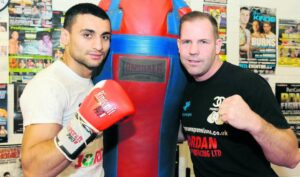 "They spoke there and Carl Greaves – fair play to him – he's someone I respect and they made it happen. They said if he was to win the English title then they'd happily defend against me. I'm grateful for the opportunity."
English champion Spelman has bounced back from his loss to Pitters – outpointing Kirk Garvey back in May to win the strap. Gaining the interest to feature on a Frank Warren card, Pitters had praise for one particular member on his team. He said:
"I owe it to my management team, Carl Greaves and Dean Whyte who is co-managing me now. He put the final icing on the cake. We spoke to Frank [Warren] himself. Frank was interested in it and he's made it happen, fair play to them all."
The fight lands on the same bill as bantamweight Brad Foster's second British title defence against Lucien Reid.
Manager Dean Whyte – brother of Dillian – has become an influential figure in the boxing business, and Pitters was one of the first to be taken under his wing. He said of Whyte:
"Dean Whyte is very knowledgable. If you listen to his interviews and how he talks – I talk to him on a regular basis – he's very knowledgable in regards to boxing.
"He wants to break into the management side of things. Obviously I've got a fantastic team at my side. I never want to just abandon ship, I wouldn't do anything like that, he wasn't saying anything like that either.
"He wants to guide and lead me – he sees the talent in me. He wants to get me on the biggest shows. He feels I deserve to be on them shows and I feel like I should be myself. It's beenfantastic to have him aiding my career alongside my fabulous team; Jon Pegg and Paul Counihan."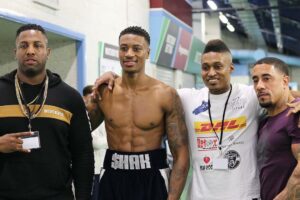 Pitters returns to London for the third time in his career, and this English title challenge will be his first outing at the historic York Hall. He said:
"I was meant to go there for the Richards-Sterling fight, but I never ended up going. In the end I had things coming up my way here, but I'm happy. It's going to be extra special when I lift that title in York Hall, being my first time there. It's a great historic arena where a lot of good British boxers have come through the ranks and fought there so I'm honoured."
The 12-0 prospect noticeably brought masses of fans down to the Indigo at the O2, and now with an English title on the line, spectators can expect much of the same, if not a better atmosphere.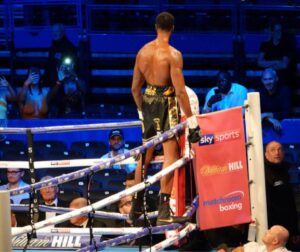 "You'll see a lot of Birmingham fans and I'm sure you'll see a lot of Scunthorpe fans as well. Dec Spelman has got a brilliant following himself. Last time our fans got together for the final and there was no animosity. Everyone got along, everyone had a bit of joke and a bit of banter from what I heard.
"It will be the same again- two great fighters sharing the ring. There's brilliant support behind us to cheer us all on. I'm sure our names will echo around the arena, it's a brilliant atmosphere."
Interview written by: Chandler Waller
Follow Chandler on Twitter at: @ChandlerWaller