EXCLUSIVE: Shakan Pitters – "For me, it was never about money!"
After featuring on last year's Amir Khan vs. Samuel Vargas bill, then later on winning the Ultimate Boxxer tournament, Shakan Pitters will fight for the English title on the 27th September against Dec Spelman.
With the opportunity to win his first professional strap lingering, Pitters is keen to end the year with the English belt around his waist. Growing up in a boxing household, it seems unsurprising that the 29-year-old is now currently on the hunt for domestic honours. He told Boxing Social:
"It was very influencing because for me, my dad carried us all to the gym from a very young age. I was six [years old] when I first stepped into the gym.
"It's a very young age, but I was playing football at the time for West Bromwich Albion. I was a young kid enjoying everything that's around my family."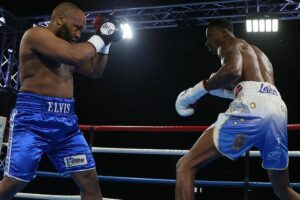 Being introduced to the sport as a child, the eventual Ultimate Boxxer champion was easily hooked into the life of boxing and soaked up every bit of information he could. He explained:
"I used to watch them do things and I tried to copy everything they would do in the gym to a point where my dad had [boxers] sparring from other gyms, come down and it could have been anything else.
"Whatever dad taught me, I would have tried to become a professional in that sport. Fortunately, he took me to the boxing gym. It's something that I picked up very quickly and I enjoyed."
Boxing often finds itself associated with the tales of saving kids from the streets – turning them away from crime and pointing them in the right direction. For Pitters, it was the opposite. He told Boxing Social:
"It's not anything that I was forced into, I haven't had a struggling background. You hear a lot of boxers say that they had no choice – I had a choice.
"I started at 22 in the end because my football was going well and it's the injury that hindered me, but yeah, I was happy to be given this skill and I'm happy that my dad brought me to the gym.
"That's where it all started – my dad bringing me to the gym as a young kid. I just picked it up quite quickly and again watching my older brothers who I look up to."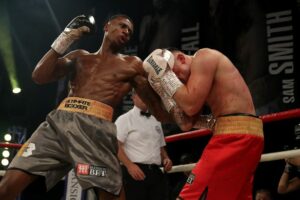 Pitters – in spite of taking up boxing at the age of six – spent long spells of his younger days pursuing a career in football rather than the sweet science. The 29-year-old, a once-blossoming youth player, was left dejected after being released following a devastating injury setback. He said:
"I broke my toe. I had an injury which basically hindered me and I got released from West Bromwich Albion after five years.
"That was heartbreaking like anyone who's been in these schoolboys' [leagues] or so close, touching distance from becoming a professional. It'll break your heart and that's what it done with me."
Just like seeing an old friend, boxing provided nothing but good memories for Pitters. He said:
"Boxing is crazy, you can have a bad day and you start hitting the bag and all that worry goes away, the feeling it gave me was always good.
"Boxing was my other talent. It wasn't a hidden talent, it was a talent that we all had and we knew, but I just had to [speed up] at 22. Luckily, I'm around a lot of good friends and people, so it's like I just had to put my all into it and dedicate myself to boxing at that point."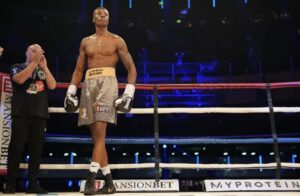 Now, seven years later, Pitters prepares to fight for the English title. While he wants to end the year with that national belt around his waist, his motivation is far from anything as materialistic. Speaking exclusively to Boxing Social, he said:
"It's never been money for me. All I want to do is number one; make my family, my loved ones proud and secondly; I've got my little girl and that's all the motivation I need.
"When you have a life involved it's never about money – it's just to accomplish self-satisfaction for myself really and that's all it is."
Whether domestic level or beyond, potential match-ups frequently fail to materialise due to financial disagreements. Pitters, however, says monetary gain was never the intention when he turned his attention to professional boxing.
"I've been doing amateur boxing since it was free," He said. "If I wanted to do it for the money then I could easily fight every week against these journeymen and earn good money doing it.
"For me, it was never about money. It was about having that opportunity and just to change and provide for my little one.
"I just want to reach my highest pinnacle to see how far I can go in this boxing game. I believe I can go far, and I've got all the tools and the skills to do so."
Interview written by: Chandler Waller
Follow Chandler on Twitter at: @ChandlerWaller