Tyson Fury (29-0-1, 20 KO's) fight weeks are always a whirlwind of words, proclamations, often outlandish, and face offs that are either intense or completely surreal. Throw WBC heavyweight holder Deontay Wilder (42-0-1, 41 KOs), himself no shrinking violet, into the mix and it easy to see why the first Wilder-Fury fight in December 2018 and this weekend's return in Las Vegas captured the imagination of the notoriously hard to crack American audience.
Fury is pure theatre, so is boxing, and he plays his role to perfection without the need to resort to acting. The charge most often levelled at him is that he will say something one day then say or do the complete opposite the next. He also lays down layer upon layer of non sequiturs throughout the course of his interviews, his mind jumping from one topic to the next unless he is focussed on a subject such as depression or his fight back from being overweight, inactive, without a single title to his name and on the brink of being remembered as a one-hit wonder.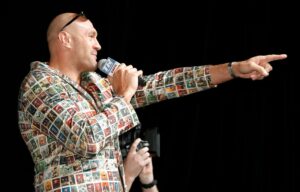 Pundits and fans wonder if it is purely for show or a defence mechanism that also creates a sense of unease in his opponents. One that sent Wladimir Klitschko so off-kilter the World heavyweight champion has to adopt a rictus, almost manic, fixed grin when asked about the man who out-thought and then out-boxed him in front of his German fans. What is for certain is that Fury got under his skin and now lives there like a parasite.
It has always been this way with Fury. If it is an act it is one that adopts at all times and with a large range of people. My first proper interview with him was for BoxingScene in December 2009 when he was training with Brian Hughes MBE and Pat Barrett in Collyhurst. Fury was 9-0 with seven stoppages at the time. When I sat down with him he laughed and said, "I've got my talking head on today!", before telling me that he planned to do the exact opposite during 2010.
"The talking is good but you need the fights, and performances, to back it up, really," he told me at the time, seemingly a changed man. Then he leaned forward, his voiced dipping into an almost conspiratorial whisper. "I talked myself to an English title and to a high profile in only nine fights. You shouldn't have heard from me, but I shouted my name out and raised my profile.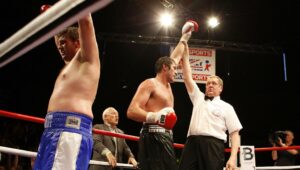 The gym was eerily quiet. I usually went in when it was packed, but Pat had packed up for the day so it ended up just me and the 21-year-old heavyweight contender that everyone was talking about after he had talked himself up then failed to perform in his biggest fight to date, an English heavyweight title win over John McDermott. He had gone into the fight with a long fringe that telegraphed every single successful shot landed by McDermott. Fury found it oddly amusing when asked about it, laughing and pointing out that he had "had a trim" before taking me into what he called "Tyson World".
"I believe, in my own head, in Tyson World or whatever you want to call it, that I can beat both Klitschkos — I believe that I will beat them all and reign supreme. I'll get there and stay there, like [Lennox] Lewis did…The only way to beat me is to knock me spark out. Failing that, you're fucked because I'll keep on coming until I can't come anymore.
"I am the only person who can beat me. If you look good physically you feel good mentally…Physically I've got it. Ability and skill comes in time. Natural attributes: speed, power, movement and a good chin, plus a big heart — I've got those. The other things can be worked on. You get a kid who can box like Sugar Ray Leonard but if he gets hit and goes down or quits then kick him out of the gym — he'll never be any good. If you've got a kid who has the heart of a lion you can teach him to be a champion."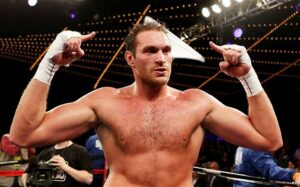 Fury looked around the gym that day and pointed at the walls and floor, shrugging as if his point had already been made before hammering it home. "I'm going to take it steady and build it up like a nice house," he said. "You get a good foundation for your house and then it goes up brick-by-brick — that is what I'm going to do with my boxing career."
By March of 2013 Fury was on a roll. His uncle, Peter, had joined the team in 2012 after Tyson was floored against Neven Pajkic. His father, John, had been sent to prison in 2011 for gouging a man's eye out during a fight so Peter stepped in with some words of advice before becoming his trainer and starting a winning partnership.
However, past convictions meant that Peter could not be with his charge for his US debut, a meeting with Steve Cunningham at Madison Square Garden to decide who would get the IBF's #2 spot. They had a training camp in Canada before Tyson made the trip down south to New York. Peter hooked me up with him during fight week.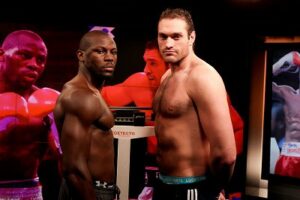 Fury was having a stroll around the city and asked me if we could start the interview in a minute or two so he could talk to a homeless man about his dog. I really, really wanted to say "No" — I was on pay as you go at the time — but experience had taught me that it was best to let Fury relax his way into a conversation. We did just that and the result was an article with the memorable title 'I was overweight and shagging myself silly'.
"I can speak my mind in America — no one minds what I say," he said. "I've picked up quite a lot of attention. I'm number one right now, forget the Klitschkos, and I'm ready to rule the world. I've told you about them Klitschkos before — they're just pussies who don't want to fight me and will keep avoiding me. It is hard to get to the top, but, once you're there, it is even harder to stay there. My ambition is to get there, which will be very soon, and stay there, not be a one-hit wonder."
Fury, though, had already delved deeply into his bouts of depression, talking about it openly in the press just before the issue really was pushed from chorus line and to the forefront of the stage. Peter had got him into shape, which the trainer had repeatedly stressed was one of the core things that his nephew needed.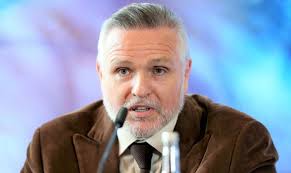 "Without him I'd be a domestic-level fighter," Fury told me. "Not because of a lack of talent or skill, but because I wasn't living the life. I was out drinking at four or five in the morning days before fights, coming in overweight and shagging myself silly. You can't live like that when you're a professional athlete."
The fight itself was a throwback to the Pajkic performance that had prompted Peter to intervene. Fury was floored heavily in round two before coming back, beating Cunningham in eight then belting out his unique version of Keep It Between The Lines by Ricky Van Shelton, a song he sang in tribute to his father. Still, a few people jumped off HMS Fury that night due to the knockdown.
Roll on a couple of years and Fury had finally secured a shot at Wlad Klitschko. There was a weird mixture of respect for the way Klitschko had remained at the top, a loathing of the era he had ushered in and a belief that the long-time titlist would wither when in close proximity to the now self-styled "Gypsy King".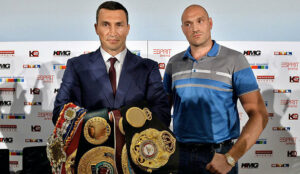 Boxing Monthly sent me over to Oldham a few months before the fight for a face-to-face with Fury. It was a glorious day, an Indian Summer had hit the UK so everything felt good, like the summer would extend through to the autumn and winter and would not roll away until the following spring. For once I was on time, but Fury was on boxing time. Take a scheduled start time and stretch it out to the point where you lose sense of time and you have boxing time.
"You better ask some interesting questions, I drove an hour to get here," he said when he arrived. I remember our first meeting, how, and to my embarrassment, he had schooled me on the European heavyweight scene so I mentioned that I had met boxers who do not even follow the sport, let alone to the extent that he does.
"When it comes to my job, I have to know my business — you couldn't have a bricklayer who doesn't know how to lay bricks," he said, talking to me as if I had just asked him the worst question in the world. "I'm a heavyweight boxer so have to know the heavyweights. I know about every heavyweight in the world, his record, his stance and whether he's any good."
It seemed that by getting himself into shape, securing a world title fight and moving on with his career, the soon-to-be World champion had put his bouts of depression in the rear-view mirror yet there was a deep cynicism to him that indicated it was just being held at bay by all the stuff he had going on in his life.
"I was looking for something and couldn't find it," he stressed. "I realised what life was and was upset about with it. I always thought life was some great thing, all "Whoopee do": you get a job, get married and have kids. Then I sat down and thought about what life is, you're living to die, so I realised it ain't that good.
"I know what we're doing on this earth, we're wasting time until we die. We're filling in the gaps. If you don't believe there's an afterlife then your life here is pretty shit — going to work to earn enough money to pay your bills your whole life. There must be something more to it. I feel sorry for non-believers, actually, and pray for them. The only good thing about life is spending time with loved ones and friends: smiles and laughs — everything else is just rubbish.
"You see stuff for what it really is, like big mansions just being bricks and mortar that you only borrow for a bit until you die, and realise that, whatever you do in your life, no one is really bothered. If a sportsman gets beat, it might be today's news but by tomorrow it is history. Who cares? My thoughts on what people think about me are zero. People think I'm s**t. That I'm a fat, ugly Gypo. I am fat, I am ugly, I am a Gypo, so what? Who cares? I don't…Confidence is a gift from God. I can walk into a room and become the centre of attention. Even if I wasn't a boxer, I'd get through because I've got the gift of the gab."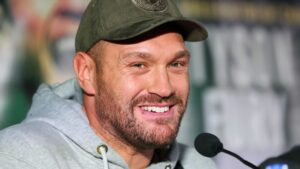 The conversation flittered and fluttered all over the place. You would have been forgiven for looking at the content and thinking Fury was animated or agitated. The truth is that he was almost serene, barely moving while seemingly enjoying the fact that I was squirming under the embargo he had placed on discussing the fight that I had been sent to talk to him about.
In the end the only way to break the impasse was to mention that he seemed to have really got to Klitschko in the build-up. That future opponents might not want to do a traditional face-to-face with someone who is at once open and at the same time almost impenetrable to those outside his closed circle.
"It is very corporate. It's very German, isn't it," he said, speaking rhetorically. "The Klitschkos are up there, if not better, than any heavyweights in history because of their size, athleticism, ability to stick to a game plan and conditioning — no one had all that in the past. They're true professionals at what they do, so they have to be admired, embraced and celebrated, but, on the other hand, this is a dull moment for the heavyweights.
"We've had great champions, but they've got no charisma, everything's by the book. They're a bit like Audis or a Mercedes, you can't fault them but they don't jump out at you like Lamborghinis. When you think of a super car, you don't think of a Mercedes 5-series. When you think of great champions, you don't think of the Klitschkos, [Nikolai] Valuev or any of those boring Europeans, you think of Ali, Tyson and Holmes.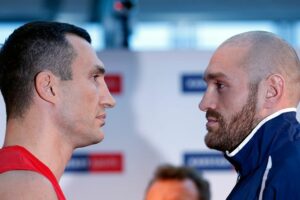 "You need the Americans and Brits on board for heavyweight boxing to mean anything. The Europeans are boring. They sit there and clap at the boxing, all dressed in suits, but when the Brits turn up its lager everywhere, screaming and shouting, and no shirts on."
The gambit had worked, or maybe Fury had decided that the time was right, because once he got on to the topic of Klitschko that day it was hard to get him to stop. That fight was always a clash of solid, staid and diligent discipline versus freewheeling, freeform anarchy. Fury is one of the people who fundamentally understood that facet of it. Wlad only seemed to realise that once it was too late to stop his challenger's pre-fight momentum.
"I've spent time with Wladimir, he's a perfectionist, the type of person who goes to see a shrink so he can be told what's good and what's bad," Fury said, recalling the time he had spent in training camps with the Ukrainian while a fledgling pro. "Anyone who needs that is mentally weak.
"The way to beat a perfectionist is through unpredictability, doing stuff that isn't supposed to be done so that Klitschko thinks: 'This isn't routine, this isn't supposed to happen'. Then his mind starts telling him it is happening again, he's going to lose again, and by that point he's already lost."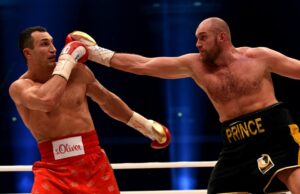 Some cynical fans felt going into that the fight it was a cash out, a chance to earn a huge purse then slip away from the sport. The idea seemed to tickle Fury for some reason. "They all know me, don't they?" he said. "They obviously know it all. I might take these millions and retire, who knows? Win, lose or draw, I might retire, but then again I won't retire because I want to fight Wilder…Are we done? That was alright. Was that the most controversial interview ever?"
That was that as far as face-to-face interviews went. We caught up a few more times over the phone. One occasion came a month after he had lifted the IBF, WBA, WBO and IBO world titles. Fury told me that he was driving up and down the motorway with his kids so he might cut in and out. When asked where he was going he had said: "Nowhere, I just like doing it."
"It doesn't feel too good, to be honest," he answered when asked how it felt to be on top of the world. "I feel as if the limelight's on me. Everywhere I go, people want a picture of me and everything I say is picked up — I don't have my own life anymore…I could be out with the lads having a beer, out with my family for Sunday lunch or just out and about. There's no peace for me, no rest. It's 24-7 for me, as long as I'm outside the house you know I'm getting harassed."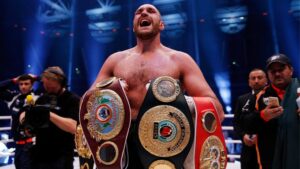 Unlike the last time, Fury sounded jaded when talking about potentially controversial subjects and perked up when he recalled the achievement of dethroning Klitschko, saying: "Wladimir thought of himself the same way the Trojans did, all safe and sound behind the big walls of his reach, defence, height, jab and grabbing. The Trojans got conquered, though, didn't they? A little bit of brains conquers all: all nations, all armies and all people."
The rest is history. A rematch with Klitschko never materialised as Fury fell into the rabbit hole for well over two years, his struggles with depression, drugs, weight and alcohol becoming the stuff that a legend began to be formed out of when he came all the way back to a shot at the WBC title and that storied fight with Wilder.
We had a brief final chat for Boxing News in May 2018 after he announced his comeback. Then-trainer Ben Davison had got him down in weight and hungry for boxing success again. Davison hooked us up over the phone and Fury was in a very Fury-esque mood ahead of what became almost a non-interview as questions about how my sex life was going were interspersed with "Who the f**k is Terry Dooley!"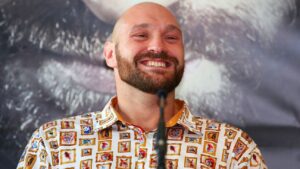 "I'm cushty, cushty," he added, switching up the conversation while channelling his inner Del Boy by using the Romany slang term for happy that originated from the Persian term khoši. "It is all good. Fantastic. Fantastic. I'm still a World champion talker, or so Klitschko said. I've been away like an outlaw, but now I've come back as a hero."
It settled into a more conventional interview towards the end when I asked him some traditional questions in the hope of some answers. How hard was it to lose weight? Are his legs still strong? Will he fight for a World title again? You know, the type of stuff he had once told me he hates.
"Yeah, yeah, my legs are weak, I feel like I'm on sticks. I'll have to do some leg exercises after the fight. Only kidding, my legs are alright — they are strong. The 'Mac' is back, don't you worry about all of that other stuff."
"The Mac" certainly was back yet after so much bad living there was a nagging doubt that he could make it all the way back.
Win, lose or draw on Saturday night — and I believe he will win — and love, like or loath him, there is little doubt that the division was set free when Fury beat Klitschko in 2015. Then he set it alight by making his improbable comeback. God only knows what comes next, and according to Fury he has a direct line to the man himself.
Article by: Terry Dooley
Follow Terry on Twitter at: @Terryboxing