Fowler-Davies War Of Words Rumbles On
After a series of social media back-and-forths, British duo Anthony Fowler and Ohara Davies took to Zoom to trade insults during Matchroom Boxing's e-press conference on YouTube. Both men insisted they want to settle their differences in the ring after exchanging jibes for more than 20 minutes.
Davies – two weight divisions below his domestic rival – laid out his terms to Eddie Hearn, insisting that he would be happy to travel to Liverpool and fight at a catchweight of 150lbs to settle his score with 'The Machine'.
"I saw all the commotion online about Anthony Fowler," he said. "I used that as an opportunity to get at him. Do you know why? Because I don't like him. I've always thought Anthony Fowler was a p***k. I've never liked him.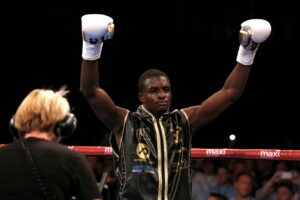 "Anthony Fowler is a bum. He's got nothing over me but size and strength. He's got no speed. He's robotic. The guy is trash. He beats bums. The first good fighter he fought, he got spanked.
"You can't put my name and his in the same sentence. That's why I don't mind going up to 150lbs, and I will knock him out in his hometown. If Fowler wants to be next, he can be next. He can get it."
"I will go to Liverpool. I don't need security guards, because those guys are all talk. They'll do nothing. There'll be a thousand of them, and none of them will come near me.
"They can't touch me. They're all bums – Fowler and his fans. I will go back up there, because they're all talk. Then, I'll knock him out."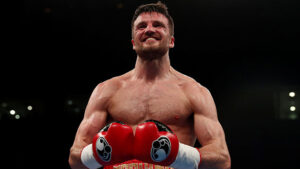 Fowler, who had previously considered a move up to middleweight, remained sure that he could get down to an agreed catchweight to face 'Two Tanks'. The Liverpudlian vowed to wipe out his super-lightweight counterpart – making frequent reference to his loss at the hands of Josh Taylor.
"Nobody likes that kid. He's got a bad attitude, and he's quit in a fight. He showed his character in that fight. It got hard, and he turned his back like a coward. That's one thing I'd never do. The guy's an idiot.
"When he was boxing Taylor, I knew he'd get exposed, and that's what happened. He got smashed, dropped and gave up. He showed what he is. You can talk all you want online, but he'll always be remembered as the guy who gave up in a fight.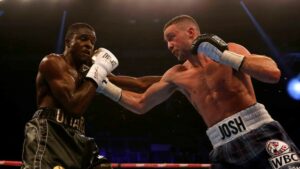 "I'm deadly serious about boxing him. I always talk a good game and I'll back it up. I spoke to Shane and he said 152 was the lightest, but I reckon I could do 150. I'd just love to smash his head in.
"I'd love to smash him for myself and my city. In 3-4 rounds, I'd wipe him out. At first he'd be hard to nail down, but as soon as I catch him on the chin, those skinny legs will give way and it'll be good night."