Tyson Fury Slams Joshua's Performance Against Takam – "How's He Gonna Beat Me If He Struggles With Midgets?"
Tyson Fury's return to the boxing ring as a licensed professional is likely to become a reality in 2018.
He's yet to have his final hearing but Fury most definitely has challenges waiting for him. The obvious one is Anthony Joshua but fan favourite Shannon Briggs has been actively called out Fury on social media.
In an interview with IFL.tv, Fury didn't have much to say about fighting 'The Cannon'.
"I don't really know what's going on because I'm not a promoter. I know there's a lot of guys trying to do a lot of stuff at the minute. Trying to make fights and whatever. The most important thing at the moment is getting over the line with the case. I just need to get that out of the way. I can't do nothing at the moment. I'm in limboland. But what am I gonna do? It all comes down to the December or whenever the court case is. Get that out of the way and then we can talk turkey," told Fury.
Speaking of tune up fights, Fury is confident he can still hang with the best of them in the heavyweight division.
"I don't need any easy fights although I've had two years off. Might be a bit rusty but my ability makes up for the rust and the lay off. So I'll be ready to fight anyone. I'm not really bothered anyways to be honest because after looking at the heavyweight division and the fights, I've got nothing to be afraid of at all," told Fury confidently.
Fury talked about Joshua's recent performance and said he was far from impressed.
"After looking at the fight with 'AJ' and Takam [Carlos], AJ struggled against a glorified midget. No disrespect to midgets. He [Takam] was a glorified midget in the heavyweight division. A tough man and he was brave but he ain't Tyson Fury. He ain't 6 foot 9, 18 stone. How is he [Joshua] gonna beat this man if he struggles with midgets?" asked Fury?
https://www.instagram.com/p/BW2BvArjnGQ/?taken-by=gypsyking101
Fury then compared the possible fight against Joshua to Roy Jones Jr defeating James Toney.
"I will jab his nut right off. He'll look like the elephant man after I've finished jabbing him. I wouldn't do what Klitschko did. I won't jib and jab and tip tap him. Take his lights right out and that's what to expect," said Fury
The heavyweight mentioned a bit of boxing history and brought up Roy Jones Jr's 1994 fight against James Toney in which Jones Jr defeated Toney in a one sided fight. Fury promised he will do the same to Joshua.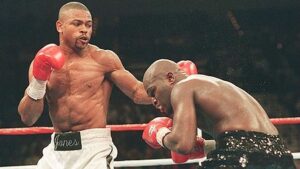 "Expect a Roy Jones Junior performance over James Toney and no disrespect to James Toney but got f*cking schooled against Jones Junior. And I will school AJ. I'll even put my hands behind my back," promised Fury.
Joshua-Fury is without a doubt one of the biggest fights in the coming year alongside the Wilder fight, but Fury still has his one final hurdle with the Boxing Board of Control and UK Anti-Doping.
READ MORE:
Tyson Fury: I Have Not Cheated
Fury Says Weight Cutting Is Not A Problem – "I've Done It Eight Or Nine Times Before"
Here's Deontay Wilder's Surprising Response To Tyson Fury's Call Out
Anthony Joshua Comments On Tyson Fury's Troubles – "Imagine If That Was Me"
Tyson Fury Calls Out Both Wilder And Joshua
ENTER TO WIN 2x TICKETS TO BELLEW-HAYE 2